Mesa College to host Thanksgiving feast for students
November 18, 2016

|
San Diego Mesa College's third annual Thanksgiving Feast – organized by the Mesa College H.O.S.T. program and the Associated Student Government – will take place from 1 to 5 p.m. Tuesday, November 22 in room MC 211 A/B in the Mesa Commons.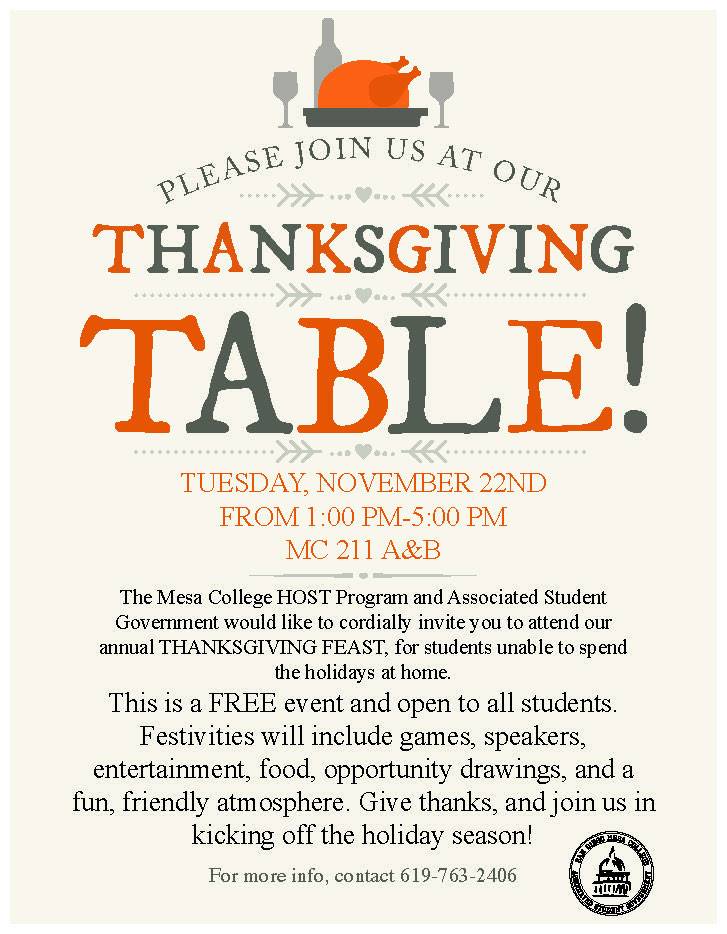 This free kick off to the holiday season was created as a way to make students feel welcome on campus – especially those that are homeless, food insecure, don't have holiday plans or are international/out-of-state students and cannot travel home for Thanksgiving.
Paid for by the ASG, the event will offer ham, turkey and vegetarian meals for any student on campus who wishes to participate. In addition, there will be entertainment and games provided during the feast
An opportunity drawing will be available where students can win gift cards for local restaurants and supermarkets, donated in large part by faculty and staff on campus.
Victoria Miller, dean of Student Affairs, said that the faculty, staff and administrators at Mesa always want students to feel valued and appreciated and that the Thanksgiving Feast is just one way that they help to accomplish this goal throughout the year.
"At Mesa, we pride ourselves in 'community,' and building relationships with our students – what better way is there than our own students doing this for students," said Miller. "It's important because we do recognize that not everybody is able to go away for the Thanksgiving break, and we also recognize that not everybody knows where their food for the evening is going to come from."
H.O.S.T., which stands for Hope Offered to Students in Transition, is an entity of the ASG that has organized this event every year since 2014. Originally started as a way to help students in need, the secondary purpose is to foster a sense of community and family on campus.
ASG President Ava Fakhrabadi said that MC 211 A/B will be festively decorated for the event and that it provides an opportunity to socialize with other students.
"It's an opportunity for students to have a home here at Mesa, especially for students who don't get a Thanksgiving feast," Fakhrabadi said.