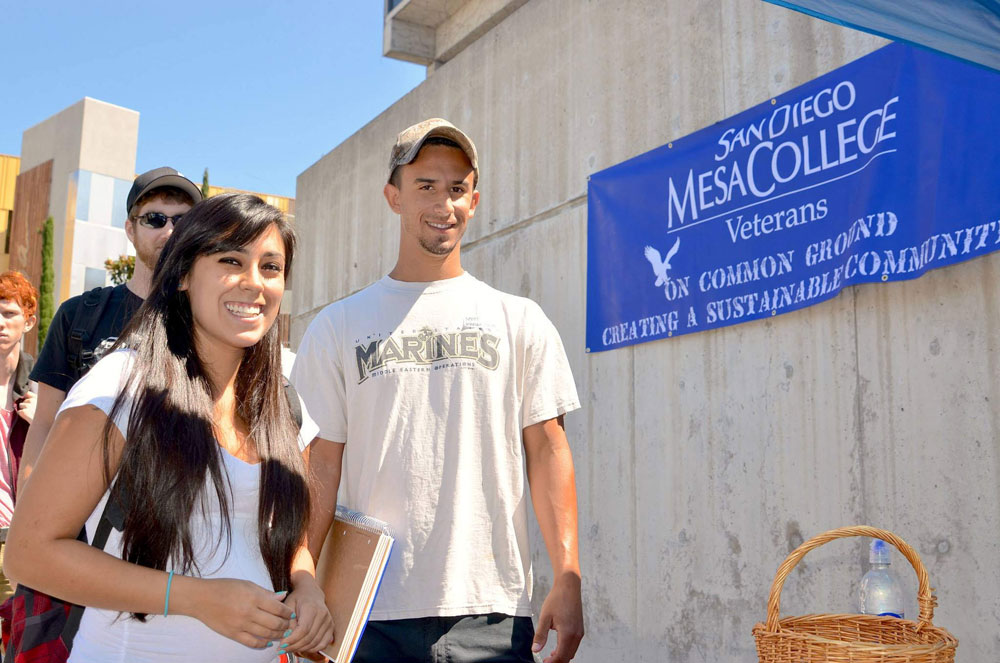 District colleges and Continuing Education honored as military friendly
November 5, 2015

|
All four campuses in the San Diego Community College District – San Diego City, San Diego Mesa, and San Diego Miramar colleges, and San Diego Continuing Education – have earned the prestigious honor of being named a 2015 Military Friendly® School by Victory Media, publisher of G.I. Jobs®, STEM JobsSM and Military Spouse.
The Military Friendly® Schools designation is awarded to the top colleges, universities, community colleges, and trade schools in the country that are doing the most to embrace military students and dedicate resources to ensure their success both in the classroom and after graduation. Now in its seventh year, the Military Friendly® Schools designation is based on a survey that captures more than 50 leading practices in supporting military students, thus providing service members and their families with transparent, data-driven ratings about post-military education and career opportunities.
"As Americans, we owe a lot to our veterans for their selfless and often heroic service," said SDCCD Chancellor Constance M. Carroll. "We give them priority at all of our campuses and I am very pleased to see our practices honored by the Military Friendly designation."
The SDCCD served 3,522 veterans last year, a number equal to 6 percent of the district's total student enrollment.
Among the offerings at SDCCD colleges and Continuing Education:
- San Diego City College houses an on-campus Veterans Service Center that provides a welcoming environment for all veterans by offering peer support and mentoring, referrals to both on- and off-campus resources, meetings relating to veterans' issues, and guest speakers. In addition, the SDCCD's Military Education Program is based at City College. The Military Education Program is contracted to instruct more than 13,000 active-duty personnel in San Diego and at Corry Station, Florida; Great Lakes, Illinois; and Meridian, Mississippi.
- San Diego Mesa College, home to more than 2,000 student veterans, offers an array of services to active-duty military and military veterans. The college opened a new Veterans Resource Center in 2014, and Mesa recently hired a full-time counselor to support student veterans. In addition, the Mesa College Foundation actively supports fundraising activities in support of student veterans.
- San Diego Miramar College features a Veterans Affairs office that staffs a full-time Veterans Affairs Specialist. The college recently received a sizable grant from San Diego Gas & Electric to develop the 'Vets-2 Jets' program, which offers varied grants to cover books, tuition, and living expenses. And Miramar's Transfer Center assists military students by providing a pathway for transfer to four-year institutions, while student health services assists with screening for depression, anxiety, and Post-Traumatic Stress Disorder (PTSD).
- San Diego Continuing Education offers four free certificate programs that are available for veterans: Automotive Technology; Automotive Body and Paint Technician; Shielded Metal Arc Welding; and Combined Upholstery Trades. SDCE also offers services to veterans with disabilities, including high-tech centers with adaptive equipment and computers that introduce students to computer access in large print and voice output. Other services include a Cognitive Retraining noncredit class, in which students with brain injuries develop strategies to achieve goals in areas of daily living, including interpersonal relationships, community activities and college. And Occupational Opportunities is a class that helps individuals with disabilities explore their work interest in the San Diego labor market, and to acquire the skills necessary to seek and maintain employment.
"Post-secondary institutions earning the 2016 Military Friendly® School award have exceptionally strong programs for transitioning service members and spouses," said Daniel Nichols, Chief Product Officer of Victory Media and Navy Reserve veteran. "Our Military Friendly® Schools are truly aligning their military programs and services with employers to help students translate military experience, skills and training into successful careers after graduation."
There are an estimated 240,677 veterans living in San Diego County, more than 1 in 5 of whom served in military since the Sept. 11, 2001, terrorist attacks. San Diego County is home to close to 90,000 Navy personnel, 35,000 Marine Corps personnel, and 22,500 Department of Defense civilian personnel.