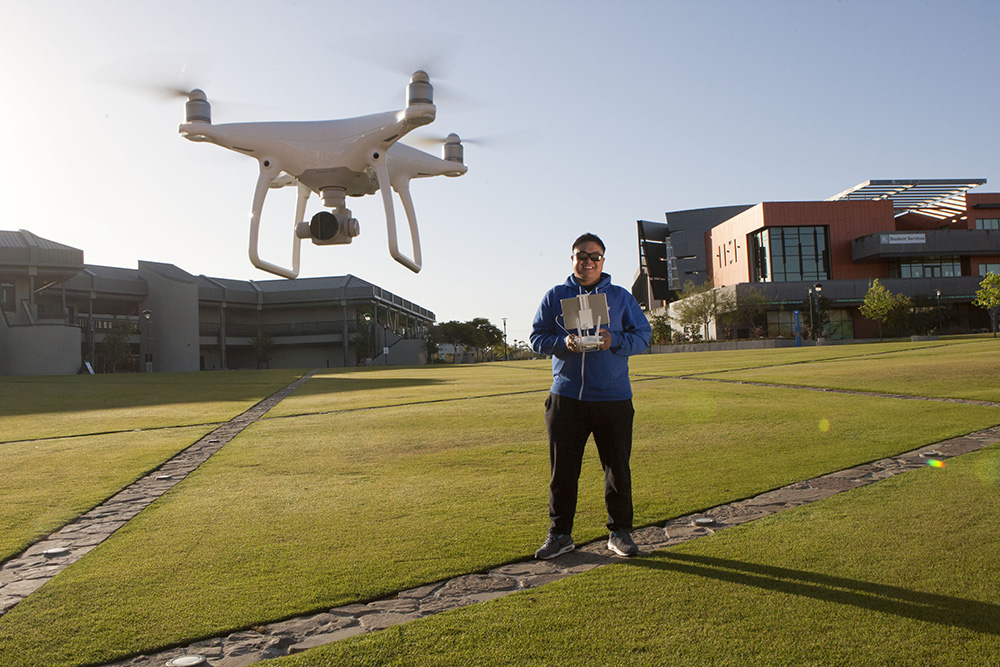 Drone program headed for takeoff
May 23, 2017

|
Miramar College's Aviation Operations Program will soon reach new heights with new courses on drone operations being lined up to take flight as early as the fall of 2018 and plans for a certificate of achievement program to follow.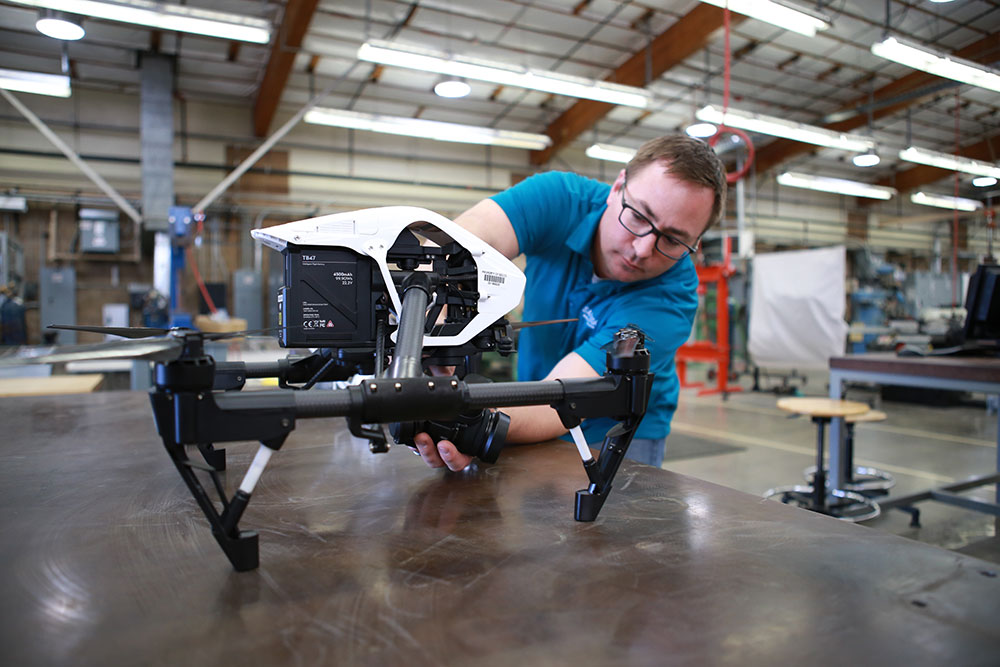 Unmanned Aerial Vehicles (UAVs), more commonly known as drones, are becoming more popular with everyone from farmers who are turning to them to gather data and spray pesticides to first responders trying to map a wildfire or look for a missing person.
The Federal Aviation Administration projects some seven million drones will be taking flight by 2020, and the Federal Aviation Administration saw more than 770,000 registrations in the first 15 months setting up an online drone registry. That number was up 100,000 in the first two months of this year.
"We're ushering in a new age of American aviation: the unmanned aircraft era. It's moving at a quicker pace than anything we've seen before," said Michael Huerta, administrator of the Federal Aviation Administration, in his opening remarks to the Unmanned Aircraft Systems Symposium in San Diego on March 27. "If you can dream it, drone manufacturers are building it. Some of the latest models can sense and avoid obstacles in their paths. Others can fit in your pocket, or be used under water. A few have even automated the selfie game."
With the rapid growth come concerns about air traffic safety and adequate pilot training. That's where the Miramar program comes in. Basic Unmanned Aerial System courses are in the curriculum development and approval process and include a course aimed at preparing students to meet FAA certification to operate smaller drones for commercial purposes; a related lab course will focus on honing pilot flight skills and on flying simulated, for-hire commercial drones.
Max Moore, an aviation technology instructor at Miramar who will be teaching the classes, said he hopes to have the courses offered in the fall of 2018.
"The program is focused on proficient pilots who know the rules and regulations in operating remote aircraft safely in public air space," Moore said. "With the unprecedented growth in the unmanned aircraft industry, there is a huge potential for problems. A lot of people are flying in places they shouldn't be flying and are doing things they shouldn't be doing."
An FAA Safety Team representative who works with government and private groups to promote air safety in the region, Moore spent 10 years as a Marine attached to a helicopter air crew that flew in Kuwait and Iraq. In 2011 and 2012, he piloted the MQ-5B Hunter UAV, a drone nearly the size of a single-engine airplane, gathering military intelligence in Afghanistan with a defense firm under contract with the Army.
Miramar College has been working with the FAA and nearby Marine Corps Station Miramar for approval to operate unmanned aircraft safely and legally in the airspace around campus. Meanwhile, the Aviation Operation Program is stocking up on drone equipment through various sources, including donations and state Strong Workforce dollars aimed at supporting the growth of Career and Technical Education (CTE) programs across California.
Miramar College's Aviation Operations Program is part of the larger Aeronautical and Aviation Technology Program housed within the School of Business, Technical Careers and Workforce Initiatives. Miramar College offers two associate degrees in Aviation Operations: Aviation Business Administration, and Professional Aeronautics. The new drone piloting courses will be offered as electives in the Professional Aeronautics program, but Moore said Miramar is looking at later expanding the effort, culminating with a certificate of achievement in Unmanned Aerial Systems.
"The new drone courses fit in with the mission of San Diego Miramar College of being at the forefront of workforce development and education in cutting-edge industry," said Lynne Ornelas, dean of Business, Technical Careers and Workforce Initiatives. "Drone operations and technology is a growing industry, and we anticipate strong demand for our courses."