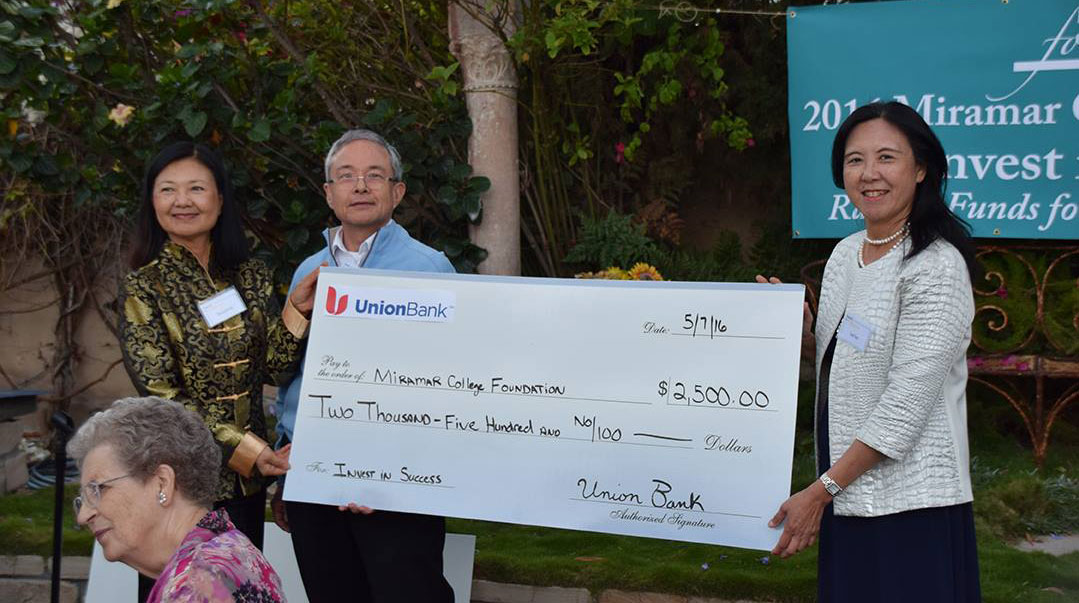 Miramar College Foundation accepts generous donation from Union Bank
June 21, 2016

|
The Miramar College Foundation received a $2,500.00 donation June 16 from Union Bank. The money will be used to fund the Foundation's Freshman Scholarship program for incoming San Diego Miramar College students.
"Our foundation is not sustainable without the contributions made by our community partners," said Dr. Patricia Hsieh, president of San Diego Miramar College. "Our students benefit greatly from the generosity we receive on an annual basis from Union Bank. We are grateful to them for their continued support."
Union Bank presented the Foundation with a check for $2,500.00 as part of the 2016 Invest in Success program held May 7 in Coronado. Each year, the Foundation awards 14 Freshman Scholarships, worth $500 each, to incoming Miramar College students. In 2016, the Miramar College Foundation administered 37 scholarship awards to 167 recipients totaling $84,169.00 and an additional 57 external awards worth $62,101.00 for a grand total of $146,270.00.
The Miramar College Foundation serves as a channel for financial and other contributions to directly benefit Miramar College students. The Board of Directors pursues industry, community and individual support for Foundation and college fundraising activities. As the Foundation is an independent 501(c) (3) nonprofit organization, the Foundation must annually raise its own operating budget in addition to funds necessary for specific support to Miramar College and Miramar College students.