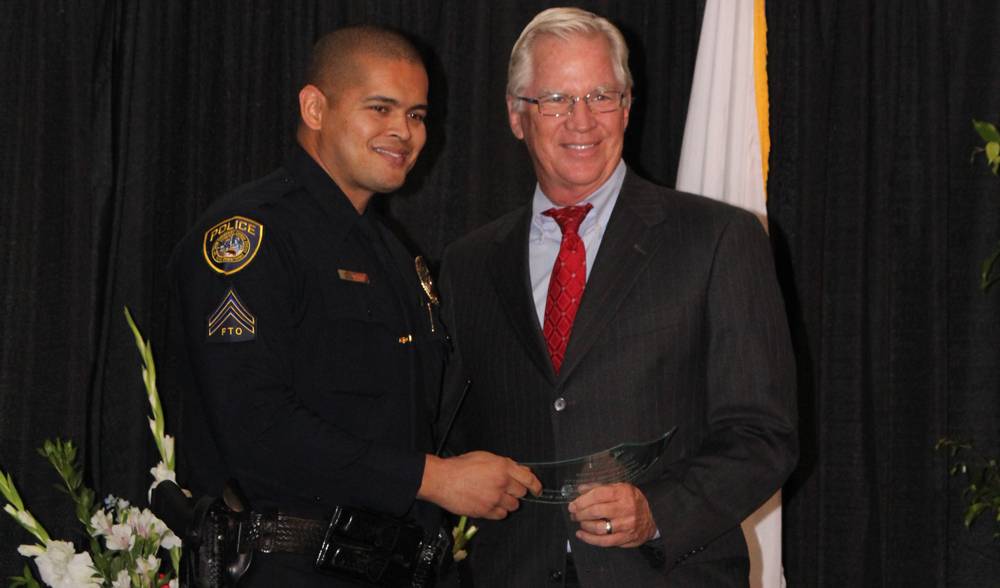 SDCCD officer honored for going beyond call of duty
September 25, 2015

|
San Diego Community College District Police Officer James Everette was recognized at a Sept. 16 awards ceremony for going above and beyond the call of duty in subduing – while suffering a broken leg – a suspect with an extensive criminal history during a violent struggle at Continuing Education's North City campus.
The incident happened at the Aero Drive campus July 2 when a former student threatened faculty and staff after being told by the North City campus Dean to leave. Officer Everette arrived on the scene, but the former student refused to comply with the officer's orders and began to violently resist attempts to take him into custody. Officials said that as Officer Everette and the man began to fall and wrestle to the ground, the suspect landed on Officer Everette's right shin, fracturing his fibula.
"He was in excruciating pain, but nonetheless remained in control of the situation and the suspect until other officers could arrive," said SDCCD Police Chief Raymud Aguirre.
The suspect was arrested without further incident.
Officer Everette was honored with certificates of recognition from the County of San Diego, the California Senate, the California Assembly, and Assemblyman Brian Maienschein during the Sept. 16 `Honoring our Region's Heroes 2015'event sponsored by the North San Diego Business Chamber. The event was held at the California Center of the Arts in Escondido.
SDCCD Police Officers provide law enforcement on and around City, Mesa, and Miramar colleges, the six Continuing Education campuses, and offices.