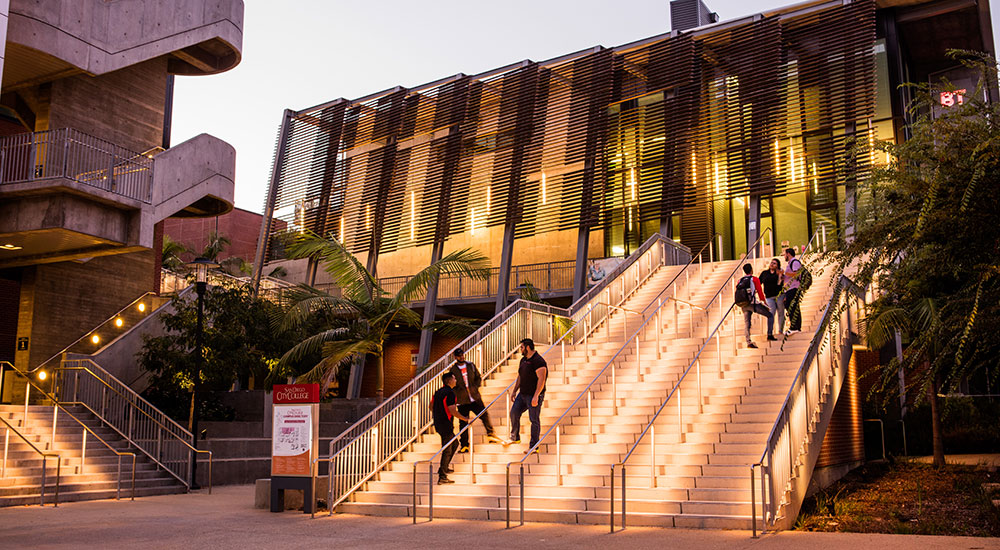 Spring semester begins January 29
December 5, 2017

|
Students can sign up for a variety of evening and online courses, in addition to a bounty of career education classes, when open registration gets under way Dec. 11 for the San Diego Community College District's 2018 spring semester. Classes begin Jan. 29.
San Diego City, Mesa, and Miramar colleges are offering nearly 1,000 fully online or partly online courses. All online courses are taught by experienced instructors, and technical support is offered 24 hours per day, seven days per week.
Because more than 7 in 10 students are employed at least part time, the district also offers nearly 1,200 evening classes – with mathematics, English, exercise science, biology, and fine art being the most popular – to accommodate working adults and others looking for more flexibility in their schedules. In fact, many certificate of achievement programs can largely be completed in the evening, including Cosmetology, Engineering, and Electronics at City College; Chemistry, Physical Sciences, and Computer and Information Sciences at Mesa College; and Accountancy, Business Administration, and Fire Technology at Miramar College.
Students wanting to get a head start on their studies for the new year can also register for four-week and six-week intersession classes. This year's menu of four-week intersession courses range from Business Law & the Legal Environment to Conversational Spanish and Contemporary Social Problems. Intersession runs Jan. 2-Jan.27. A limited number of six week courses ranging from World History to 3-D Animation will be offered from Jan. 2-Feb.10.
San Diego City, Mesa, and Miramar colleges offer 65 associate degrees for transfer. At just $46 per unit, the SDCCD offers the lowest-price higher-education option in the country.