Continuing Education students benefit from Veterans Outreach program
November 8, 2017

|
San Diego Continuing Education is working with student veterans on their education and career transition to help them get into the workplace following their service in the military.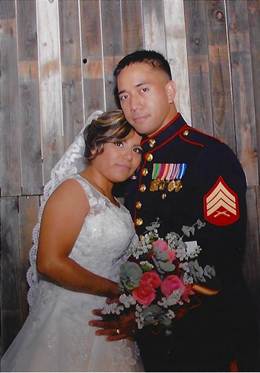 George McFall enrolled at SDCE after serving in the United States Marine Corps (USMC) for 5 years. He left his island of Samoa at age 18 to join the armed forces. "I am a part of the warrior class being Samoan, so I always wanted to serve my country. My mom instilled in me at a young age that I needed to protect my family and my community."
Earlier this year McFall signed up for a Career Transition/Job Search Workshop class at SDCE. "A lot of veterans are looking for a second chance." He said, "My plans changed. I didn't think I was going to get out of the military so soon. After that I was looking for something else other than just education to help feel the void." McFall explained he saw his future in the military and didn't consider going to college.
SDCE recently launched a pilot initiative with Back 2 Work Caltrans Veterans Outreach Program (VOP) to expand efforts toward targeting the veterans and re-entry population. Students are required to take SDCE's career development courses to achieve work readiness and participate in a 6-month paid apprenticeship. The new community and statewide partnership with SDCE will go through June 2018 as part of the institution's greater vision to provide accessible high quality education to every resident in California 18+ no matter their circumstances.
"This opportunity truly matters to them, many of these veterans are homeless, take buses and walk here," said Ailani Cepeda, VOP faculty. "They don't make any excuses. They get here because they want the quality of life they deserve.
"Showing up to work and class every day is healing. I finally feel acknowledged for the skills I gained in the service. It also feels good to be with other veterans who share the same honor and pride," said McFall.
"This is one of the few programs like this that helps formerly incarcerated veterans through adult education and job readiness," said Maureen Rubalcaba, SDCE's Dean of Student Equity. "We have an opportunity to reach veterans who may not be aware of available resources or who are not being served—those who may get lost because of homelessness and different challenges."
Now 25, the former sergeant is dually enrolled at San Diego City College pursuing a degree in Criminal Justice. "I'm proud of myself for coming a long way from a small island. I want to be the best man I could be as a father and a husband," said McFall. "My future will be better now going forward with education and a degree."
SDCE offers military and active duty military spouses more than 60 free short-term career training programs and thousands of free classes including Business, Welding and Parent Education. SDCE is the region's largest provider of free workforce training and education. Academic accommodations for students with verified disabilities are available through SDCE's Acquired Brain Injury program as well as its Disability Support Programs and Services.
On Thursday November 9, SDCE will host "Honoring All Who Served", a Veteran-focused resource fair including workshops and information sessions. The event is scheduled for 9:30am to 2:00pm at SDCE's Educational Cultural Complex.