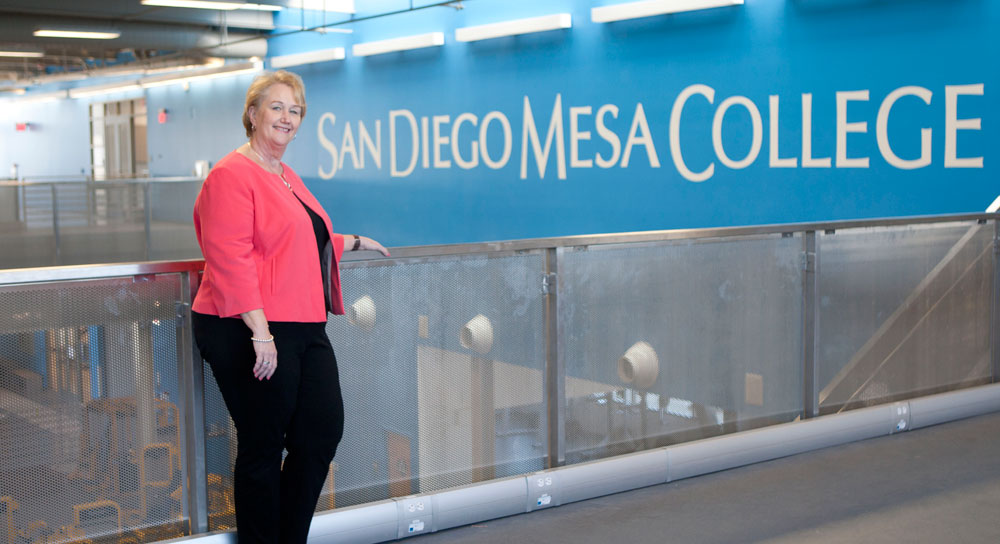 Mesa president building a legacy
June 7, 2016

|
President Pamela T. Luster played a critical role in making San Diego Mesa College the first community college in the state to offer a bachelor's degree. She works tirelessly in expanding outreach and equity efforts both on and off campus. She has guided one of California's largest community colleges through an unprecedented transformation that has seen construction of seven new buildings, including centers for math, science, and allied health.
Through it all, the San Diego Mesa College President has been driven by two goals: "My eyes are always focused on creating the conditions so our students are successful," she said. "And I want San Diego Mesa College to be a place where people will want to come to work, a place that will continue to attract the best and the brightest out there."
She has earned praise from throughout the region and beyond.
Dr. Pam Luster is one of the best things that ever happened to Mesa College and the San Diego Community College District. She is a visionary, highenergy, and deeply student-centered president who provides leadership for every aspect of the college. I enjoy working with her and invariably learn something new and important whenever we interact. We are happy to have her here.
President Luster's priorities at Mesa College include:
- Successfully implementing the baccalaureate degree program in Health Information Management, which is expanding this fall to include juniors.
- Ensuring that Mesa College is preparing itself and its students for the economy of the future.
- Hiring the best. "Who you hire is going to have a huge impact on the legacy of the campus," said President Luster, noting that 80 faculty members have been hired in the past three years.
Most of all, President Luster's focus is with the more than 24,000 students who enroll at the Clairemont campus each semester. "I am constantly examining what the college is doing and if it is doing everything possible that is conducive to helping students succeed."
She is especially committed to ensuring Mesa College is accessible to all.
"President Luster is a highly regarded national leader and expert in advancing equity efforts in community colleges," said Dr. J. Luke Wood, Director of the Doctoral Program in Community College Leadership at San Diego State University and Codirector of the Minority Male Community College Collaborative. "She is deeply committed to the community college's mission of open access and creating better life opportunities for society's most disadvantaged."
President Luster didn't set out to become an education pioneer. She launched a career as an audiologist while teaching part-time at West Valley College near San Jose. When the Chair of the Disabled Students Program became ill, she was asked if she wanted an interim job.
I thought it was awesome. I loved doing it and found it amazing that they would pay me for this," she said.
She left West Valley College as Dean of Career and Workforce Development and went to work at Las Positas College in the city of Livermore, where she served as Interim Vice President of Instruction, Vice President of Student Services, and Dean of Academic Services.
President Luster came to Mesa College in 2011. Almost immediately, President Luster reached out to nonprofits and civic organizations in the region to build stronger ties to the college and put Mesa on the map as a leader of equity and excellence, not only in the region and the state, but in the nation.
President Luster said, "It's important that we get the word out to let people know about the amazing things we are doing here."