Patricia Hsieh marks 10 years as Miramar president
July 1, 2015

|
Dr. Patricia Hsieh smiles when retelling the story of driving her mom by San Diego Miramar College shortly after Hsieh was named president of the school nearly 10 years ago.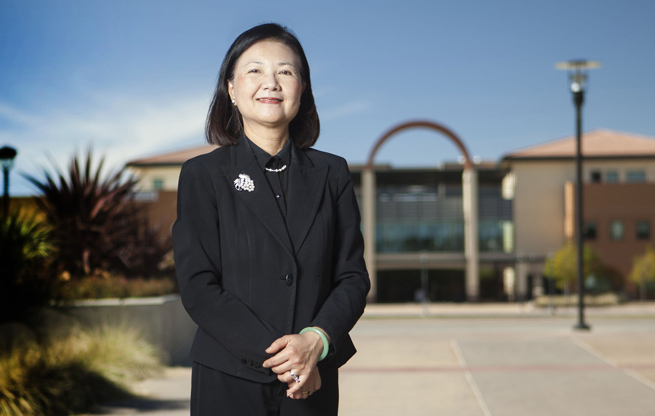 At the time, Miramar College, spread over 120 acres off Interstate 15 north of the Miramar Marine Corps Air Station, was dominated by portable classrooms and an abundance of vacant property.
"Are you sure this is the place?" Hsieh's mother asked, clearly unimpressed with her daughter's new digs.
Hsieh could hardly blame her. "When I came here, the staff was so small, we didn't even have a phone directory."
But under President Hsieh's leadership, Miramar College has undergone a radical transformation that has been the envy of community colleges across the state. Additions include a $31.3 million Arts & Humanities building, a $39.5 million Cafeteria/Bookstore & Student/Campus Center, the $22.3 million Hourglass Park Fieldhouse, a $39.4 million library, and a $31.3 million Mathematics and Business building.
The additions have helped the campus become one of the fastest growing community colleges in the nation, according to a recent Community College Week survey.
Along the way, President Hsieh has built broad support for the college by forging close working relationships with local business groups, neighborhood committees, and area high schools.
"Dr. Hsieh is a well-respected community leader and we are honored to have someone of her caliber on our board of directors," said Wendy Urushima-Conn, president and CEO of the Asian Business Association.
To President Hsieh, close ties with the community make sense. "You have to develop a relationship with the community if you want the community to support the college," she said.
Reaching out to the community also means working closely with the San Diego Unified School District.
"She has been active in enhancing the quality and quantity of our relationships with our feeder high schools," said Gerald Ramsey, Miramar College's Vice President for Student Services.
Those relationships include welcoming the Scripps Ranch High School swim programs to use the Miramar College Ned Baumer Aquatic Center for morning workouts. Scripps Ranch students will be able to concurrently enroll in a Business Entrepreneur Program offered by Miramar College starting next fall. San Diego Miramar College and Mira Mesa High School are on track to launch an Early College program for high-achieving seniors from Mira Mesa High School beginning in August. For students who need additional academic support, Miramar College – in collaboration with San Diego Continuing Education – has launched a pilot program at Mira Mesa High to better prepare students for placement tests that determine what level of math and English courses they will take when they enroll in college.
President Hsieh's experience at Miramar College mirrors her childhood growing up in Taiwan during the Republic of China's infancy, when living conditions were far from the modern standard. However, education was a priority, and she earned her Bachelor of Arts in Western Languages and Literature at National Chengchi University in Taiwan. After she and her husband immigrated to the United States in 1979, President Hsieh earned a Master's Degree at Wayne State University in Michigan. For the next several years, she worked as a stay-at-home mom raising the couple's two children. When she enrolled at Pepperdine University's Doctor of Education program, President Hsieh realized that she was technologically illiterate; computers, once rare in the classroom, had become commonplace.
"I didn't know how they worked," she said. "I didn't even know how to turn it on."
She was a quick study, and President Hsieh focused her dissertation research on student development and crafted a Student Development Model for the California Community Colleges.
"I got a real good understanding about the role that the community should play, and not just because the word 'community' is in the name of a community college.
President Hsieh put her newfound skills to use, first as a dean at Antelope Community College, then as an interim president at Sacramento City College. When she arrived at Miramar College, one of her first challenges was finding a new home for a local Little League, which was using a vacant field on campus that was slated for construction. Not only did she help find the youth league a new field, President Hsieh presented an award to the group thanking it for the years of service to children in the area.
"Dr. Hsieh has been very well-received in the community served by Miramar College, and she has a wonderful rapport with our board," said Miramar College Foundation board President Martin Hight, Chief Emeritus of the San Diego Harbor Police Department. "She is very approachable, very easy to work with, and a strong advocate for Miramar College."
Joe Frichtel knows about those qualities first hand. A longtime member of the Mira Mesa Town Council who sits on the Hourglass Field Joint Use Committee that coordinates programs at the community park with Miramar College, Frichtel said the name "Miramar" College may have become a misnomer under President Hsieh's leadership.
"It should probably be called Mira Mesa College," Frichtel joked. "She has been very concerned since she got here to make sure that Miramar College is part of the Mira Mesa community, and she has succeeded in every regard."