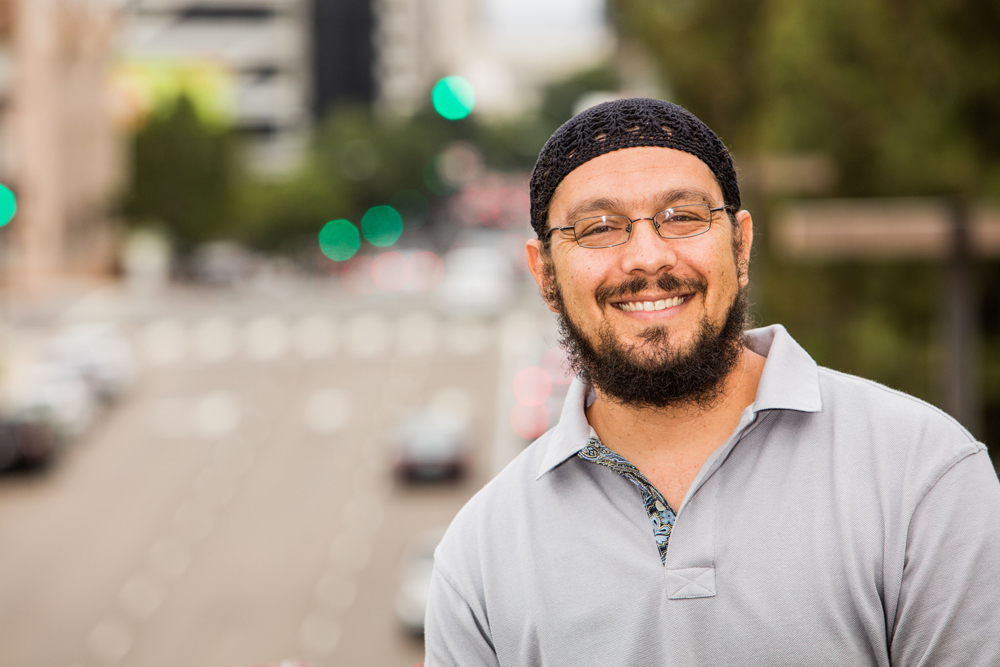 Professor Paul Alexander making a commitment to the community
August 16, 2016

|
San Diego City College English Professor Paul Alexander is all about building community.
Alexander, the president and founder of the nonprofit group Pillars of the Community, is active with the grassroots group Reclaiming the Community; is the co-coordinator for City College Umoja program, which enriches the cultural and educational experiences of African-American students; works with fellow English instructor Anna Rogers in organizing the annual Social Justice and Education Conference at City College; and serves on the Muslim Leadership Council of San Diego. He makes his home in southeastern San Diego in part to stay connected with the large number of community college students who live there.
"I don't see my job as a community college professor being one where you just go to work and come home," he said. "It's important that we engage and do what we can to address the needs and issues that our communities are facing."
A Turning Point
A native San Diegan, Alexander attended Grossmont College after graduating from high school and traveling to India and Pakistan, but he didn't find his footing until he began taking classes at San Diego City College, where his mother was a professor. He later earned both his Bachelor of Arts in English and his Master of Arts in Comparative Literature from San Diego State University before securing a Fulbright Scholarship and living in Syria to study Islamic culture. His goal upon returning home to San Diego was to teach at City College.
"I really enjoyed my time as a student at City College, and I felt that after I finished up my Fulbright Scholarship I wanted to give back to the school that helped me get to where I am today."
Part of the DNA
Alexander exemplifies the San Diego Community College District's commitment to community. That commitment is evidenced in how the district partners with the military. It is evidenced in how Black History Month, Hispanic Heritage Month, Asian-Pacific American Heritage Month, and Women's History Month are more than dates on the calendar, they are events celebrated with films, discussions, and exhibits. And it is evidenced in its co-sponsorship of the annual Conference on Restoring Civility to Civic Dialogue and its participation in the annual Pride and Martin Luther King, Jr., Day parades.
Leadership from the Top
Alexander credited Dr. Constance M. Carroll for setting the tone.
"I have very high praise for Chancellor Carroll and her commitment to helping ensure that our district is serving the community," he said.