College Police supporting fight against breast cancer
October 1, 2017

|
The San Diego Community College District Police Department is a proud participant in the Pink Patch Project, a public awareness campaign designed to bring attention to the fight against breast cancer and to support breast cancer research organizations in combating this devastating disease.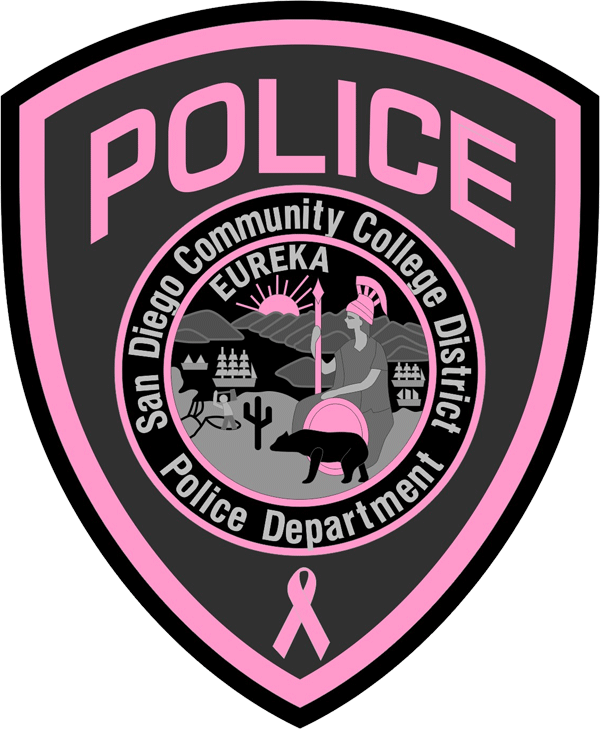 The program centers on vibrant pink versions of the public safety officer's uniform patch. These bright pink patches have been specially designed by each participating agency specifically for the Pink Patch Project campaign. Officers at each of the participating agencies can wear these pink patches on their regular uniforms for the entire month of October each year during Breast Cancer Awareness Month.
Law enforcement agencies from around the country are joining the campaign. Cancer survivor and SDCCD College Police Sgt. Ed Headtke organized the district's participation in the campaign and hopes to raise money for City of Hope. "Everyone has personal experience with someone with cancer. You can't find a reason not to be involved."
The pink patches are intended to stimulate conversation with the community and to encourage public awareness about the importance of early detection and the on-going fight against this disease.
"I'm very appreciative of the services I received with City of Hope. It's an outstanding organization. Hopefully we can do this every year." said Headtke.
Patches cost $10 and are available at any of the district's police stations, the Business Office at San Diego Continuing Education or by contacting Sgt. Ed Headtke at eheadtke@sdccd.edu or 619-388-6411.
Learn more: Pink Patch Project's Facebook Page