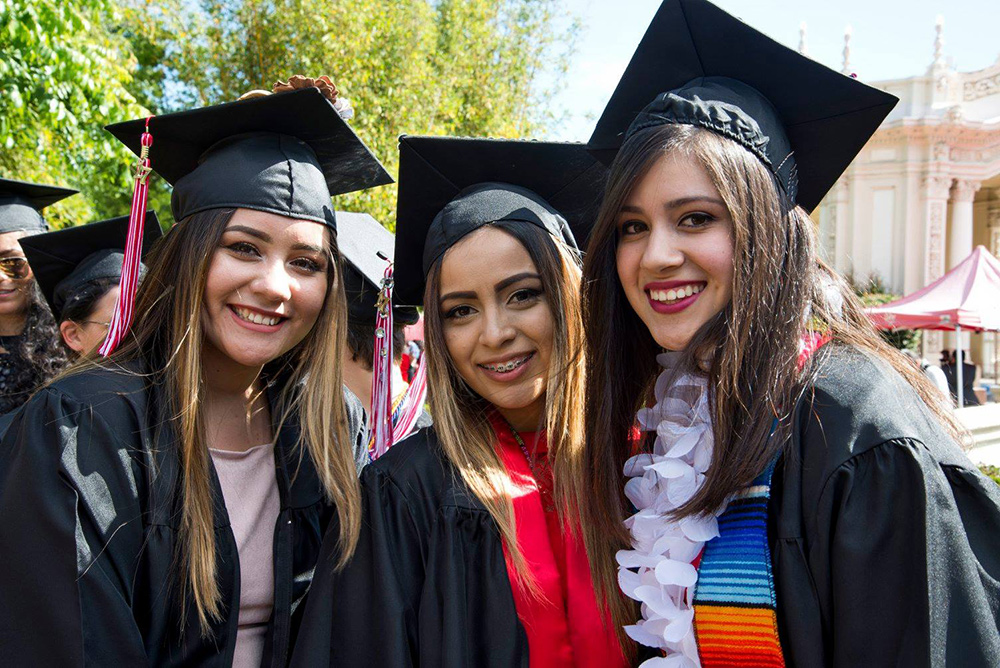 SDCCD students setting the pace on transferring to UCs and CSUs
October 17, 2017

|
The application period for students planning to transfer to a California State University campus for fall 2018 semester opened Oct. 1 and opens Nov. 1 for those wanting to transfer to a University of California campus. Luckily students in the San Diego Community College District have an advantage.
San Diego City, Mesa and Miramar Colleges students applying to transfer to SDSU earn priority consideration for admission thanks to long-standing regional transfer agreements with local universities. Last year, almost 1,100 City, Mesa and Miramar students transferred to SDSU and an additional 320 to UCSD representing more than 50 percent of the total transfers.
Aiding SDCCD students in their pathway to a California State University (CSU) campus is the Associate Degree for Transfer, sometimes referred to as a "Degree with a Guarantee" because students are guaranteed admission to the California State University system. City, Mesa and Miramar colleges offer a total of 65 Associate Degrees for Transfer, and nearly 40 percent of students who graduated last year earned such a degree and were thus guaranteed admission to a CSU campus.
"The San Diego Community College District is a leader among community college districts in helping students who wish to transfer to a four-year college or university reach their goal," said Lynn Neault, the SDCCD's vice chancellor of student services. "Our students benefit from several formal programs, along with the ongoing support of devoted and determined faculty and staff."
Among the efforts is San Diego Mesa College's Bridges to the Baccalaureate Program. An impressive 98 percent of students who completed the Bridges program since 2008 have transferred to a four-year college or university, and many are now in or are completing doctoral programs at prestigious universities including Stanford, Brown University, DePaul University, the University of Washington, and UC San Francisco. Participants in the Bridges to the Baccalaureate program work in research labs at UC San Diego and Mesa College for up to 25 hours per week during the school year and learn from leading scientists who discuss career options. Students also are supported by faculty mentors, tutors, and counselors who encourage them to present their work at research conferences across the country.
"In all honesty, I would have never fathomed that I would be in the position I am now with the prospects I have today," said Jose Rizo, a senior majoring in molecular synthesis at UCSD who took part in the Bridges program at Mesa College and who will be applying for Ph.D. programs later this fall. "I grew up owning little more than my hopes and dreams, and knowing nothing more than the struggle of trying to get by. But Bridges to the Baccalaureate is a National Institutes of Health program that emphasizes providing STEM students from traditionally underrepresented or socioeconomically challenged backgrounds the skills and experience they need to excel in the their professional and academic careers. I credit the research experience that I was able to gain from being a part of this program to my current personal and academic successes."
The SDCCD Honors Program is another successful effort helping students from City, Mesa, and Miramar colleges transfer to universities around the country. Approximately 2,600 SDCCD students annually take part in the program, which provides more challenging and engaging learning for students motivated to transition seamlessly to a four-year college or university by emphasizing the critical thinking and research skills needed to thrive in a university setting. City, Mesa, and Miramar colleges have agreements with several universities in which Honors students who meet certain requirements receive priority consideration for admission, and past participants have earned bachelor's degrees at Stanford, doctorates at Princeton, and law degrees at Yale.
Meanwhile, City College's Math, Engineering, Science Achievement program, also known as MESA, is earning accolades for the large number of students who engage in research programs across the country, boosting success rates in transferring to prestigious four-year colleges and universities.