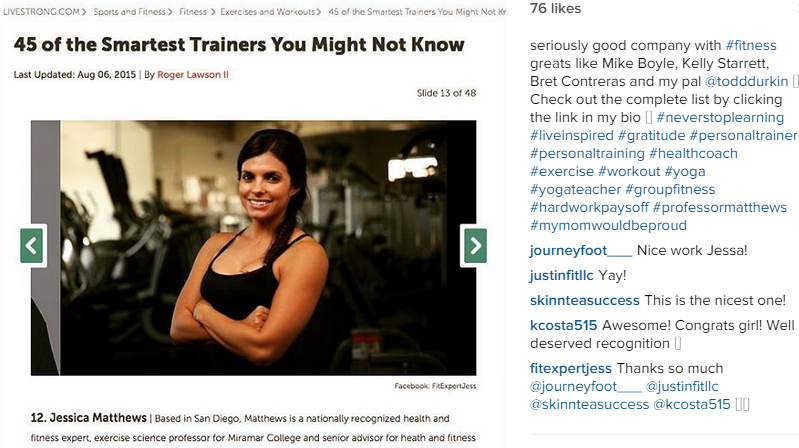 Educators connect with students via social media
September 8, 2015

|
Social Media is more than just a way for people to connect with family and friends, it is increasingly being used among educators to reach out to their students.
Teachers are finding new ways to incorporate the most popular social media platforms such as Facebook, Twitter and Instagram and utilize them for a specific subject. It allows the material to be presented to students in other ways and promotes learning outside the classroom.
Jessica Matthews, assistant professor of health and exercise science at Miramar College assigned a 30-day Instagram challenge for extra credit last semester. Students were asked to post photos related to overall wellness for 30 days. Images would be related to healthy food choices, yoga poses, exercise ideas and positive affirmations.
"It allows me to bring the information I share in the classroom to life. I can build a rapport with students in a meaningful way," said Matthews.
Matthews posts articles she's written on Facebook for her students to read and has recently started an account on the live video app Periscope. "I like that it's a live webinar format. I love that it has the live interaction piece. I plan on using it in my eight-week online class."
It can be difficult keeping up with new apps coming out so frequently. The District has staff in place to help instructors who aren't sure where to start or are looking to expand how they're using technology.
Instructional Design Coordinator for San Diego Community College District Katie Palacios makes it her job to ensure that faculty gets the training necessary to start using the platforms that best suit their needs.
"Our faculty is very motivated by student learning. Once they see how much it improves student learning, they're interested," said Palacios.
Palacios said she has walked a professor through the process of making a video of a PowerPoint presentation, recording everything that's happening on the computer and recording the professor's lecture.
"It can be a lot of work up front, but once you've done it, you've got it. You put it up on YouTube and can use it for next semester too," she said. "Once (instructors) start reaping the benefits they come back for more."
Incorporating social media into the lesson plan is an additional way for students to understand the material they're already studying.
"I'm reaching students where they are. It's where they're comfortable and I can relate to them on their level," said Sim Barhoum an English professor at San Diego Mesa College. "It's a different way to engage."
Connecting with students is essential for any instructor, but engaging isn't always easy for adjunct professors who are often times traveling to multiple campuses. Meeting with students in-person can be a challenge for mobile professors. Social media can make those meetings possible.
Denise Maduli-Williams, adjunct ESL and English professor at City College, has looked into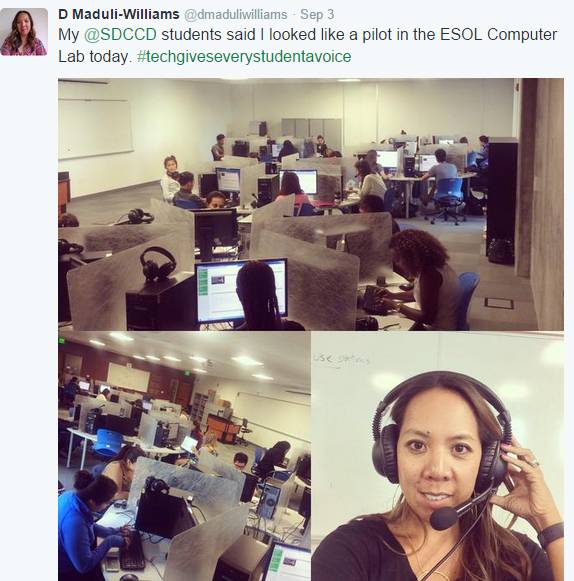 Denise Maduli-Williams posted this photo of her class on Twitter. She said it's common for students in her other classes to see a post and ask when they will do that in their class.
the video conferencing website cccconfer.org as a way of making herself more available to students.
"I've thought about getting that as my office hours. It's a great opportunity for students in evening classes. They don't have time to get to classes early and the classes end pretty late."
Maduli-Williams said she always polls her students at the beginning of the semester to see how many have smart phones or access to the Internet.
"Last semester all my students had access to the Internet, but I still keep it optional."
Maduli-Williams primarily uses Instagram and Twitter to complement what she's teaching in the classroom.
"I was at my son's game last weekend and the snack booth had a sign that was not written so well. I took a picture of it and posted it on Instagram."
Both Maduli-Williams and Barhoum use Twitter to promote events on campus and post inspirational messages to their students.
Social media is also an opportunity for people in education to communicate with peers.
Barhoum said, "It's allowed me to connect with the president of my college, professors I've worked on projects with and professors across the country. We're sharing resources and research."
Palacios agreed that being on social media has allowed her to get updates on colleagues and see how they're using social media. "This is such a big district. It's exciting that social media can bring us together."
LinkedIn, with 380 million users, is the most prominent social network for professionals. LinkedIn is a place where professors can share ideas and is a valuable place for students to begin networking within their field. Matthews has made it assignment for her kinesiology students to create a profile on LinkedIn and encouraged them to start making connections.
"Students need to know how to build connections, write a resume. More people need to be doing that."
Advice from our social media savvy colleagues for anyone interested in getting started was first to separate personal and professional social media accounts. With most apps users would create a new account with a description of their profession. Disclosing where they work would depend on how much an individual user would want to share. On Facebook users can create a professional page from a main account. Only the professional page would be accessible and their private profile would remain private.
Here are a few more tips our colleagues had to share:
Barhoum: "Let your personality show, but be professional. Stay away from politics."
Maduli-Williams: "Make it an option. Maybe just start out with one thing and try it out. It's all about building communication with my students. Find an easy way to do it in an optional format."
Matthews: "Don't be fearful of it. They're all things that you can easily learn. It's an opportunity to enhance what you're already doing."
Palacios: "It is an extremely effective way of reaching our students. If anyone needs assistance getting started, meet with us (sdccdonline.net). We're here to help.
Here's where you can find more of our faculty and staff on Twitter:
twitter.com/SDCCD/lists/faculty-staff/members
If you would like your profile to be added to our list email cpr@sdccd.edu
Additional resources:
Google Hangouts or Skype are video conferencing apps that allow students to meet with instructors regardless of location. It's an option for additional tutorials or use for office hours. Instructors can announce what time they plan to be on and any student from any class can join.
Remind is an app that allows professors to contact a group of students for each class. Instructors can text students reminders, announcements, photos and files.
Whatsapp and Snapchat can be used to text message students without having to pay SMS fees. So, if you don't have a texting plan on your cell phone, these apps are a way to get around that.
LinkedIn is an excellent place to find those expert sources. Students often need to interview people who specialize in a certain field as a source for a project. It's also not a bad idea to encourage them to start professional networking while they're still students. It could be useful for finding an internship, a full-time job after graduation or simply building up their endorsements before starting a job search.
Livemocha is language-learning app that offers reading, writing, listening and speaking lessons. Students can access virtual classrooms and book an online tutor. In the Livemocha community they can engage with native speakers of more than 35 languages.