Professor Carl Luna named one of nation's top community college faculty members
October 27, 2014

|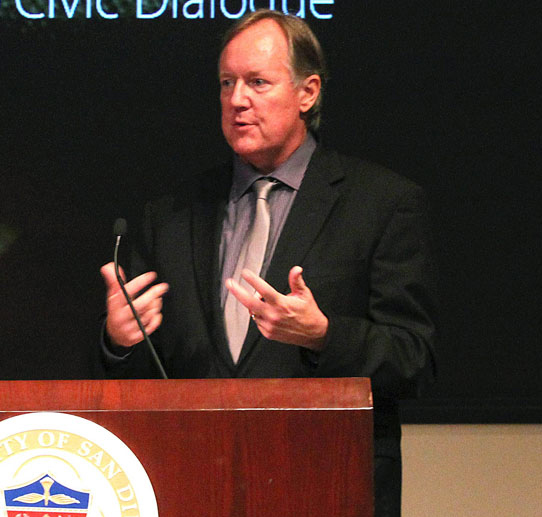 San Diego Mesa College Professor and popular political pundit Carl Luna has been named as one of the top community college faculty members in the country by the Association of Community College Trustees (ACCT).
Luna, who began teaching in Mesa College's Accelerated College Program 25 years ago, was presented with the Pacific Region's Faculty Member Award on Oct. 24 at the ACCT's annual conference in Chicago. He was one of five regional winners in the country.
"I'm honored and humbled to have received this award," Luna said. "Getting it is a testament to what one can professionally accomplish with a supportive college and district – from my Dean, Saeid Eidgahy, to our president, Pam Luster, right up to our Chancellor and Board of Trustees."
"Dr. Luna is respected in the classroom for engaging our students, and in the community for the clarity and acumen he brings to the political process," noted Dr. Pamela T. Luster, Mesa College President. "But most notably, he is a model of civility and civic engagement for us all. He is truly one of Mesa's treasures."
Luna is known to many as one of the region's most quotable political pundits. A go-to figure during election coverage, Luna figures he's done over 1,000 media interviews, and he has served as a Fox5 News political analyst for the past year.
Luna also was instrumental in founding Restoring Respect, a collaborative effort aimed at bringing civility to the political arena. Restoring Respect held its first conference at USD's Joan Kroc Institute for Peace and Justice in the spring of 2012. Earlier this year, the effort grew into The Institute for Civil Civic Engagement, whose projects include sponsoring conferences on political civility while working with local school districts, colleges and universities to promote public dialogue that builds community consensus and resolves problems for the common good.
A graduate from Mira Mesa High School, Luna earned his bachelor's degree in political science, history and philosophy from the University of San Diego and his Ph.D. in political science from American University in Washington, D.C. before returning to San Diego in 1988. Shortly after he arrived, San Diego Mesa College hired him as a professor for its Accelerated College Program, which provides college courses to advanced high school students on San Diego Unified School District campuses.
Luna also has been a visiting professor at the University of San Diego for more than 15 years.
"When I was president of Mesa College, Carl Luna was the Academic Senate President, as well as one of the most active, student-oriented professors on campus," said Dr. Constance M. Carroll, San Diego Community College District Chancellor. "I quickly realized that community colleges were exceptional institutions of promise for students because of the key role played by exceptional faculty members like Dr. Luna. We are all proud to see him honored in this way."
The ACCT each year presents regional awards for community college trustees, equity programs, chief executive officers, faculty members, and professional board staff members.
"Community colleges have taken on new roles and increased responsibilities in recent years," said former ACCT Chair and Westchester County Community College (N.Y.) Trustee LeRoy W. Mitchell. "The individuals who have been selected to receive this important recognition are truly vital to their communities and regions.