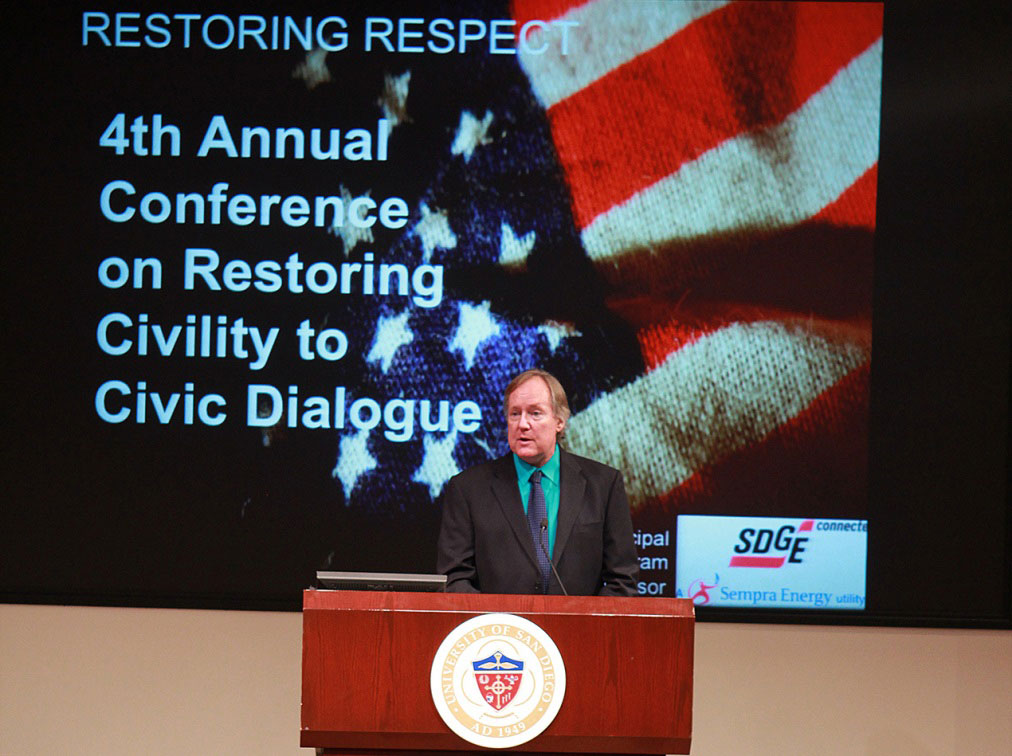 Divisive presidential race a focus of conference
March 31, 2016

|
With a backdrop of rising anger and frustration permeating the U.S. presidential campaign, the fifth annual Conference on Restoring Civility to Civic Dialogue – featuring award-wining journalist and civic educator Alexander Heffner as the keynote speaker – returns April 18 at the University of San Diego's Joan B. Kroc Institute for Peace and Justice.
Heffner, host of the PBS series The Open Mind, is known for his extensive reporting on millennials and the political engagement of young voters. Heffner in 2014 succeeded his grandfather, Richard Heffner, as host of The Open Mind, which was created in 1956 and is the longest-running public affairs interview program on American public television.
The Conference on Restoring Civility to Civic Dialogue evolved from Restoring Respect, a community initiative that aims to bring civility back to the political process and issues of public importance. It was established by the San Diego Community College District (SDCCD), the University of San Diego's School of Leadership and Educational Sciences (SOLES), the Catfish Club and others.
"We are particularly delighted to be celebrating our second annual student civility awards," says Dr. Carl Luna, co-director of Restoring Respect and director of the Mesa/City/Miramar/USD Institute for Civil Civic Engagement. The C6 Awards -- Celebrating Civility Awards: Creating Civility On Our Campuses and In Our Community are conducted in partnership between San Diego Unified School District, SDG&E and a coalition of regional organizations and institutions. High school seniors and juniors from across the SDUSD were invited to demonstrate what civility means to them and how civility may be best expressed across our community. The top student nominees from each participating SDUSD high school will be profiled at the Restoring Respect Conference where the top three scholarship winners will be announced. "The C6 Awards represents an important effort to institutionalize best practices in civil discourse across the educational curriculum," Luna said.
Panelists include Gene Cubbison, political reporter at NBC 7/39 television; San Diego Mesa College President Dr. Pamela Luster; University of San Diego President Dr. James T. Harris; Dr. Tyrone Howard, Professor of Education at UCLA; Olivia Light, Associated Student Government President at San Diego Miramar College, and closing remarks by SOLES Dean Dr. Nicholas Ladany.
Other speakers and panelists include Dr. Constance M. Carroll, Chancellor of the SDCCD; Dr. Maria Nieto Senour, President of the SDCCD's Board of Trustees; the Rev. George Walker Smith, founder of the Catfish Club of San Diego and co-chair of Restoring Respect; and Tom Karlo, General Manager at KPBS radio and television.
The April 18 conference is scheduled to run from 9:00 a.m. to noon, with registration beginning at 8:00 a.m. USD's Joan B. Kroc Institute for Peace and Justice is at 5998 Alcala Park in San Diego. The event is free and open to the public.
The Conference on Restoring Civility to Civic Dialogue is sponsored by the SDCCD, the University of San Diego, the Catfish Club, the San Diego Unified School District, and The San Diego Union-Tribune. San Diego Gas & Electric Co. is the principal program sponsor. To register for the event please visit www.sandiego.edu/restoringrespect/