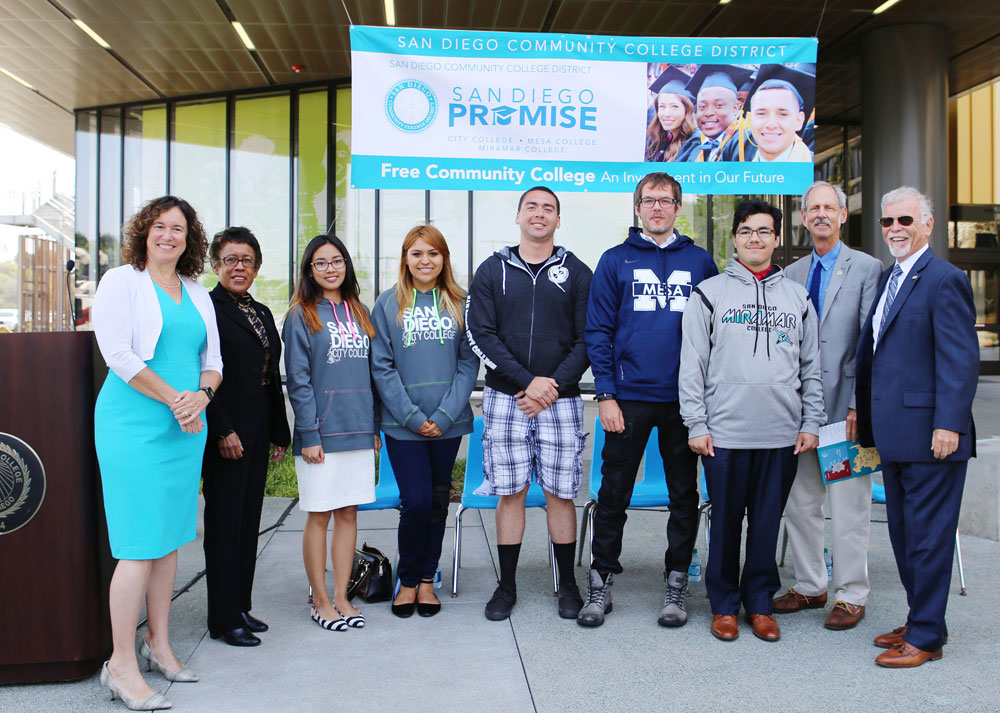 600 graduating high school seniors selected to receive free tuition and books
March 1, 2017

|
Six hundred graduating high school seniors are being notified they will receive free tuition and books beginning the fall of 2017 at a San Diego Community College campus through the San Diego Promise.
The San Diego Promise pays for enrollment fees and books that are not covered by financial aid. In exchange, San Diego Promise participants must to take part in orientation services and map out an education plan, be enrolled in at least 12 units for both fall and spring, provide at least eight hours of community service, and maintain a minimum GPA of 2.0.
"Many students are discouraged by the high cost of attending college, which includes the enrollment fee or tuition and textbooks," said SDCCD Chancellor Constance M. Carroll. "Most students also work and have extensive life expenses as well. The San Diego Promise is intended to give these students an opportunity to pursue their education and become contributing members of our community by eliminating the burden of direct educational costs."
More than 1,100 seniors from 26 San Diego Unified School District high schools submitted applications for the free college program offered by the SDCCD, which is quadrupling the number of students admitted into the program to nearly 800 in the fall of 2017, the program's second year. Applications were accepted through Feb. 10, and the number of applications received was nearly four times as many as last year.
Students were selected based on a combination of need, including barriers they have faced in the past, and commitment to completing a college degree, certificate, or transfer program.
The largest number of students – 286 – have opted to attend San Diego Mesa College, 195 will enroll at San Diego City College, and 94 say they will enroll at San Diego Miramar College. Another 25 students are undecided at this time as to which of the three colleges they will attend.
"Every day, we work to make sure our students graduate ready for college and a career," said San Diego Unified Superintendent Cindy Marten. "We are very pleased so many of our students have shown the desire to continue their education by applying to take part in the San Diego Promise. Their dreams inspire us to continue working with the San Diego Community College District until every student has the opportunity to pursue a higher education."
While the SDCCD offers one of the most affordable college educations in the country, costs remain out of reach for many. An SDCCD study found that 9 of 10 San Diego Promise students are from traditionally underrepresented communities, and half have a household income of less than $40,000 annually. Overall, nearly 7 in 10 SDCCD students are working to support themselves or their family while going to school, and approximately 1 in 4 students say they have had to drop at least one class because they could not afford the required textbooks.
The 600 graduating high school seniors accepted into the San Diego Promise will join the 180 students who enrolled in the program during the first year. Additional students will be accepted into the 2017-18 cohort from San Diego Continuing Education, and 10 freshmen will be admitted from the Monarch School for the homeless.