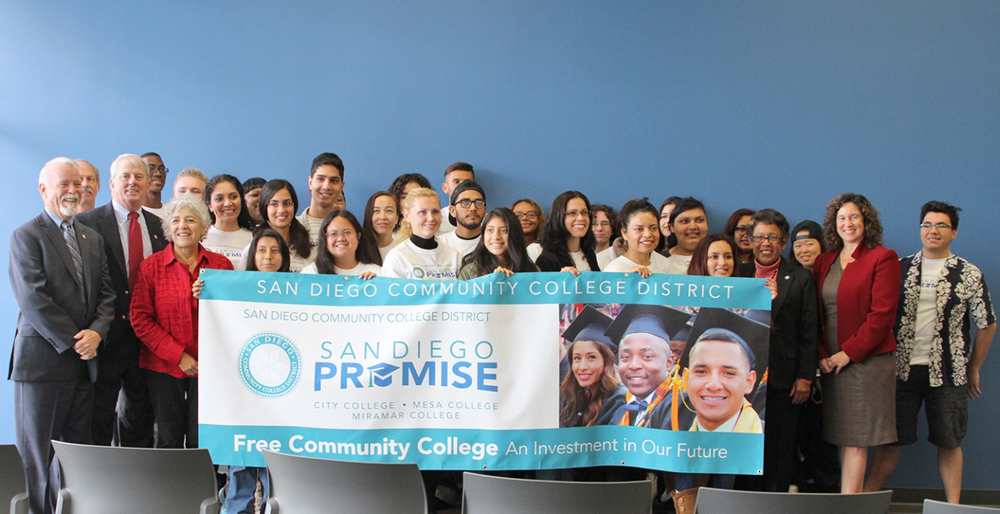 District's free college program to expand significantly in 2017
December 6, 2016

|
The number of students receiving a free education through the San Diego Promise will more than quadruple to nearly 800 in 2017, the program's second year, San Diego Community College District officials announced today.
The SDCCD is expanding its pilot program during the 2017-18 academic year to include up to 600 incoming freshmen at San Diego City, Mesa, and Miramar colleges. That's in addition to the 186 students who are currently enrolled in the program and expected to continue on to a second year next fall, marking an estimated 786 students benefitting from the effort that is part of the national free community college movement.
Of the 600 new San Diego Promise students, most will be 2017 graduates from the San Diego Unified School District. Seventy-five will be accepted from San Diego Continuing Education, the SDCCD's adult education division, and 10 freshmen will be admitted from the Monarch School, which has been educating homeless youth in the area for nearly three decades.
Applications are currently being accepted for the program. SDUSD students must apply by February 10, 2017. Applications are currently available at www.sandiegounified.org/promise. Notification will be made by March 1.
"Although students in the San Diego Community College District have access to the most affordable, high-quality higher education in the nation, earning a degree or a certificate remains a financial challenge for too many," said SDCCD Chancellor Constance M. Carroll. "Nearly 7 in 10 of our students are working to support themselves or their family, and most receive financial aid to help them get by. Expanding the San Diego Promise program means expanding access to even more deserving individuals throughout our community."
A recent analysis found that 9 of 10 students in this year's San Diego Promise program are from traditionally underrepresented communities, and approximately half come from families with a household income of less than $40,000 annually. Fifteen percent of San Diego Promise students come from families with a total household income of less than $10,000 each year.
"The San Diego Promise program exemplifies the strong collaboration between the San Diego Unified School District and the San Diego Community College District that is yielding results for students of all ages," said SDUSD Superintendent Cindy Marten. "A free education system is a vital ingredient in a thriving democracy, and we are grateful for this opportunity."
Nearly 70 percent of the students taking part this year in the San Diego Promise program plan on earning an associate degree and transfer to a four-year college or university, according to the SDCCD's recent analysis. An additional 5 percent say they intend to transfer without an associate degree.
The San Diego Promise pays for enrollment fees and books that are not covered by financial aid. Pilot program participants are required to take part in college orientation and map out an education plan, be enrolled in at least 12 units for both fall and spring, participate in eight hours of community service, and maintain a minimum GPA of 2.0. The estimated cost of the program this year is $216,734.
Chancellor Carroll says that based on a positive initial response, the SDCCD believes it will attract sufficient philanthropic support to fund the second year of the pilot program.
The San Diego Promise is intended to ensure that no deserving local students are denied the opportunity to go to college due to lack of resources. Students who receive some state or federal financial aid get the balance of their enrollment fees paid, thus ensuring free access. Students who do not receive state or federal financial aid will have their enrollment fees paid outright. And all students will receive up to $750 in grants for textbooks and related instructional supplies for the year.
Both the SDCCD and SDUSD are reaching to eligible students with details about applying for the program.