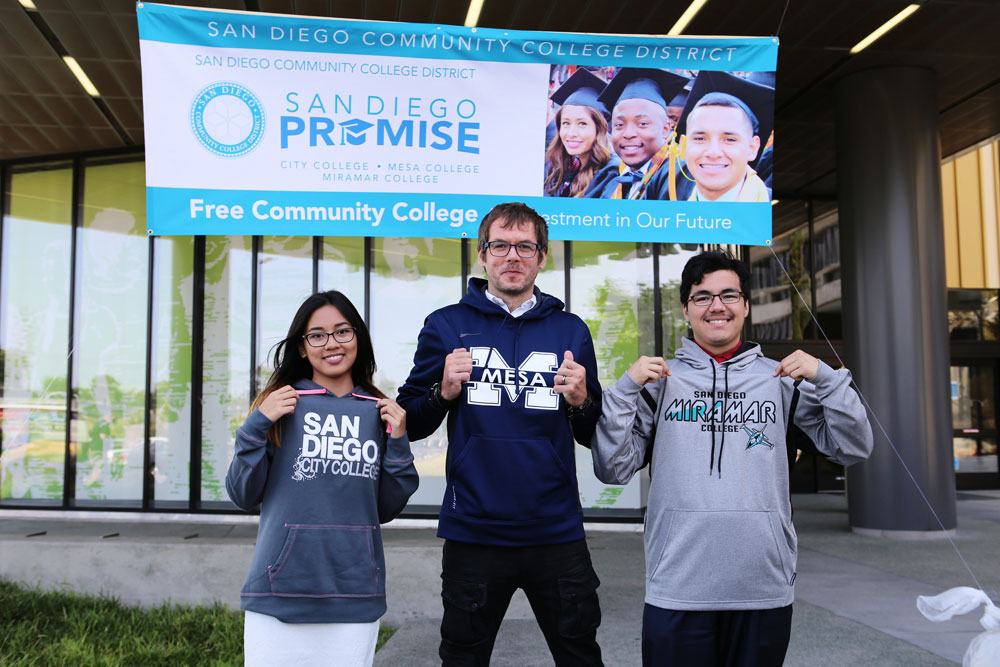 Free community college pilot program launched
June 22, 2016

|
The free community college movement has officially arrived in San Diego with the selection of the first students to participate in the San Diego Promise. A pilot program of the San Diego Community College District, the San Diego Promise will cover the costs of enrollment fees and provide book grants for 201 incoming freshmen at City, Mesa, and Miramar colleges during the 2016-17 academic year.
District officials held a news conference at San Diego Mesa College this morning to launch the program and introduce some of the first students to benefit from the San Diego Promise.
Modeled after more than 130 similar programs elsewhere in California and around the country, the San Diego Promise aims to ensure that no deserving student is denied access to college due to lack of resources. The SDCCD has budgeted approximately $215,000 in non-state funds to cover the program's first-year costs.
For more information visit www.sdccd/promise
"The San Diego Community College District is pleased to be moving forward with this important program," said SDCCD Chancellor Constance Carroll. "We are delighted to welcome the first group of students who will be able to attend our colleges free of charge. This is a real investment in our community."
Among the first San Diego Promise students are 175 graduating seniors from 21 high schools in the San Diego Unified School District. The remaining 26 students will come from San Diego Continuing Education – the SDCCD's adult education division, which includes an accelerated high school completion program.
A total of 317 SDUSD students applied to be part of the San Diego Promise. Students were selected by the SDUSD based on a combination of need, including barriers and challenges they have faced in high school, and commitment to completing a college degree, certificate, or transfer program.
"This marks a significant step in the growing partnership between San Diego's two largest education institutions," said San Diego Unified Superintendent Cindy Marten. "We share a common vision with the San Diego community colleges. Just as we believe no one should have to leave their neighborhood to attend a quality school, the community colleges are committed to the idea that you should not have to leave San Diego to get a world class education."
There will be three direct benefits under the pilot program. Students who receive state or federal financial aid will have the balance of the cost of their enrollment fees paid, ensuring free access. Students who do not receive state or federal financial aid, but still have financial need, will have their enrollment fees paid outright. Additionally, students will receive up to $1,000 in grants for textbooks and related instructional supplies.
Pilot program participants will be required to be enrolled in at least 12 units for both fall and spring, participate in eight hours of community service each semester, and maintain a minimum GPA of 2.0.
Following a one-year pilot program, SDCCD leaders are planning to expand the San Diego Promise in 2017. Eligible are incoming freshmen from feeder high schools in the district's service area – which overlaps with SDUSD's boundaries in the City of San Diego. In a typical year, the SDCCD's three colleges serve about 2,000 to 2,500 new students coming from feeder high schools. As such, the district will be seeking philanthropic support from local corporations and individuals to assist with funding the annual cost of the program.
In spite of relatively low enrollment fees, for many students the cost of attending community college can be daunting. Books alone can cost up to $1,000 annually. Add to that the price of housing, food, and transportation. Many students also have families to support – which is one reason why almost 70 percent of the district's students work while attending college, and more than 62 percent receive financial aid. District officials hope that with less of a financial burden, more students will be able to complete their program of study earlier and successfully transfer to universities or transition into the workforce.
For now, the focus is on welcoming the first class of San Diego Promise students at City, Mesa, and Miramar colleges and setting them on pathways to success. Beyond providing financial support, each student will receive special advising, counseling, and other support services to ensure a smooth transition. Many of these activities will take place over the summer as new students prepare to begin classes in August.