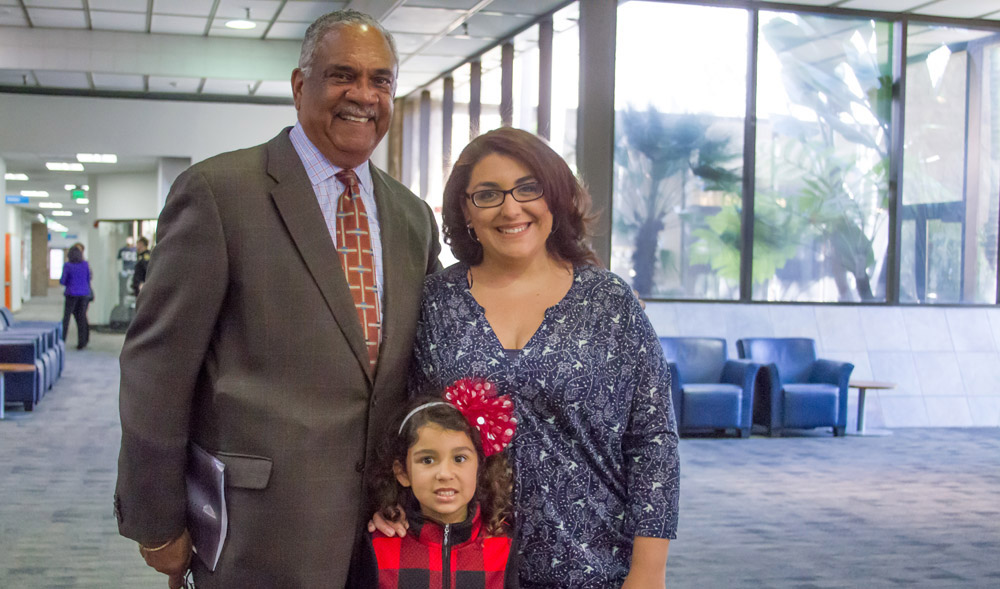 Adult classes begin at San Diego Rescue Mission
April 18, 2017

|
San Diego Continuing Education and the San Diego Rescue Mission are collaborating to expand educational opportunities, part of a larger effort to transition homeless to higher education and out of poverty.
In its first months of a one-year pilot project with SDCE, the rescue mission looks forward to providing their clients with free high-quality education. SDCE is the adult education division of the San Diego Community College District and serves 45,000 adult students annually at six campuses in San Diego, plus at more than 200 off-campus locations.
The dozens of families who stay at the SDRM located on the corner of Elm St. in Downtown, San Diego are looking for emergency shelter, hot meals, transitional housing and recovery counseling. The charity moved three times in Downtown's East Village since opening in 1955 and will soon expand again as a result of the new collaboration with SDCE and to meet the educational needs of SDRM's clients.
The exciting new pilot is an opportunity to directly impact an area of San Diego neglected for far too long. "There are particular populations we don't serve yet but could really benefit from free education," said SDCE President Carlos O. Turner Cortez, Ph.D. "We need to help these adults engage in long-term goals and help them get out of the cycle of poverty. As an educational institution, this is a priority."
The shelter currently offers two SDCE courses: 1) High School Diploma scheduled four nights each week, Monday through Thursday from 6 to 9 p.m., and 2) Families Learning Together, offered Wednesday mornings from 9 a.m. to noon. These free academic classes are open to any resident of San Diego age 18 and over.
SDRM plans to make the High School Diploma course mandatory for every adult client staying in its yearlong residential recovery programs, who do not have their diplomas or GEDS. Most SDRM clients hope the charity serves as only a temporary home, while they search for permanent housing, which is why clients are eager to attend classes as they know earning a diploma is the first step to being able to leave behind their current living situation.
SDCE faculty Stacy Surwilo teaches the Families Learning Together course at SDRM and explains, "Almost every child who comes through this program is cautious. We understand children need to warm up to the environment." She added, "During the class lecture we address things that create abuse, poverty, education and equity. We handle all of those subjects together. We want to stop generational family issues and promote healthy strong families."
Although the free classes are open to all San Diego residents age 18 and over, the SDCE pilot courses were selected for SDRM based on its immediate population needs. Dr. Nikki Watkins, SDRM Vice President of Clinical Programs, explains that homelessness is escalated by everything from substance abuse and mental illness to being born into poverty. "The population of women and children we serve here suffer from trauma. The kids are building attachment again with their parents," she says. "Some parents attend the new parent education course without children because their children have been taken away in a custody battle."
SDRM CEO Herb Johnson states, "Homeless children tend to have delays in development and they suffer from anxiety, emotional distress, and toxic stress. Their unstable, under nourished and often abusive environments put them at a disadvantage right from the start, and perpetuate the cycle of homelessness." In addition to the SDCE parent education course, the SDRM has an onsite licensed preschool for children between the ages of 2 to 5.
"Research on homeless youth has found that 75 percent drop out of high school," according to The Atlantic, A High School for the Homeless. "A homeless student includes those in families living 'doubled up'—for example, with a relative or friend's family—as well as those living in hotels, parks, bus and rail stations, abandoned buildings, campgrounds, and cars, not mention emergency and transitional shelters."
The article mentions the Monarch School, which is in San Diego and is the largest school of its kind in the nation--a high school for homeless students. Many teens living without adequate nighttime residence become homeless young adults. Unfortunately, at age 18+ often they can no longer be accommodated by youth centers where they are guided toward academic achievement or receive help to overcome barriers that hinder enrollment, attendance, or success in school.
The SDRM has tried to offer higher education as part of their services since its beginnings, more than 60 years ago, but lacked the resources. "This is the first of its kind. This really came about from the dedication at the top." She explains SDCCD Chancellor Constance Carroll and SDRM CEO Johnson have been looking forward to establishing this partnership for many years.
Johnson, shares his praise in an e-mail, "Congratulations to the entire team. This is just the beginning of bringing educational support for our clients and our community. Big thanks to SDCCD and to SDCE; this is a great start for our partnership."
In addition to the new partnership with SDRM, SDCE launched a generous opportunity for its students in January. The San Diego Gateway to College and Career program targets Opportunity Youth, young adults ages 18-24 who are neither in school nor working. The program includes coaches in a case management structure to provide individualized attention and mentoring; customized job search, paid internships with local businesses and nonprofits, and community service opportunities. Among the eligibility requirements for the program, students must have the right to work in the U.S., live in the city of San Diego, and have low or no income. SDCE is currently enrolling applicants for the Gateway program for the 2016-2017 academic year.
SDCE serves 45,000 students annually. Last year SDCE awarded 174 high school diplomas and 9,585 certificates of completion for career training. The SDCE courses offered at the SDRM serve as just one of 200 off-campus SDCE locations in San Diego County. For more information or to enroll visit, SDCE.EDU
For more information about the San Diego Rescue Mission, call 619-687-3720.