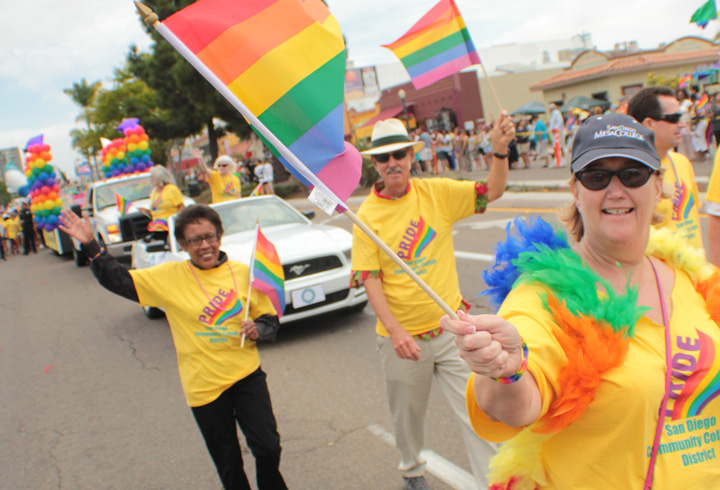 District marching for equal rights in Pride Parade
July 13, 2015

|
The San Diego Community College District will show its support for the region's lesbian, gay, bisexual, and transgender community when students, faculty, and staff march under the district banner at the July 18 Pride Parade, one of the largest in the country with up to 300,000 or more spectators.
This year's theme of the parade is "Liberty and Justice for All."
"As educators, we are proud to be part of this year's Pride Parade and to express our district's full support of the LGBT community," said Chancellor Constance M. Carroll. "Given such important developments as the recent Supreme Court ruling on marriage equality, this is a time for celebration in America. It is also a reminder that all of us need to lend our personal action and public testimony to the ongoing struggle for total equality."
The SDCCD's float features a banner with portraits of students, faculty, and staff that celebrates the district's diversity.
Students, faculty, and staff have marched in the annual parade since it began more than 40 years ago, but this is just the second year the district has marched together as a contingent. Nearly 200 are expected to participate. Members of the district's Board of Trustees will take part in the celebration, and every college – City, Mesa, and Miramar, along with Continuing Education – will be there, too. Officers with the SDCCD Police Department will ride bikes in the parade.
This year's parade starts at 11 a.m. and follows a route beginning at the Hillcrest Pride Flag at University Avenue and Normal Street, proceeding west on University Avenue, turning south on Sixth Avenue and left onto Laurel Street before ending at Balboa Drive in Balboa Park.
For more information about the Pride Parade, visit sdpride.org/parade.