Shakerra Carter: Helping students reach their potential
January 28, 2016

|
Shakerra Carter knows all about the challenges students can face in trying to secure a college education. The San Diego Community College District new Associate Dean of Outreach and Pre-Enrollment Services has overcome more than her share herself.
Shakerra is the daughter of a single mother who gave birth while still a student at San Diego's Lincoln High School. Despite the financial and social challenges of being a single, teenage mother, Shakerra's mother stressed the importance of education and empowered Shakerra to pursue her dreams of attaining a college education. So, after graduating from Southwest High School, Shakerra continued her education at California State University, Chico, where she studied Child Development.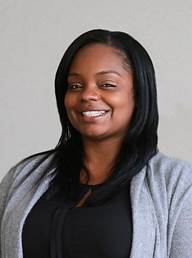 Shakerra's career path was set after she began working at Chico State as a student ambassador and as a peer advisor helping first-generation, low-income students navigate their first year of college. She would grow to become a leader on campus, serving as president of the African Student Union and co-founding a support group called Women of Excellence.
"As a first-generation, low-income college student, I understand the barriers that underrepresented students experience in higher education and I feel it is important to help eliminate these barriers for others," Shakerra said. "Barriers such as not understanding the terms or lingo of higher education, the culture shock of leaving home to attend a college or university where you may not fit in initially, and barriers such as dealing with the challenges that come with financial uncertainty."
After earning her bachelor's degree in child development and her master's degree from San Diego State University in post-secondary educational leadership, Shakerra took a position at UC San Diego as a GEAR UP Coordinator, putting her in charge of a program helping students in low-income middle and high schools prepare for college. Two years later, Shakerra accepted a position at San Diego State University as Lead Transfer Admissions Counselor, coordinating transfer recruitment initiatives with community colleges in San Diego and Imperial counties. Most recently, Shakerra served as the Interim Director of Student Activities at Grossmont Community College, overseeing the administration and development of student life and leadership activities, including leadership training, student government advising and coordination of student organizations.
As Associate Dean of Outreach and Pre-Enrollment Services, a post she began in January, Shakerra is working with San Diego City, Mesa, and Miramar colleges and Continuing Education in planning, organizing, implementing and assessing the SDCCD's collective outreach initiatives and activities involving relations with schools, local universities, and community-based organizations.
"Shakerra brings experience from all three segments of California's public higher education, the University of California, the California State University system, and the California Community Colleges," said Lynn Neault, SDCCD's Vice Chancellor of Student Services. "That experience will add breadth and depth to our outreach activities, enabling us to further facilitate student success by strengthening partnerships with the San Diego Unified School District, SDSU, and UCSD. We are very excited to have Shakerra join the team."
How does Shakerra see her mission?
"Our goal is to meet students where they're at and spread the good news about the San Diego Community College District and what we have to offer," said Shakerra, who is raising a 2-year-old son and 8-year-old daughter with her husband, Gregory Carter, Jr. "I want to be part of changing the perception of the community college system, to let students know that the San Diego Community College District can be their Plan A."
"The San Diego Community College District is filled with endless possibilities," she continued. "Whether you're a single mom with five kids, or a refugee who doesn't speak English, you can come to our campuses, enroll in our programs, and be successful."