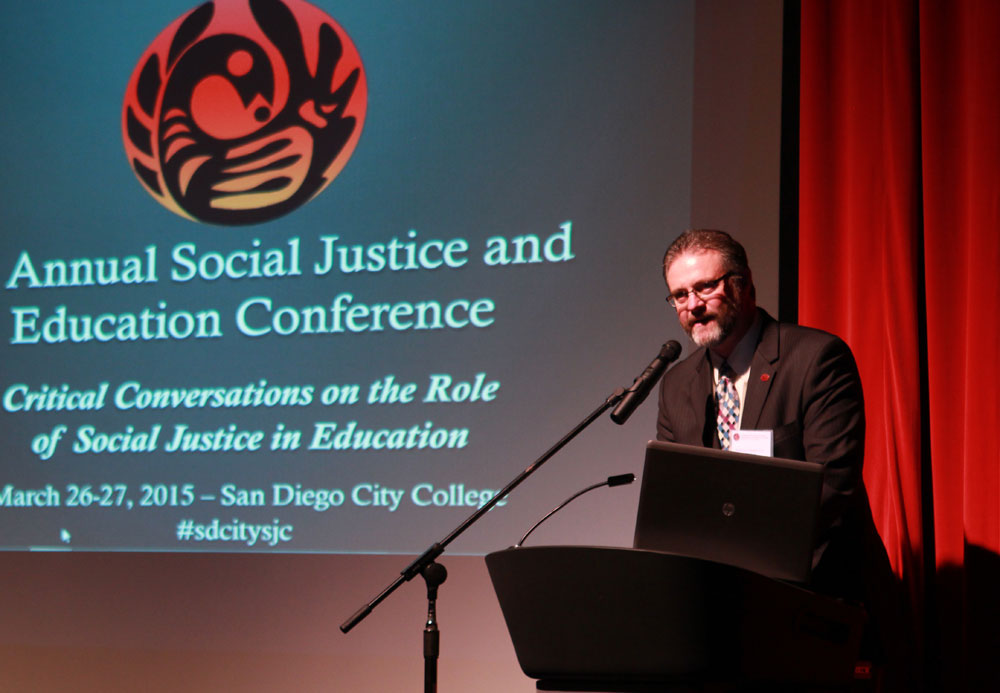 Social Justice and Education Conference returns to City College
March 11, 2016

|
San Diego City College will host the second annual Social Justice in Education Conference: (En)countering Narratives of Power on Wednesday and Thursday, March 23 and 24, 2016. Featured speakers will be Dr. Vicki Alexander, one of the founders and former director of the City of Berkeley's Black Infant Health Program and California Assemblymember Shirley Weber, District 79.
Held in the college's Corporate Education Center, the two-day conference will include more than two dozen break-out sessions covering topics such as popular education and the fight for indigenous rights, the first amendment and its importance today, and the movement for a living wage. Tickets are available through March 23 on Eventbrite.
According to conference organizers, the focus of the Social Justice Conference is to highlight the importance of education in the creation of a just and equal society. The conference is expected to draw 250-300 participants and is open to all those interested in social justice in education with a special emphasis on faculty, staff, administrators, and students.
In 2014, Dr. Anthony Beebe announced that social justice would be a priority during his tenure during his inaugural convocation as the new president of San Diego City College. The following day when he arrived at work he found more than a dozen faculty members waiting for him outside his office to discuss the matter.
"They wanted to know how they could get involved, and they were very much interested in incorporating social justice into the curriculum," President Beebe recalled of that August 2014 greeting.
Not that City College had been lacking in this area. The campus Umoja program, dedicated to enhancing the cultural and educational experiences of African-American and other at-risk students, has long been thriving. The College Cares Volunteer Program regularly engages in bay and canyon cleanups, and it recently earned the President's Volunteer Service Award for collectively completing more than 1,000 hours of volunteer service in 2014.
But City College has taken it up a notch since President Beebe arrived. Community outreach has expanded. A new campus organization, Pillars of the Community Scholars Society, is providing counseling, tutoring, and more for students who have served time in jail or prison. And, the college organized its first Social Justice and Education Conference. The hugely successful two-day conference, organized by English instructors Anna Rogers and Paul Alexander, included more than two dozen breakout sessions covering topics such as "Why Race and Culture Matter in Schools," "Social Justice 2.0: Nurturing Critical Digital Natives," and "Acceleration and Engaging Student Voice." SDCCD Chancellor Constance M. Carroll was among the featured speakers.
"Social justice is the foundation of education, and any educational institution that ignores social justice is really failing in its mission," Alexander said.
Even in a calculus class?
"Even in calculus the job of the instructor is to show how calculus is relevant in the lives of the students he or she is teaching," Alexander said. "Teaching is more than just spewing out numbers or facts. People often talk about how an education is empowerment, but if an education is not relevant to the student, it's not empowering at all."
President Beebe agrees. "There are elements of virtually every topic that we teach at City College which, if you are sensitive to it, touch at least to some extent on social justice issues."
All of which is music to the ears of Maria Morales, a City College student who serves as Pillars of the Community Scholars Society president.
"Dr. Beebe is opening up a lot of doors for students to talk about issues that are so important to so many people," Morales said. "It's wonderful to see that kind of commitment from the top."
President Beebe would have it no other way.
"Community colleges were founded on the principles of social justice," he said. "This foundation still permeates the mission and core values of community colleges across our country. Certainly one of the most unique and compelling social justice elements of community colleges has been the emphasis on open access to higher education. This open-door philosophy helped the colleges become known as the 'people's colleges.' From the start, community colleges provided educational access to the masses, democratizing higher education, and breaking the classism of higher education, which had been largely reserved for the wealthy elite. This was an epic social justice change in our nation's history."
Social Justice and Education Conference Schedule
Wednesday, March 23, 2016
8:30 to 9:30 a.m.
Registration and Continental Breakfast
Saville Theatre
9:30 to 10 a.m.
Opening Ritual
Saville Theatre
10 to 11 a.m.
Saville Theatre
A Roadmap to Equity through Health: El Camino a la Igualdad a Través de la Salud
Featured Speaker: Vicki Alexander, M.D.
11:10 a.m. to 12:35 p.m.
MS462
Kim Moore, Community Liaison, UDW Homecare Providers Union
11:10 a.m. to 12:35 p.m.
MS162
Breaking the Chains through Kinship and Employment: The Homeboy Industries Model
Jose Osuna, Director of External Affairs, Homeboy Industries
11:10 a.m. to 12:35 p.m.
MS140
Math, Art, Hip-hop, Theater
Rob Rubalcaba (A.K.A. DJ Professor Shadow) San Diego City College Math Department
12:45 to 2 p.m.
MS140
Ramla Sahid, Director, Partnership for the Advancement of New Americans (PANA)
2:30 to 3:45 p.m.
MS162
Embodied Knowledge and Resistance: Reflections Based in West African Education
Jaamal Diwan, Co-founder and Director, Safa Center for Research and Education, Muslim chaplain for UCLA and UCSD
2:30 to 3:45 p.m.
MS 140
Who Cares about the 1st Amendment:
Why We Have It and Why We Need to Fight to Keep It
Rebecca Rauber, Communications Director, American Civil Liberties Union
3:55 to 5:10 p.m.
MS140
Social Justice in the Classroom: Representation vs (re)presentation
Jung Min Choi, Ph.D., San Diego State University, Sociology
3:55 to 5:10 p.m.
MS162
Career Panel: How I Used My Degree to Create Change
7 to 8 p.m.
Blackbox Theatre
"Illegible" Collaborative Project with Poetry, Music, and Dance Grace Jun bkSOUL dancers #Black Lives Matter
Collaboration with World Cultures
Thursday, March 24, 2016

8:15 to 9:15 a.m.
Saville Theatre
Featured Speaker: Assembly Member Dr. Shirley Weber, 79th District
9:35 to 11 a.m.
MS 162 (Film)
MS 163 (Art)
Homie Up: Stories of Love and Redemption
Documentary Film Screening and Art Exhibition
9:35 to 11 a.m.
Saville Theatre
New Plays: Original Scripts by City College Students
9:35 to 11 a.m.
MS462
Popular Education and the Fight for Indigenous Rights
Luis Lopez Resendiz, City Alumni and UC Berkley Student
11:10 a.m. to 12:35 p.m.
MS 140
Poet Vievee Francis, Author of Forest Primeval and Horse in the Dark
Collaboration with San Diego Early Middle College
11:10 a.m. to 12:35 p.m.
MS 162
Homie Up: Stories of Love and Redemption Panel Discussion
11:10 a.m. to 12:35 p.m.
MS 462
The Meaning of Chicana/o Studies at City College
Alicia Lopez, Monica Hernandez, Rosiangela Escamilla, Samantha Prado
11:10 a.m. to 12:35 p.m.
Saville Theatre
This Changes Everything
Documentary Film Screening
12:45 to 2 p.m.
MS140
Health Professions and Social Justice: A Panel Discussion
12:45 to 2 p.m.
MS162
Hip-Hop: A Call to Arms/Criminalization of Hip-hop and Black/Brown Culture
Brandon TinyDoo Duncan, Odessa Kane, Aaron Harvey
12:45 to 2 p.m.
Saville Theatre
This Changes Everything Panel Discussion
2:30 to 3:45 p.m.
MS 140
Student Report from the PolicyLink Equity Summit
2:30 to 3:45 p.m.
MS 462
Blurring the Boundaries: Panel Discussion on Sex, Gender, and Sexuality
3:55 to 5:10 p.m.
Saville Theatre
The Bitter Game one-person play
Keith Wallace, M.F.A. actor at UCSD
6:30 to 9:30 p.m.
Saville Theatre
VAMP!!!! – Stories of City College students who have "Faced the Music"
Video/Audio Monologue Performance – Writer's Showcase
Collaboration with So Say We All