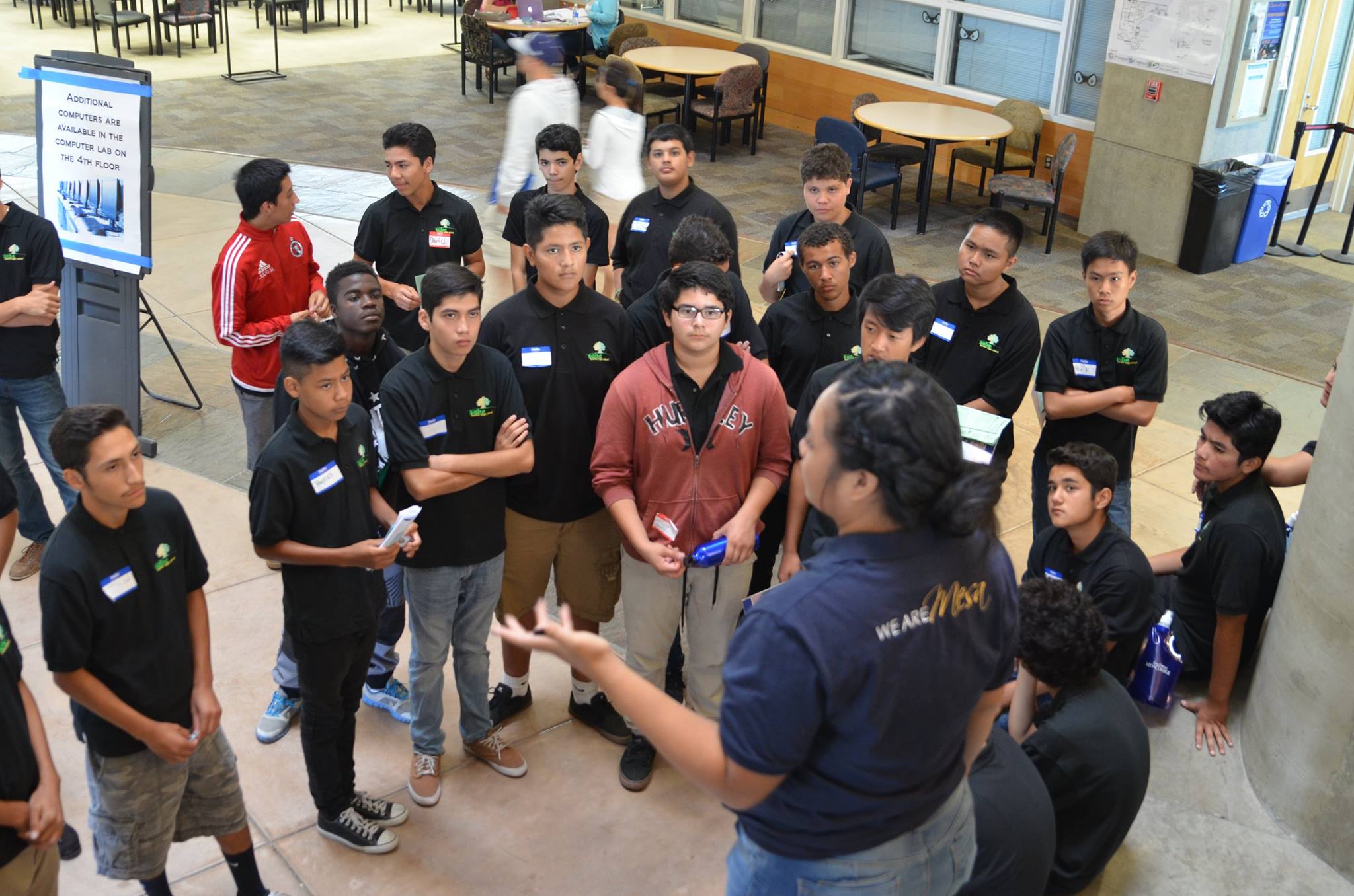 Mesa's Scholars Program promotes sustainability
October 26, 2015

|
Sustainability: The capacity to endure; it is how biological systems remain diverse and productive indefinitely.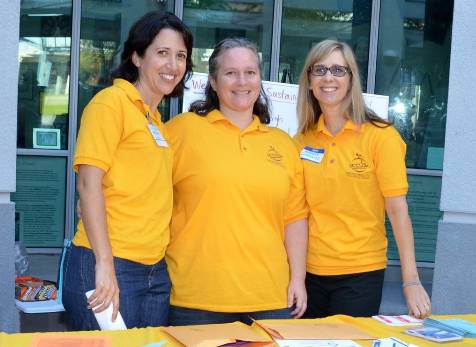 Mesa Professors Leticia Lopez, Waverly Ray and
Laura Gonzalez at the Sustainability Summit.
A Sustainability Summit held at San Diego Mesa College on Oct.23 wrapped up a week of events geared to raise awareness and interest in food security, water resources and climate change.
Mesa College has been working to increase the number of Hispanic students studying science, technology, engineering and math (STEM) and as a result has created a SEEDS Scholars Program (SEEDS is an acronym for STEM Engagement for Enrichment of Diverse Students).
Reaching out to local high schools, partner universities at SDSU and UCSD, and community partners is key to the success of the program. The attendees of the summit consisted of approximately 120 high school students and 40 Mesa College students and community organizations including Feeding America, the San Diego Food Bank, Revolution Landscape, Dean's Greens, and the County of San Diego Solid Waste Planning & Recycling Department.
"Events like the Sustainability Summit help us create connections with our community, and engage students in STEM in diverse ways." said Dr. Leticia Lopez, Mesa College Spanish professor, who coordinates the SEEDS program with geography Professor Dr. Waverly Ray.
One of the goals of the summit was to show how so many disciplines are linked to sustainability, such as geography, agriculture, economics, and Geographic Information Systems (GIS).
Another message organizers hoped to deliver is that one individual can make a difference.
"It starts with the inquiry, 'What can I do on a personal level and in my community to live more sustainably?' " said Lopez.
Students learned just that at each of the three sessions held at the summit. In addition to lessons in water conservation, climate change and food insecurity, students were also taken on a water-wise landscaping tour and a green-building tour around campus.
Although there are endless connections to sustainability, Lopez said the topics of the summit were chosen because they have so many applications. "We wanted to cast a wide net that would appeal to students of as many disciplines as possible."
In the SEEDS Scholars Program students learn about food waste composting, how to grow food in the Mesa organic garden, and volunteer their time at local food banks.
Mesa College President Pamela Luster emphasized that there are many students who struggle with hunger and accessibility to healthy food. "Sustainability isn't just about protecting Mother Earth. It's also about sustaining our communities and economic vitality."
Each semester 20 new students are accepted into the program with funding from a $290,000, four-year grant from the U.S. Department of Agriculture. Anyone interested in applying to join the SEEDS Scholars Program can contact project directors Professor Leticia Lopez or Professor Waverly Ray. For more information visit sdmesa.edu/seeds.