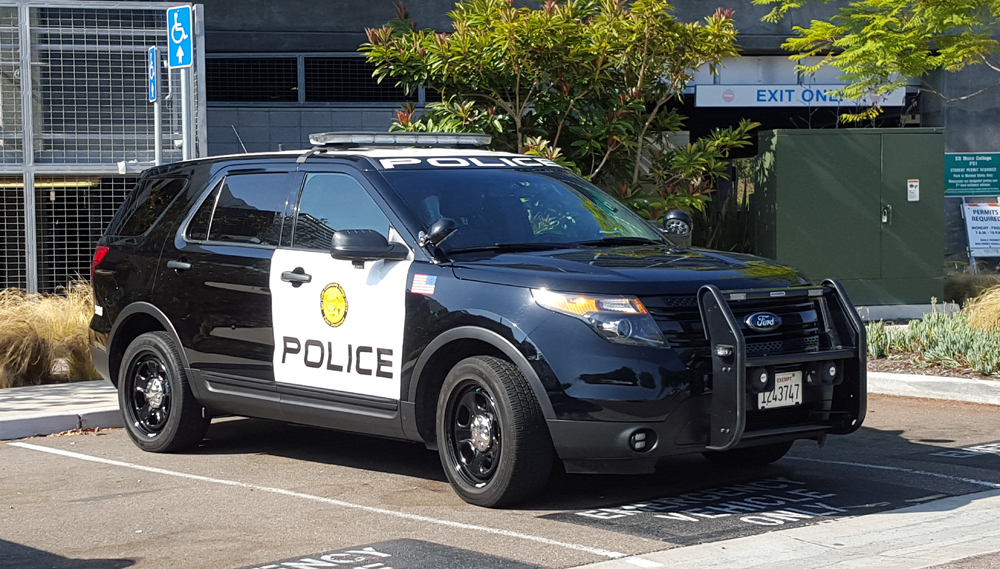 College police's two new SUVs have arrived
August 11, 2016

|
Officers at the San Diego Community College Police Department are patrolling in modern, yet functional vehicles these days with two new Ford Police Interceptor SUVs that have been recently added to the department's fleet. Later this year, the department will add two more.
College Police Chief Ray Aguirre said that for many years a common model for law enforcement vehicles was Ford's Crown Victoria and over the last five years Ford has been producing the next-generation Police Interceptor.
"Our officers test drove San Diego Police Department's Interceptor while undergoing their mandated training in Emergency Vehicle Operations a few years back and they liked it. So when it came time to order new vehicles for the department that's what we picked," said Aguirre.
The new SUVs were paid for out of the police department's budget to replace older vehicles. Those vehicles will be assessed by the district's facilities department to determine whether they can still be used by the department as backup vehicles. If the vehicles are beyond economic repair they will be retired and sold at a public auction.
The district's police department has a total of about 15 police vehicles and 40 sworn officers to patrol eight locations throughout the district. Aguirre said the new SUVs ensure that the department has reliable vehicles and officers are more mobile, which is paramount in maintaining effective response times.
The Interceptors are designed for use by law enforcement. According to Ford's website the Interceptor offers special features including ballistic door panels, heavy duty brakes and tires, and a V6 engine with 365 horsepower and 350-pound torque.
According to Aguirre, new patrol vehicles have many advantages over the old Crown Victoria models. "The SUVs offer more room for the officers as well as the detainees, plus there's more storage. They can traverse different types of terrain. They're more versatile (than the sedans)."