Celebrity chefs announced for Taste of Mesa fundraiser
March 10, 2017

|
Today, San Diego Mesa College announced two celebrity guest chefs who will be participating in Taste of Mesa, a cooking-show style fundraiser celebrating the grand opening of the newest state-of-the-art kitchen and on-campus restaurant, Culinary Outlook.
Celebrity chefs will be able to experience Culinary Outlook firsthand, alongside students, during this exhilarating hands-on event.
The fundraiser, scheduled for the evening of Thursday April 6, will feature Maeve, founder and owner of Sugar and Scribe, Food Network Champion 2015 and winner of Best Bakery, Best New Restaurant La Jolla, along with Executive Chef, Kevin Templeton of Barleymash, San Diego Celebrity Chef 2014-15 and recently featured on Food Network's 'Beat Bobby Flay.'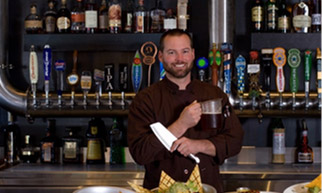 Kevin Templeton
Celebrating the richness of America through its appetizing bar fare, barleymash's Executive Chef, Kevin Templeton, cooks mouthwatering, alcohol-infused dishes. Located in downtown San Diego, barleymash offers a menu and a philosophy that draw heavily from two barroom staples: beer and bourbon. After all, the name barleymash refers to the grain mixture used to brew beer and bourbon. He was recently seen on an episode of Food Network's Beat Bobby Flay, which you can read about here.
He strives for sustainability and the encourages chefs to improve food waste in San Diego by creatively reducing food waste at restaurants. Kevin has a drive to revolutionize the composting and waste management efforts around San Diego – as it is one of his greatest passions. The restaurant and its efforts have also been nominated for waste reduction awards and teach children how to compost and cook organically.
Nurturing a passion for cooking since the age of 17, Kevin Templeton attended and graduated with honors from the Western Culinary Institute in Portland, Oregon. Following graduation, Kevin returned to San Diego to work in restaurants throughout San Diego County. He perfected his culinary talents at such top restaurants as Top of The Cove, Peohe's and Azul La Jolla. Kevin's extensive wine and spirits knowledge complemented his flair for complex flavor profiles, accenting his extraordinary cooking style. Kevin took to great effort to ensure the meats were all-natural, and the seafood sustainable. Despite some time away to experience the culinary world of Austin, Texas, Kevin returned to San Diego 5 years ago with some fresh ideas as the Executive Chef of barleymash. Since then he has also helped create menus and design dishes for other Verant Group establishments.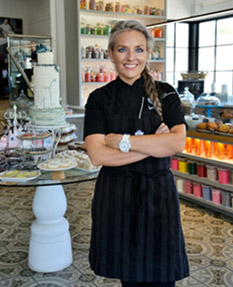 Maeve
Born an only child in Cincinnati, Ohio to an Irish-born mother and third generation German Father, Maeve life was destined to be greatly influenced by food! She attended an all-girls high school, St. Ursula Academy, and rowed her way into college. After graduating from Boston University on a rowing scholarship, Maeve started her career quest!
After college Maeve struggled to settle on a direction… she checked out a few career paths in NYC and then spent several months in South Africa. While cooking dinner for the family she was living with in Walvis Bay, if finally became clear: "I'M A CHEF!" Looking back, Maeve realized she had been on this path since she was two. She moved to LA and landed her first job as a private chef. It was Maeve's husband's career that brought her to San Diego.
With the move, Maeve started all over again, but this time she followed her passion, threw caution to the wind, and in the middle of a major recession, opened Sugar and Scribe… a small upscale bakery in Pacific Beach. Of course, given the condition of the economy, the banks were more apt to call the psych ward than to listen to a business plan, so Maeve accepted the challenge with a shoestring budget, Mama's savings and Dad's American Express card. Sugar and Scribe launched in November 2010. The second Sugar and Scribe location opened in La Jolla, February 2015. Chef Maeve Food Network Champion 2015 and winner of Best Bakery, Best New Restaurant La Jolla now is expanding her product line and hard wares coming to stores in 2017.
"Taste of Mesa" will showcase Culinary Outlook, and feature internationally-inspired cuisine and three cook-off competitions between alumni, students and an advanced baking team. Guests will be able to bid on food-themed silent auction items such as restaurant gift cards, liquors, wine and culinary tools. VIP ticketholders are invited to judge the culinary competitions, watch the celebrity chef competition, and receive a culinary gift bag. Culinary Outlook, hosted in the new Mesa Commons, was funded by voters via Propositions S and N.
"If you have been to any restaurant in San Diego, chances are good that a portion your meal may have been prepared by a Mesa College Culinary Arts student," stated Dr. Pamela Luster, President. "Our goal is to prepare our students to contribute to San Diego's amazing culinary scene, and with this event and the support of our celebrity chefs, we can do that."
The proceeds from "Taste of Mesa" will be used to purchase ingredients and supplies that will help train students for the farm to table style restaurants that are becoming more common in today's market and prepare them to become valued employees in the service industry.
"The students need to learn what is changing in the industry, and we need to teach them more before they leave," Culinary Arts/Management Professor Tonya Whitfield said. "With this fundraiser, we can do more for them."
Tickets for the Taste of Mesa cost $25 for students, $50 for the general public and $125 for VIP. For tickets, visit sdmesa.edu/tasteofmesa. For sponsorship opportunities, contact Anne Zacovic at azacovic@sdccd.edu. For alumni involvement, contact Professor Tonya Whitfield at twhitfie@sdccd.edu.