Partnership will generate 500 internships through TechHire
October 9, 2017

|
San Diego Continuing Education and San Diego Workforce Partnership will offer 500 paid computer and information technology internships during the next four years to low-income students through Tech/Hire.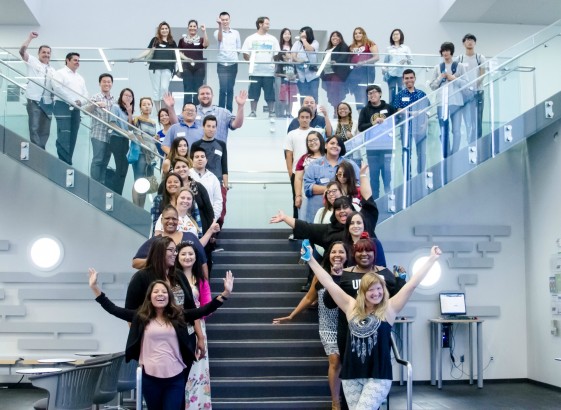 "Students have the opportunity to get career placement help and paid internships, which is not often coordinated within educational organizations," said Carlos O. Turner Cortez, Ph.D., SDCE President.
While a degree in computer science or mass media can take minimally two to four years to complete, SDCE's free career education programs in Computer and Information Technology can generally be completed in as little as 360 hours or eighteen weeks.
"This is one of the fastest paths for individuals with barriers to change the trajectory of their lives and the lives of their family," said Turner Cortez. "We have students who need money in their pocket to get through to their next day. We need to help these adults engage in long term goals and help them get out of the cycle of poverty."
"Growing up was very hard for me. My parents only went to the third grade. My siblings both dropped out," said Cristina Rosas, SDCE student. "When my dad got deported, we found ourselves in a tight situation."
Rosas enrolled at SDCE after many attempts to get her diploma. She explained this time she is focusing on school to change her future. "I want to be an example for my brothers. I'm proud of myself. I'm proud of who I've become. I'm graduating, I'm going off to college and I'm going to have a better career."
The institution offers San Diego County residents age 18+ more than 60 free short-term career certificate programs including Front End Web Development, Network Technician and Mobile Application Development.
Earlier this year SDWP deployed a handful of its staff to SDCE's North City Campus to enroll eligible students in digital media internship opportunities through Tech/Hire.
Tech/Hire permits underserved populations to pursue a career in technology, a critical priority for both organizations to bring diversity into a historically and statistically underrepresented industry.
"Adobe's workforce is 69 percent white and Apple's 56 percent. Google 59 percent. Microsoft 58 percent," according to Wired on Tech Still Doesn't Get Diversity. Here's How to Fix It.
SDCE opened its doors in 1914 to serve the higher education needs of immigrants and refugees. Latino and African-American students currently make up 40 percent of its population of 44,000 students enrolled annually.
SDCE's partnership with SDWP is a merging of workforce and education. Tech/Hire is a strong example of combining career training placement in priority sectors with education and job readiness skills. The partnership is a four-year co-location arrangement to best help students pinpoint the skills that local employers are looking for.
SDWP's Tech/Hire representatives will be at SDCE's North City Campus regularly throughout the fall semester meeting with students who want to learn more about paid computer programming, network, media and design opportunities.
"The world is changing so much, especially in the technology industry, that there is no way to train someone for every single thing that they will need to know. But being open to learning new skills that the job is requiring is important," Andy Hall advises students, SDWP's Vice President and Chief Program Officer.