A Thanksgiving message from the chancellor
November 20, 2017

|
Dear Colleagues and Friends: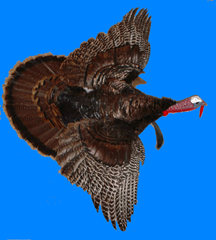 Turkeys have always gotten a bad rap, as the focus of jokes and as the subject of pejorative metaphors. Some familiar comments are: "It's hard to soar with eagles if you constantly surround yourself with turkeys." Or: "Eagles don't take flight lessons from turkeys." There are many more. For this reason, I have posted a photograph of an actual flying turkey, just as a reminder not to let false notions diminish our aspirations.
The longest stretch in the American higher education calendar without a major break is the beginning of the fall semester until Thanksgiving. Since the first day of classes in the San Diego Community College District on August 21, Thanksgiving will be our first major holiday break of the year. Later this week, many of you will travel to your traditional Thanksgiving holiday locations, while others will be gearing up for the onslaught of family and friends. I hope you will all find ways to relax, since this holiday season is intended to be a safe and restful period of giving thanks for a broad range of opportunities and benefits.
It is good to be reminded that we do have much for which to be thankful. We work in a District that has reached a high level of fiscal stability, with improved budgets, more faculty and staff, more classes and support services for students, more new facilities and equipment, new and innovative curricular developments, bold new initiatives such as the San Diego Promise to make college free for students, salary increases, and benefits options with no required employee contribution. City, Mesa, and Miramar colleges, and Continuing Education have all had their accreditation reaffirmed, which is a public affirmation of their excellence. We have demonstrated that we work well together – Board members, faculty, administrators, staff, student leaders, governance groups, collective bargaining organizations, and community partners. The common cause and mutual respect that we share as a large, professional team are the keys to our enormous success as a community college district.
Finally, we should be thankful that we live in a beautiful region of the country, which is rich in its multiculturalism and spirit. We live in a phenomenal state that is embarking upon new directions and policies, notably in the areas of student success and baccalaureate education, and we have all resolved to help shape those policies toward responsible ends. And we live in a resilient nation that will eventually and inevitably find its way forward again. We will do our best to help our nation recommit to supporting DACA and undocumented students, students of all religious and cultural backgrounds, LGBTQ students, and others, while we do our very best to protect them.
The Board of Trustees and I wish you a wonderful Thanksgiving. Let me personally extend my heartfelt thanks to all of the faculty and staff for your excellent work, your ideas, and your devotion to our students, and to our community whose support is vital to our success and will continue to sustain our efforts in the future.
Happy Thanksgiving!
Dr. Constance M. Carroll
Chancellor
San Diego Community College District