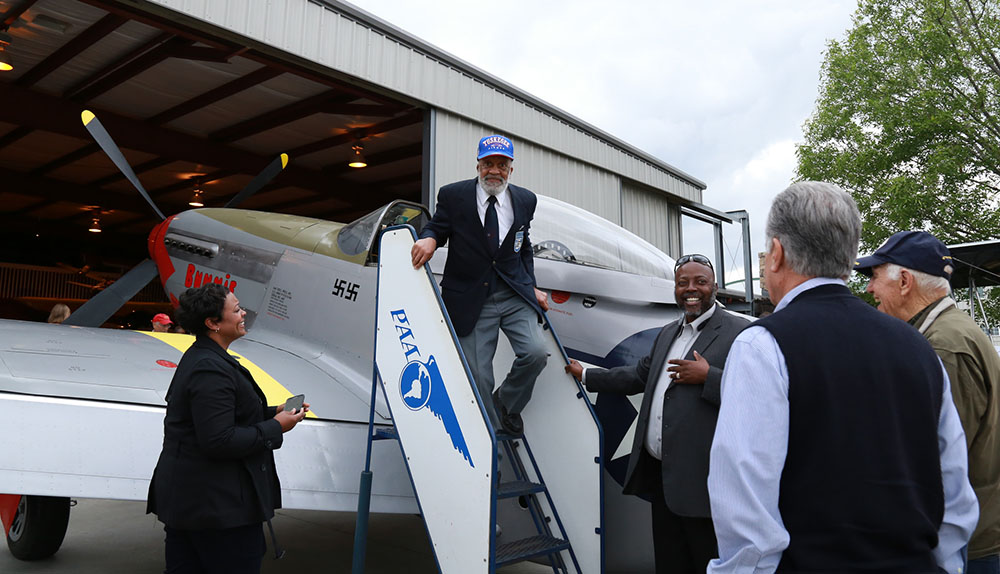 Top 10 stories of 2015-16
May 23, 2016

|
As we wrap up the academic year at the San Diego Community College District, we thought it would be fun for the NewsCenter staff to share its picks for the top stories of 2015-16.
The SDCCD launched NewsCenter on Aug. 11, 2015, an online resource with updated articles, videos, and other information from across the district. Hundreds of stories have been shared since that time, and the site is drawing more than 5,000 page views per month.
Here are 10 of our favorite stories.
#10 - Letters Far from Home
Mesa College Professor Lisa Shapiro spent two years researching a book based on thousands of letters from local college students detailing their experiences of serving in World War II. About 500 of the letters were written by women tasked with everything from communicating in Morse code, calculating the speed and accuracy of bombs, and flying war planes from factories in San Diego to military bases across the country. Read the story.
#9 - Saluting Our Veterans
Serving our military is always important news, and the response was strong when NewsCenter reported that all three colleges

and San Diego Continuing Education – had earned the prestigious honor of being named a 2015 Military Friendly® School by Victory Media, publisher of G.I. Jobs®, STEM JobsSM and Military Spouse. The Military Friendly® Schools designation is awarded to the top colleges, universities, community colleges, and trade schools in the country that are doing the most to embrace military students and dedicate resources to ensure their success both in the classroom and after graduation. Read the story.
#8 - Building the Workforce
NewsCenter noted how the SDCCD secured $1.1 million in state grants to expand apprenticeships aimed at training workers in professions ranging from carpenters and electricians to microbiology quality control technicians.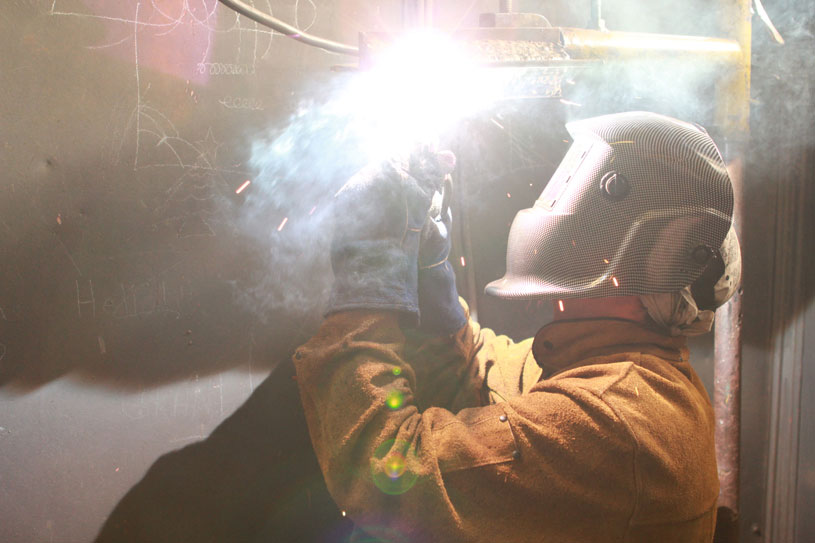 San Diego Miramar College received a $600,000 Innovative Apprentices for the Life Sciences Industry grant to grow the number of apprenticeships in nine areas, and apprentices will receive paid on-the-job training to for quality/ regulatory positions where entry level median wages range from $31.08 to $35.98 per hour. San Diego City College will receive $500,000 to work with San Diego Continuing Education, Palomar College, and Southwestern College in creating a regional framework to strengthen pathways into existing registered apprenticeships and to improve the preparation of students who may be interested in or who plan to enter one of six areas. Read the story.
#7 - Honoring the Best
This story detailed how the best and the brightest in the San Diego Community College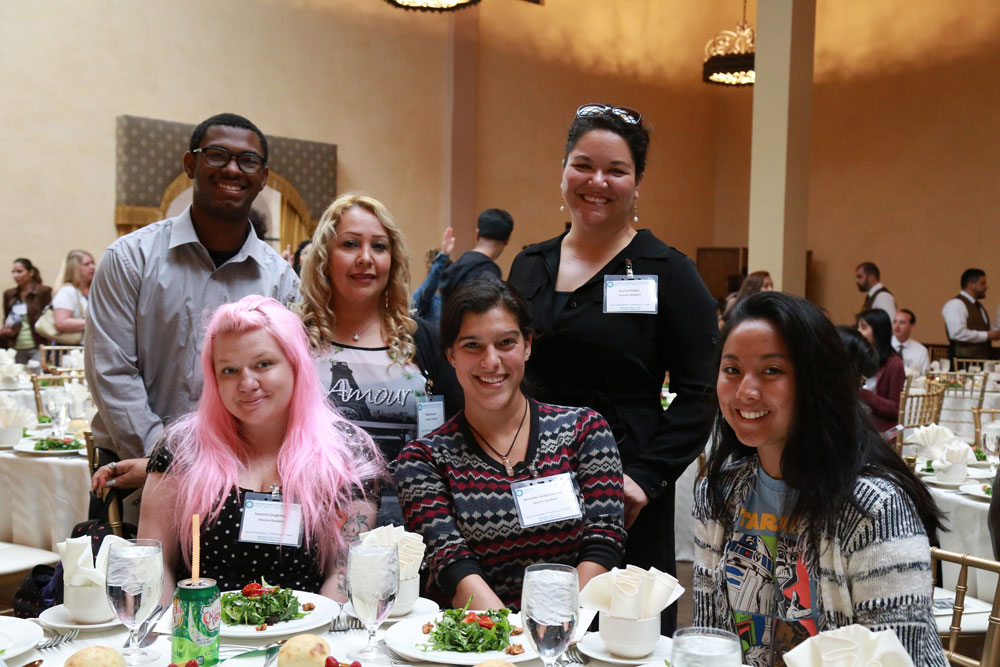 Students at the annual honors reception.
District – some of whom overcame seemingly insurmountable odds in reaching some of the top colleges and universities in the country – were celebrated May 4 during the district's 29th annual Honors Reception at The Prado in Balboa Park. The SDCCD's Honors Program provides intense learning experiences for highly motivated students looking to challenge and build upon their academic promise. The Honors curriculum comprises courses approved for transfer to University of
California and California State University campuses. In addition, San Diego City, Mesa, and Miramar colleges have agreements with several colleges and universities in which Honors Program students who meet certain requirements receive priority consideration and admission. Read the story.
#6 - Sewing Up Her Future
Maria del Mar Hinojosa enrolled at San Diego Continuing Education to learn how to sew. A little more than a year later, she is creating elaborately designed skirts and shawls at her recently opened flamenco store. Based in Liberty Station, The Pure Flamenco Store offers mantones, mantoncillos, flecos, skirts and more that were stitched together by Hinojosa thanks to her newfound skills. Read the story.
#5 - Historic Restoration
Current and former students of San Diego Miramar College's Aviation Maintenance Technology Program embarked on a painstaking restoration of a P-51D Mustang, a single seat fighter/bomber that is now proudly displayed at the National WWII Museum in New Orleans. The students restored the plane while working at Flyboys Aeroworks in El Cajon, a company owned by former Miramar student Roland Gutierrez, who also serves as Flyboy's chief engineer. Read the story.
#4 - Researching a Lost Civilization
Mesa College Professor Ryan Mongelluzzo is among the leading community college researchers into Maya architecture. He has led several excavations of Maya palaces, and is now opening up a field school at Ucanal, Guatemala, which will enable Mesa College students to travel there for course work.
#3 - Incarceration to Graduation
City College is turning lives around through its Parker's Scholars program, also known as Incarceration to Graduation. The program offers counseling, peer tutoring and a sense of community to approximately 40 young men and women who had run afoul of the law but are now looking for another chance. The effort is named for the $60,000 Parker Foundation grant that paid for the inaugural year of the program in 2014-15. Read the story.
#2 - Keeping the Promise
Among the biggest stories of the year came when the SDCCD launched a pilot program implementing the America's College Promise free community college effort locally.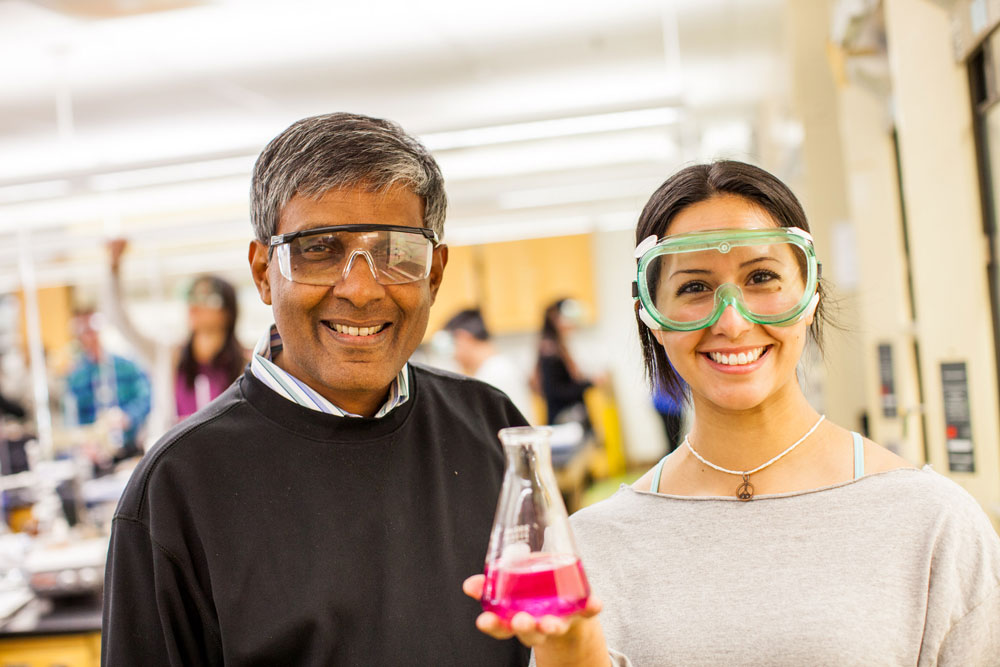 The San Diego Promise will initially provide scholarships for books or fees for 201 local students during the 2016-17 academic year. The San Diego Promise program is intended to ensure that no deserving local student is denied the opportunity to go to college due to lack of resources. The pilot program begins in the fall of 2016 in preparation for broader implementation the following year. Read the story.


#1 - Baccalaureate at Mesa
San Diego Mesa College made history Aug. 25, 2015 when it opened its doors to 32 freshmen who will have the opportunity to complete an entire four-year degree program in Health Information Management. Mesa was the first of 15 community colleges in California to launch a bachelor's degree program as part of California's baccalaureate pilot program. The Health Information Management degree builds on Mesa's current two-year Health Information Technology associate degree. Read the story.