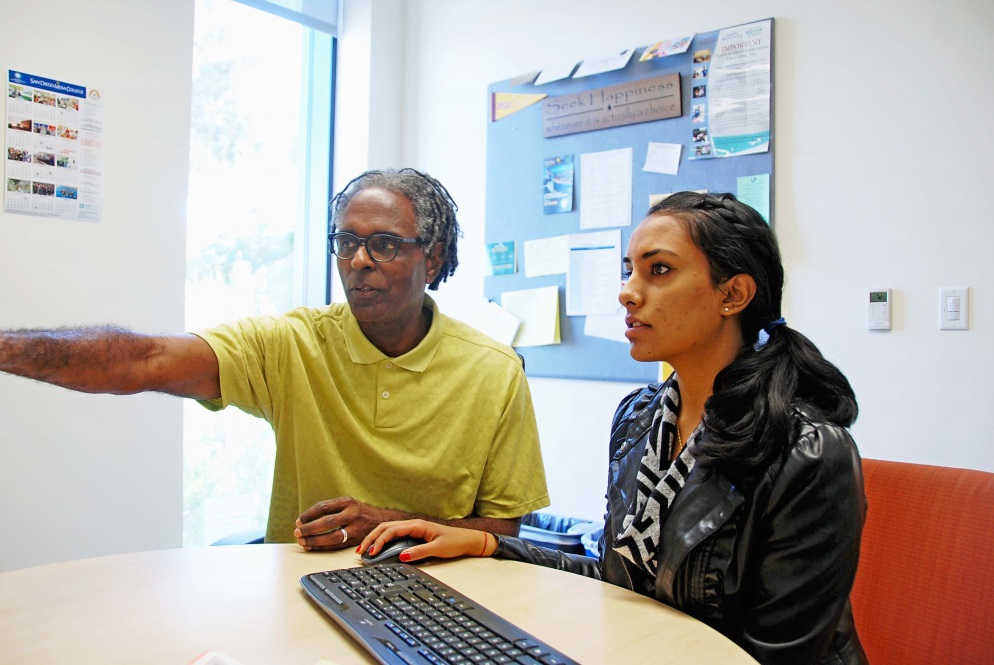 'Transfer Awareness Month' helps students prepare for next step
October 5, 2015

|
The San Diego Community College District has designated October as Transfer Awareness Month to align with the transfer application periods of many public universities, scheduling an array of workshops and information fairs as part of an ongoing effort to help students interested in transferring to four-year colleges and universities.
The priority enrollment period for fall 2016 opened Oct. 1 for California State University campuses and opens Nov. 1 for University of California campuses. The application deadline for both systems is Nov. 30.
Transfer centers at City, Mesa and Miramar colleges are ramping up programming with workshops ranging from transfer basics to transfer application labs.
Among the highlights:
- Annual Transfer Day at Mesa College is set for Oct. 6 with UC and CSU representatives joining their peers from private and out-of-state schools on the Mesa College campus to answer questions about everything from application deadlines to financial aid opportunities. The event takes place from 10 a.m. to 1 p.m. at the Mesa Promenade.
- Annual Transfer Day at Miramar College is set for Oct. 21 with dozens of representatives from CSU, UC, private, and out-of-state schools on campus to meet with Miramar College students. The event is set to take place from 10 a.m. to 1 p.m. on the lawn near Compass Point.
- San Diego City College is holding a Transfer Fair on Thursday, Oct. 22, featuring representatives from more than 30 four-year colleges and universities, including five CSU campuses and seven UC schools.
The top two transfer destinations for SDCCD students continue to be San Diego State University and the University of California, San Diego. SDSU transfer volume districtwide increased by 8 percent from 2009-10 to 2013-14. The number of Latino students who transferred from City, Mesa, or Miramar colleges to four-year colleges and university shot up by 25 percent during that period.
The SDCCD has been placing an emphasis on the Associate Degree for Transfer, a specific pattern of courses to complete the undergraduate requirements needed to transfer directly to a CSU campus while earning a community college associate degree. The year-over-year increase in Associate Degree for Transfers awarded in 2014-15 was almost 89 percent.