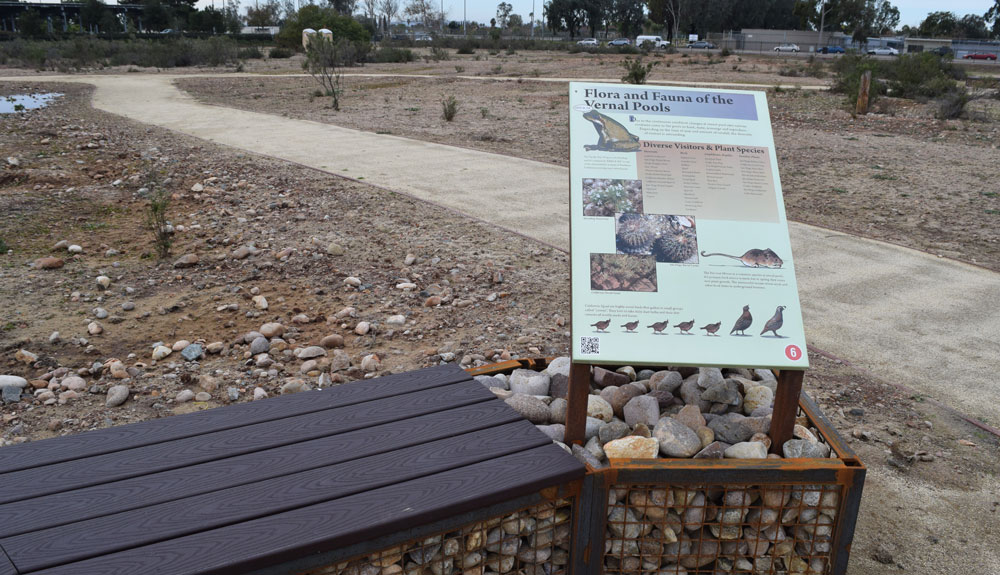 Vernal pools, interpretive trails beautify Miramar campus
January 13, 2016

|
The northwest corner of San Diego Miramar College (Black Mountain Road & Hillery Drive) is officially "in touch" with its wildlife side. Over the course of the fall 2015 semester, the 12-acre parcel of land has been transformed into a landscape featuring vernal pools and interpretive trails designed to protect one tiny endangered species. This section of land is home to the federally protected San Diego Fairy Shrimp (Branchinecta sandiegonensis), a soft-bodied crustacean that is less than an inch long when fully grown. The endangered San Diego Mesa Mint plant (Pogogyne abramsii) also grows on the land.
Vernal (meaning "Spring") pools are a rare type of seasonal wetland that exists in very few places on earth. Vernal pools are different from wetlands, ponds, or lakes because they only hold water for a few weeks. Rainwater collects in the pools due to hardpan earth that prevents it from draining into the subsoil below. During the rains, a diverse array of flora and fauna that make the temporary pools their home come out of dormancy. Some organisms can remain dormant for up to a hundred years. When the pools fill, these organisms go through their entire life cycle before the water evaporates in the dry summer.
"This is an exciting project for the campus," said Brett Bell, vice president of administrative services at Miramar College. "As our bond projects rapidly wind down, the funds provided for this project, through Proposition N, have improved a part of campus that has been underutilized."
The project was completed in December. The area now features vernal pools, a boardwalk, low-lighted pathways, full perimeter fence with access gates, decomposed granite path, ecosystem education area, and biological garden information signage.
The Vernal Pool Interpretive Trails project has been an important component of the work of the Miramar College Environmental Stewardship Committee (ESC). Professor Laura Tubelle de González, who served as Miramar's faculty sustainability coordinator when the area was first being developed, added that the ESC is "glad to be able to play our part in the local conservation of one of California's disappearing ecosystems."
This semester the area will serve as an outdoor interpretive lab for the Miramar College Biology department. The Mira Mesa community is also welcome to enjoy the trails and learn about the importance of conservation of the area's vernal pool habitats.