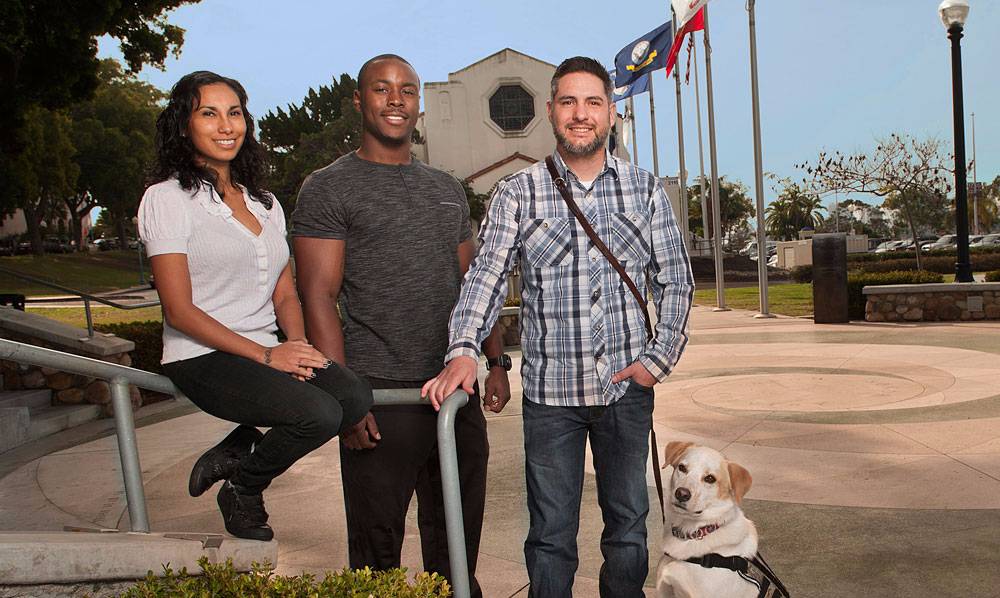 Serving the military and veterans
February 10, 2016

|
Karina Miranda didn't hesitate to enroll at San Diego Mesa College after nine years in the Army, including a 15-month tour in Iraq.
"Mesa College was my first choice," said Miranda, who worked as a Blackhawk helicopter mechanic. "The facilities are state-of-the-art, the staff is incredibly helpful, and the campus is so veteran-friendly."
Veterans and active-duty military members at every San Diego Community College District campus share Miranda's sentiments.
San Diego City College houses an on-campus veterans center that provides a welcoming environment for all veterans by offering peer support and mentoring, referrals to both on and off-campus resources, meetings relating to veterans issues, and guest speakers.
San Diego Mesa College opened a new Veterans Resource Center in 2014 and recently hired a full-time counselor to support student veterans. San Diego Miramar College, which features a Veterans Affairs office that staffs a full-time Veterans Affairs Specialist, recently received a sizable grant from San Diego Gas & Electric to develop the "Vets 2 Jets" program, which offers various grants to student veterans to cover books, tuition, and living expenses.
San Diego Continuing Education offers several free certificate programs that are available for veterans, in addition to services for veterans with disabilities.
For its part, the District has created a nationally recognized veterans handbook and a Vets GPS phone app, both of which offer an abundance of information and links to community resources for the 12,697 active-duty military personnel, veterans, and dependents attending classes at all three colleges and Continuing Education.
"The San Diego Community College District has a longstanding commitment to our active duty service members, student veterans, and their families. Each college has developed a strong support system to help them navigate the resources available to them both on and off campus," said Dr. Lynn Neault, the District's vice chancellor of Student Services.
Vice Chancellor Neault notes that San Diego Continuing Education and all three colleges have been designated as a Military Friendly School by Victory Media, publisher of G.I. Jobs, STEM JobsSM, and Military Spouse. Indeed, active-duty military members praise the District's supportive programs.
"One of the best decisions I've made was coming to San Diego City College," said Francis Rowe, who is serving in the Navy and has been stationed at Naval Air Station North Island since April 2013 as an aviation electrician working on helicopter electrical components. "I've met some amazing teachers at this school, and anytime any issues came up because of my schedule with the Navy, everyone has been understanding and accommodating."
Rowe, who recently signed up for an additional three years in the Navy and will soon be stationed in Hawaii, was able to earn his associate degree in liberal arts and sciences with an emphasis on mathematics and pre-engineering at the end of the fall semester. He thrived in City College's Math, Engineering, Science Achievement (MESA) Program, which is an academic support and transfer program for students in math, engineering, and science majors.
"When I came to San Diego, I was looking for a place that could provide a good education at an affordable price and help me transfer," he said. "I have not been disappointed."
Plans call for Rowe to enroll in Arizona State University's online program once he gets settled in Hawaii.
Randall Dexter was a combat medic in the Army for a decade before leaving the service in 2013. During his second tour in Iraq, Dexter served as a combat medic to the Commanding General of the 3rd Infantry Division.
He was quickly sold on San Diego Miramar College.
"I went to go visit the campus and I just fell in love with it," Dexter said. "There are a lot of other veterans here, the faculty are dedicated, and the services they offer – such as Disability Support Programs and Services (DSPS), the Career Center, the Transfer Center – are veteran-friendly. And at the Veterans Center, when it comes time to registering, they have a counselor right there to help you without you even having to think about it. It's not just one thing; it's a collection of awesomeness."
Added Dexter: "In the military, you get used to a lot of bureaucracy. But at Miramar, things get done quickly and efficiently."
Dexter plans to transfer in the fall to the University of Nevada Las Vegas, to earn a bachelor's degree in communications with a minor in Spanish. His goal is to return here to study law at the University of San Diego.
Karina Miranda plans to transfer to San Diego State University after earning an associate degree in nutrition from Mesa College. Her favorite spot on campus? The Veterans Resource Center, a center staffed with tutors and equipped with computers, printers, a study area, lounge, and library.
"Everybody is just willing to help each other out," Miranda said. "And they make sure that you're the first in line to get the classes you need, which is very important because you're limited in how long you get your education benefits through the G.I. Bill."
Miranda is happy to be among the thousands of students — military and civilians alike — who are reaping the benefits of Mesa College.
"It's easy to navigate the campus, it's affordable, and it offers a lot of classes that are not available at other community colleges in the area," she said. "It's a great place to be."