Continuing Education helping student veterans transition to campus life
November 21, 2016

|
The brave men and women of the United States military reintegrate with civilian community through academics and dance. More than 12,500 military veterans and active duty are enrolled at the San Diego Community College District and San Diego Continuing Education. California has more veterans than any other state. SDCE provides free general education and short-term vocational certificate programs making the transition into education more comfortable for individuals who are not looking to go to a four-year university directly following service in the military.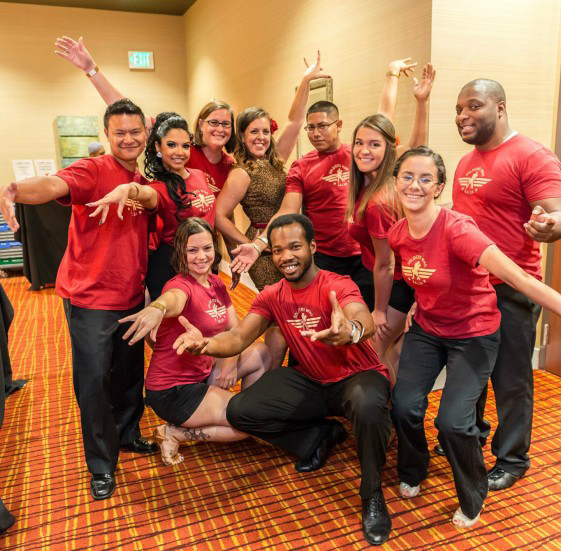 The Soldiers Who Salsa Performance Team with SWS Founder Jennifer Ables and Instructor Serena Cuevas
SDCE classes are open to all California residents 18 and older at no cost in an effort to reach an estimated 240,000 veterans in San Diego County. When service men and women return to school from four to 20 years of service they are often entering classrooms for this first time in many years. To make this transition easier SDCCD and SDCE provide substantial resources to ensure their success.
Jennifer Ables, co-founder and executive director of Soldiers Who Salsa (SWS) also knows first-hand the ongoing challenges in helping retired troops as they readapt to civilian life. Ables saw a need for community integration for those that came back from the Afghanistan war and identified dance as their outlet.
Often veterans and active duty persons suffer with PTSD (Post Traumatic Stress Disorder) and TBI (Traumatic Brain Injury) and some don't. Ables emphasizes the need for professionals to be mindful of these illnesses. "Some dance teachers get frustrated when someone can't remember what they're learning from week to week," she tells us. Specifically referring to people who face TBI, "It's our job to help them. But the students have a responsibility to try."
At SDCE, unique academic accommodations are available for students with verified disabilities through its Disability Support Programs and Services (DSPS). SDCE also offers a free Cognitive Retraining class that helps students with acquired brain injuries focus on rebuilding a sense of self and providing tools students need to succeed in important areas of daily living, including interpersonal relations, work, school and community.
Veterans who are transitioning out of service may fear pursuing their education. For many, it may be the first time they are without a steady paycheck and medical care. Ables pushes military students to take advantage of their earned education. "Don't waste your G.I. Bill. Use classes to find something that lights a fire in you," Ables proposes. SDCE is a supportive resource for this population as SDCE provides 40+ free short-term certificate programs as well as pathways to college. Designated veterans services counselors at SDCE help students register and understand options that coordinate with the G.I. Bill.
Since SWS' founding in 2010, Ables has made it her mission to enhance and enrich the lives of wounded, ill and injured active duty and veteran service members of the U.S. Armed Forces through therapeutic social dancing. For first-time students navigating higher education can already be difficult, but more so, first time military students can isolate themselves because they can't relate to fellow classmates. They differ in a lot of ways from their counterparts who have just graduated high school. This can lead them to withdrawing from their education.
"Academic life is so much more than financial aid … these veterans feel like they socially don't belong," shares Ables. She declares that programs like hers get everyone involved, out of their comfort zone, and free them of social anxiety. "It's about defying the stigma and breaking the barriers of who and what veterans are," affirms Ables. To show this she specifically chooses to teach dance steps that require a partner such as salsa and merengue. Those dances require a follow and a lead, inevitably two people who never met before are connecting. "I see the therapeutic value using dance for another purpose," she adds. Ables oversees the SWS Club at San Diego Mesa College alongside Juan David Ortiz, Mesa Student and Marine veteran. The SWS Mesa club is open to all SDCCD and SDCE students- veteran or not where they can interact with like-minded individuals on campus.
"People have asked me what if they go crazy? That's the problem not every veteran will have PTSD," Ables referred to the Hollywood media who often disservices America's greatest heroes. "We exist to help educate people." With the support of SDCCD and SDCE veteran outreach initiatives, students who take part are less likely to isolate themselves and instead take pride in academics as they previously did for our country. Ables, has been named a finalist for the San Diego Magazine's "2016 Woman of the Year" awards and was recently recognized by the San Diego Business Journal as a finalist in this year's "Women Who Mean Business" awards. Ables credits those honors to her all-star lineup of dance instructors, "They are hungry to serve and have tremendous gratitude to service members." SDCCD outreach efforts for veterans have included various workshops about using benefits, resume writing and interactive events such as BBQs and panels of guest speakers. SDCE's Veterans Equity Resource Center will host army veteran, Jeremiah Pauley, as he talks about his personal experience during the war in Tal Afar, Iraq at 2 p.m. November 28 at the Educational Cultural Complex in Room 169.
Soldiers Who Salsa (SWS) Mesa College is in association with the Mesa College Student Veterans Organization. The dance classes are held every Wednesday with world-renowned dance instructor, Serena Cuevas at 5 p.m. in Room L102 at Mesa College.
All three of SDCCD's for-credit colleges: City, Mesa, and Miramar have again been deemed as a Military Friendly School by Victory Media, publisher of G.I. Jobs, STEM Jobs and Military Spouse. SDCE will expand its veteran outreach programs to all six of its campuses to actively recruit veterans to be in class. Learn more about SDCE's free and low cost classes at sdce.edu.