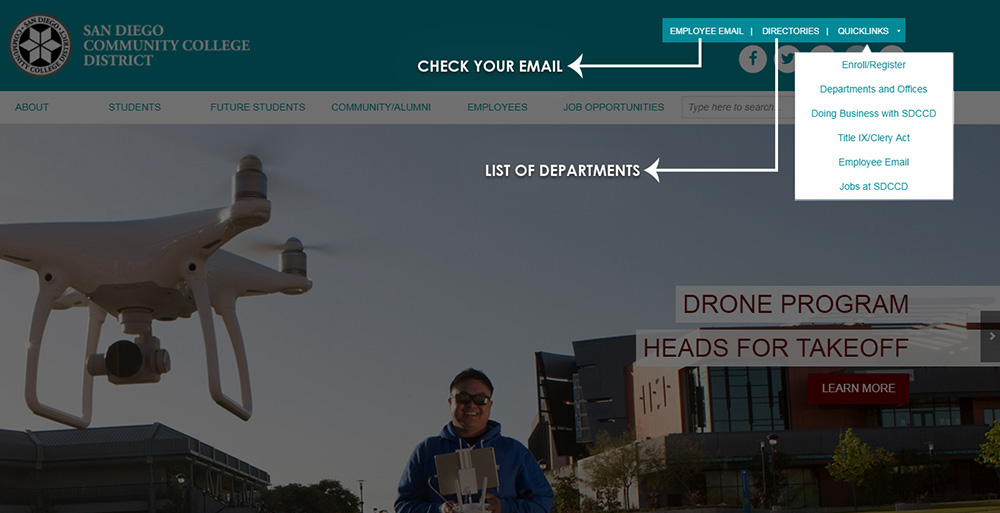 District launches new website
August 25, 2017

|
Welcome to the new San Diego Community College District website. Launched August 27, 2017, this website has been developed to ensure that faculty, staff, students, parents, alumni and the San Diego community have access to information and updates about our district.
The redesign aims to make the site more accessible on mobile devices and simplify navigation while featuring stories on student success, workforce training and community engagement.
We encourage users to explore the new site to become more familiar with all the changes. If you're still having trouble finding what you need you may want to look through our Directories page that links to each department in the district.
With this update there will be a few changes. Here are some questions and answers to help you better understand how the new site may affect you.
Is the website compatible with all browsers?
We have made every attempt to ensure that the website functions in all of the most common browsers. For the best viewing experience we recommend updating your current browser to the latest version.
Will my bookmarked pages on the old site still work?
Most URLs on the website have changed as we have migrated to a new system. We have created redirects for our most frequently-visited pages. Clicking on old bookmarks should take you to the new page in most instances, but we encourage you to update your bookmarks to links on the new site. Here is a link to the Directories page to help you find the department you need.
Did anything stay the same?
Portals that require login information have not changed.
Will the website work on a phone or tablet?
The new website is mobile-friendly and will have a different appearance on mobile devices than on desktop. To find your way around our site on mobile, the menu can be found by selecting the three horizontal lines at the top-right corner of the page.
Will there be training on the new website?
The district communications office is coordinating with vice chancellors at the district office to offer training to selected members of each department so they can update their own sections of the website. These two training sessions will take place in September. Training will be conducted by the company Taylor & Pond that redesigned the website, with the support of the District's Communications and Public Relations office and Information Technology.