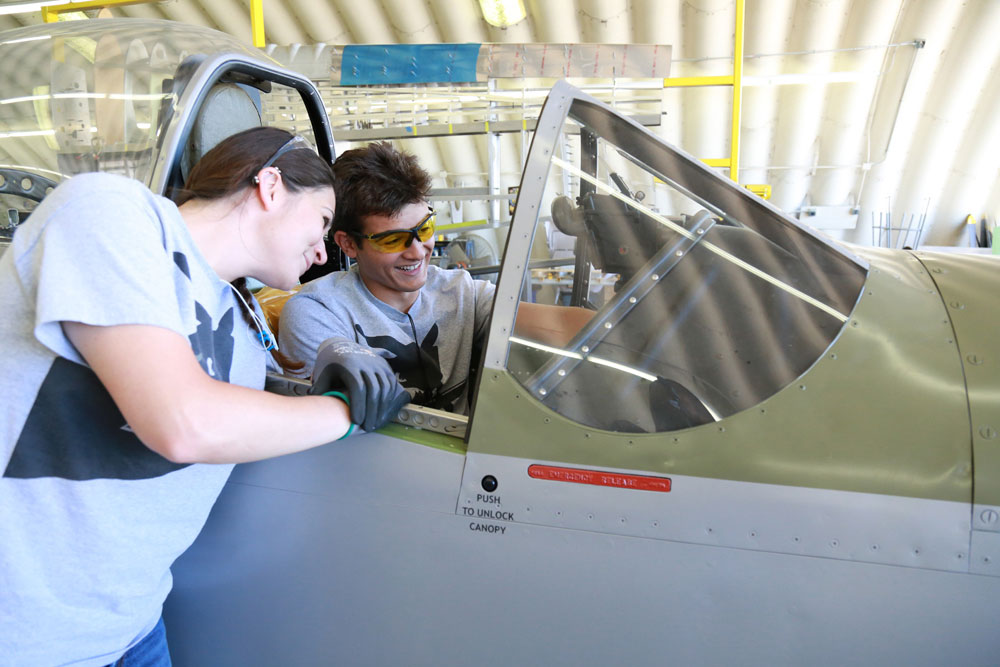 SDCCD workforce programs honored for boosting employment, social mobility
August 7, 2017

|
San Diego City, Mesa, and Miramar colleges are being commended by the California Community Colleges system for stellar career education programs that are yielding high employment rates and solid earnings for students completing the curriculum.
The Heating, Ventilation, and Air Conditioning (HVAC) program at City College and the Aviation Maintenance Technology program at Miramar College earned Strong Workforce Stars recognition based on surveys showing that, of those students who responded, each was able to secure a job in their field of study. San Diego Mesa College secured a Strong Workforce Star award because 79 percent of students who took part in its Fashion program are earning the regional living wage.
Strong Workforce Stars is a new, annual recognition and celebration for career education programs, also known as career technical education (CTE), whose students show significant gains in factors important for advancing social mobility, including: a substantial increase in earnings; attainment of a living wage; or securing a job closely matched with a student's field of study.
Data on the percentage of students who say they are working at a job in their field of study was based on the California Community Colleges CTE Outcomes Survey, which is sent to students after they stop taking courses. Data on students earning a regional living wage is based on a match to the state's wage file and a comparison with figures from the Insight Center for Community Economic Development. Data on increases in earnings is determined by comparing students' earnings one year before and one year after exiting the California Community Colleges system.
"We are honored that the state Chancellor's Office has recognized these City, Mesa, and Miramar College programs for meeting workforce needs and our students' educational goals," said Stephanie Bulger, the San Diego Community College District's vice chancellor of instructional services. "This recognition demonstrates that career education creates educational pathways to the middle class and fills critical skills gaps in the labor force."
City College's HVAC program attributes much of its students' employment success to its apprenticeship model that requires participants to work with an industry partner. Miramar College's Aviation program has been so successful because instructors take a personal interest in student outcomes, making sure participants are prepared for and meet the requirements for certification. The program and curriculum are set up and driven by Federal Aviation Administration standards, and Miramar College has been working with businesses to increase the number of internship opportunities.
Mesa College's Fashion program was lauded for its variety of courses and emphasis in technology that allows students to develop relevant skills for employment in fashion design, fashion merchandising, computer fashion technology and related fashion careers. Courses are supplemented with participation in field excursions, guest lecturers, work experience positions and work-based learning opportunities involving the local fashion community.
Strong Workforce Stars is an outgrowth of the Strong Workforce Program, an annual $200 million investment launched in 2016 to create 1 million additional middle-skilled workers, thereby producing a job-ready workforce for employers and lifting low-wage workers into living-wage jobs. The program's policy specifies that one-sixth of the dollars be allocated based on contribution to student success outcomes rather than the traditional approach of student enrollment, and Strong Workforce Stars is one way to measure that goal.
The San Diego Community College District is the largest provider of workforce training in the region and is responsible for fueling $5.5 billion annually into the local economy.