District secures $1.5M in workforce training grants
June 16, 2015

|
The San Diego Community College District (SDCCD) is being awarded more than $1.5 million in state grants to continue several job training and workforce preparedness programs at San Diego City and San Diego Miramar colleges that are critical to growing the regional and California economy.
"City College and Miramar College have considerable expertise in a number of career and technical fields, which is why they are repeatedly tapped to play leadership roles at both the state and regional levels," said SDCCD Chancellor Constance M. Carroll.
The SDCCD's Board of Trustees voted unanimously on June 11 to accept the awards. The grants are funded through the statewide Doing What Matters for Jobs and the Economy program, which is run by the California Community Colleges Chancellor's Office. Grants are directed toward specific industry sectors that have been deemed priorities in San Diego and Imperial counties.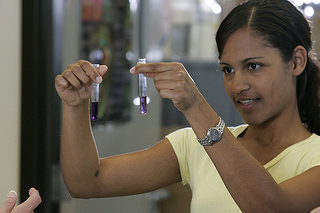 Awards include:
Two grants totaling $572,500 for a San Diego Miramar College-led effort in the Life Sciences/Biotechnology sector, an effort housed in the college's Southern California Biotechnology Center. The Biotechnology Center at Miramar College has, for more than a decade, collaborated with the region's booming life sciences industry as a training ground for teachers, students, and those already working in the field.
Two grants totaling $572,500 for a San Diego Miramar College-led effort in the field San Diego Miramar College student
of Advanced Transportation and Renewables,
an area that covers an array of clean energy technologies aimed at growing a greener economy. Recent activities include partnering with industry through the San Diego Regional Clean Cities Coalition to deliver an alternative fuels training program for fleet technicians and first responders, partnering with community colleges and high schools to modernize their automotive programs, and working with SANDAG to develop an alternative fuels regional plan.
A $200,000 grant for a San Diego City College-led effort in Advanced Manufacturing through the college's Center for Applied Competitive Technologies. Established in 1989, the Center for Applied Competitive Technologies' mission is to advance global competitiveness through responsive workforce training and technology consulting services. This grant will support efforts to strengthen advanced manufacturing in the region, train workers for advanced manufacturing jobs, expand investments in emerging, technologies, and launch new initiatives to deploy the local workforce to in-demand jobs.
A $200,000 grant for a San Diego City College-led effort in Information, Communication Technologies/Digital Media, enabling the college to continue working with industry to bolster computer skills for administrative assistants, information clerks, and other office workers – professions that state and federal economists say will sustain robust growth for years to come. The 2015-16 funds will target the development of regional and statewide networking, cloud computing, database administration, and cyber security.
"The San Diego Community College District has long been a key driver of workforce preparedness and economic development in the region, and these grants will allow the district to continue making an impact in critical growth industries," said Peter Callstrom, President and CEO at the San Diego Workforce Partnership.
A recent study showed the SDCCD and its students contributed $5.2 billion last year to the regional economy, up from $4 billion in 2012-13. In total, the district's economic impact is equal to approximately three percent of the county's gross regional product.
Link for HD b-roll footage for SDCCD campuses
Link to photos of SDCCD campuses