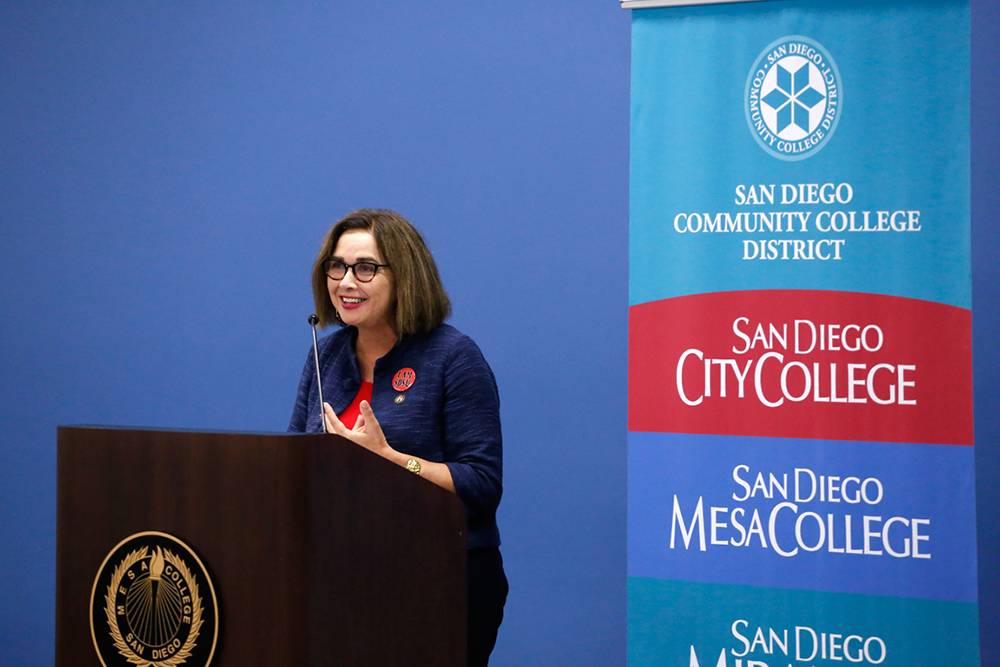 New SDSU president welcomed by education leaders
November 27, 2018

|
The San Diego Community College District welcomed San Diego State University's new president, Adela de la Torre, at a special reception last night at San Diego Mesa College. At the event, President de la Torre outlined her vision for SDSU with a call for community partnerships, a commitment to equity, and a focus on students.
The event was co-sponsored by the SDCCD and the San Diego Unified School District and attended by elected trustees and other leaders from both districts. Featured speakers included SDCCD Chancellor Constance M. Carroll, SDCCD Board President Maria Nieto Senour, SDUSD Board President Kevin Beiser, SDUSD Superintendent Cindy Marten, Miramar College Associated Student President Alana-Mahal Bermodes, and President de la Torre.
Attendees, many of whom were meeting the new SDSU president for the first time, were not disappointed.
"Clearly we're going to work in all the same metrics that many of you are working on," President de la Torre said. "Making sure students graduate in four years, making sure students minimize their debt, making sure that they are in a career pathway that will end up in a place where they can live their life in a way that they deserve. Those are all important. But more importantly, what we need to think about here and in our partnership is what we're going to do for these students, because they are the future leaders."
Working closely with secondary schools and the SDCCD means a commitment to diversity.
"We're not going to have STEM leaders if students don't have STEM faculty that look like them," she said.
President de la Torre began her 15-minute address recalling her childhood in Northern California, where Spanish was her native tongue. Among the most profound moments of her young life was visiting nearby UC Berkeley as a small child with her Spanish-speaking grandmother.
Said her grandmother at the time: "Adelita, aqui vas estudiar. This is where you're going to study.' And I just knew two things: that I always listened to my grandmother, because we know in Mexican culture you've got to listen to your grandmother; and, two, that it was important to me to go here because I could still be close to my family."
Indeed, President de la Torre later earned her bachelor's degree in political economy of natural resources, and a master's and doctorate in agricultural and resource economics from UC Berkeley.
To help students from the region reach their dream and attend SDSU, President de la Torre said, "I am committed to making sure we have the strongest local partnerships possible. I am going to work even more closely with all our community college presidents to help them reach their pathway."
The SDCCD, its colleges, and Continuing Education have long had a close working relationship with SDSU. Last year, 1,040 City, Mesa, and Miramar College students transferred to SDSU. In fact, the number of Latino students who have transferred to SDSU from district colleges has increased by nearly 50 percent in the past five years.
"We have a really special relationship with San Diego State University," Chancellor Carroll said. "During my 26-year career with the district, I have had the opportunity to collaborate with five SDSU presidents, including Thomas Day, Steve Weber, Elliot Hirshman, Sally Roush, and now Adela de la Torre."
The California State University Board of Trustees appointed de la Torre to serve as SDSU president in January, and she took over as the university's first permanent female president in June. She came to San Diego from UC Davis, where she served in various leadership roles, culminating with Vice Chancellor of Student Affairs and Campus Diversity. Previous roles include serving as Director, Center for Transnational Health at UC Davis; Director, Hispanic Center of Excellence at the University of Arizona; and Director, Mexican American Studies and Research Center at the University of Arizona.
De la Torre, the first Latina president at San Diego State, will be inaugurated as the ninth president of university during an April 11 investiture at Viejas Arena.