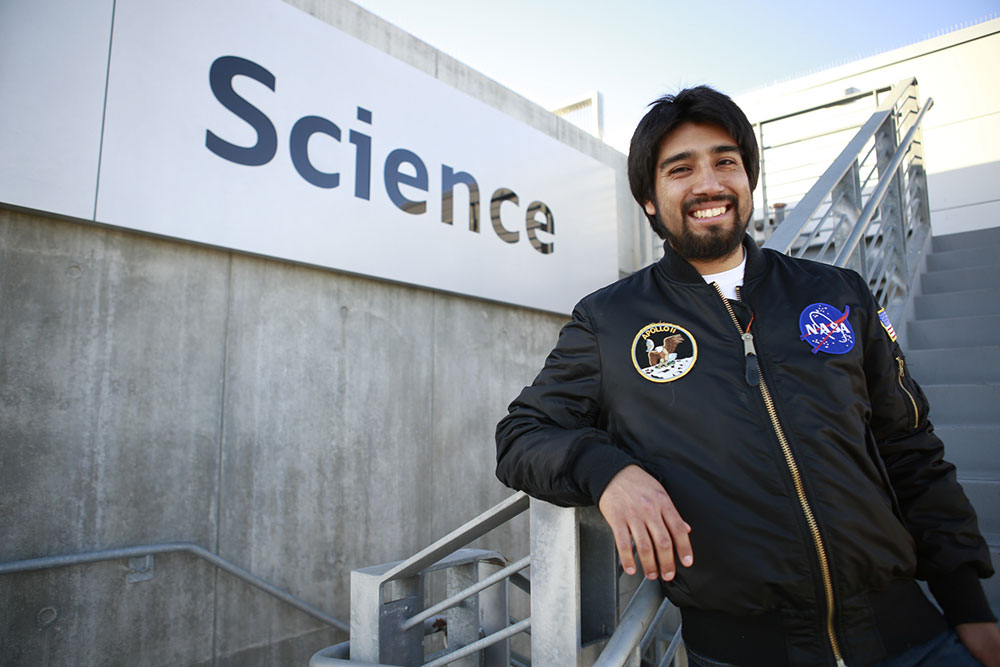 Aiming to transfer
October 17, 2018

|
Former San Diego City College student Sergio Sandoval graduated from the Georgia Institute of Technology and landed a job at NASA. Former San Diego Mesa College student Joshua Quiroz is at San Diego State University studying business administration with plans on earning a master's degree. And former San Diego Miramar College student Thaimae Le is at Arizona State University majoring in English with plans that include becoming a community college dean.
Sandoval, Quiroz, and Le are among the growing numbers of San Diego Community College District students who are transferring to four-year colleges and universities en route to launching rewarding careers. But despite the successes that are being fueled by initiatives that include the District's Honors Program, Bridges to the Baccalaureate, and the Mathematics, Engineering, Science Achievement (MESA) program, challenges remain.
The biggest challenge? Not enough room at some of the most sought-after public universities in the region to accommodate every qualified transfer student.
"We can change the rules, we can change the dynamics, we can change the instruction, and it wouldn't make any difference if there is no room at the universities students want to transfer to," said Lynn Neault, the District's Vice Chancellor of Student Services. "We have eight community colleges in the region that are feeding students into a limited number of seats at universities in San Diego County."
In fact, 19 percent of students from the region's eight community colleges who earn an associate degree for transfer cannot get into San Diego State University, where the number of applications from community college students rose from 6,249 for fall of 2017 to 6,687 for fall of 2018.
Thaimae Le is Exhibit A. Le was one of only 75 community college students from a nationwide pool of 2,400 applicants who earned a 2016 Jack Kent Cooke Foundation Undergraduate Transfer Scholarship, which pays up to $40,000 per year for tuition, living expenses, and fees for the final two to three years necessary to earn a bachelor's degree at a four-year scholarship. Yet Le, an honors student at Miramar, was unable to get into San Diego State after she decided to leave UC San Diego after one semester.
"English is an impacted major over there (SDSU) so it didn't matter that I had this scholarship, it didn't matter that I had a great grade point average, it's just not easy to get into," Le said.
Instead, she enrolled in an online Arizona State University program. She hopes to earn bachelor's degrees in English and Anthropology in the spring of 2019, then secure her master's degree in Educational Leadership.
In a sense, Le is an anomaly. According to a 2016 report from the Community College Research Center at Columbia University's Teachers College, just 14 percent of the nearly 1.1 million students who enroll at a two-year institution annually earn a bachelor's degree within six years. The report noted that improving degree outcomes is critical to achieving national goals for improving upward social mobility and economic vitality. In addressing such concerns, the California Community Colleges Board of Governors in 2017 adopted a Vision for Success that calls for increasing by 35 percent the number of community college students statewide transferring annually to a University of California or California State University campus. A memorandum of understanding signed by UC President Janet Napolitano and California Community Colleges Chancellor Eloy Oakley calls for a new UC Transfer Pathway similar to the CSU pathway, guaranteeing those graduating with an Associate Degree for Transfer a spot at a UC campus.
Students, however, are not guaranteed a spot at a specific UC or CSU campus. And because so many students are working and raising a family, leaving San Diego to attend, say, UC Merced or Cal State Los Angeles is not always an option. "A lot of our students want to stay local," said Kelly Mayhew, co-coordinator of the Honors Program at City College. "Because so many majors are impacted, there's just no room for a lot of the students who want to transfer to San Diego State."
Still, nearly 3,900 City, Mesa, and Miramar college students transferred to a four-year institution in the 2016-17 academic year, the most recent full year for which statistics are available. In 2016-17, transfers increased by 8 percent at City College, 4 percent at Mesa College, and 9 percent at Miramar College. The number of Latino students who have transferred has increased by nearly 50 percent in the past five years.
Higher transfer rates are not occurring in a vacuum. Numerous initiatives have been launched across the District to help students continue their education at the university level. Among them:
- Funded by a three-year, $2.6 million grant from the Andrew W. Mellon Foundation, Preparing Accomplished Transfers to the Humanities (PATH) is a collaborative transfer support program between the District and UC San Diego that guides students from City, Mesa, and Miramar colleges into arts and humanities majors at the university. It includes a residential summer academy at UC San Diego that helps students acclimate to a university environment. Over the past two summers, more than 50 students have transferred to UC San Diego through the program. "It also has had a kind of ripple effect of putting our District on the UCSD radar when it comes to transfer students who are not part of the PATH Program," Mayhew said.
- The Honors Transfer Council of California has negotiated transfer partnerships enabling students completing the Council's programs at the District's three colleges to enjoy enhanced transfer consideration and other benefits at partner campuses. Such agreements, campus officials say, help students get to where they want to go.
- The UCLA Transfer Alliance Program involving Honors students has resulted in a transfer rate that is three times higher the average transfer rate to the university. Under the cooperative agreement, City, Mesa, and Miramar colleges offer enriched academic programs and all courses necessary to transfer, and the colleges and UCLA work together to help students navigate the transfer process.
- The Bridges to the Baccalaureate at both City and Mesa colleges is aimed at boosting transfer rates of students studying the sciences and who are from underrepresented populations and interested in research careers. Students are paired with mentors, tutors, and counselors, work in laboratories, and present their findings at research conferences across the country.
- At Miramar College, the Transfer Center is increasing broadening its outreach into the classroom to discuss pathways to various universities, said Transfer Center Director Naomi Grisham. Miramar also has a Transfer Banter series where the Transfer Center sets out information tables where students tend to congregate, and it has invited UC Irvine, UC Santa Barbara, UC San Diego, and San Diego State University to conduct various workshops. "Our Transfer Center teams reads up on the latest research regarding our incoming populations and tries to shift our practices to best address the needs of our students," Grisham said. "We are mindful of the barriers experienced by our students, and we focus on teaching them how to become experts of their own transfer pathway."
San Diego State University is, by far, the top destination for students transferring from the San Diego Community College District. UC San Diego is the second most popular choice for students at San Diego Mesa and Miramar colleges, and National University for students at San Diego City College. Others have transferred to the likes of UC Berkeley, Stanford, Cornell, and Dartmouth.
Born in San Diego and raised in Tijuana, Sergio Sandoval enrolled at San Diego City College and participated in the school's MESA program, which focuses on creating a culture of success by raising expectations, establishing mentorships, and improving study habits.
"When I was at City College, my biggest goal was to transfer to Georgia Tech," Sandoval said. "That's what I wanted to do. I wanted to get my bachelor's and then be able to apply for a job. NASA was not even in my mind. When I went to Georgia Tech, I started doing research, and thanks to that I got called into work at JPL, and then I got like a recommendation to apply for the Johnson Space Center, and got the co-op (a NASA program), so everything was just like a little bit of luck. I mean, of course the effort had to be there, but having the opportunity like being at the right place at the right moment was essential. I never thought I was going to make it that far."
He's now in a master's degree program in aerospace engineering at San Diego State.
By far, most students in the District who seek to transfer to a UC campus are accepted: at City College, 70 percent of 217 students who applied to a UC campus were accepted; At Mesa College, 68 percent of the 586 students who applied to a UC campus were accepted; and at Miramar College, 74 percent of students who applied were accepted. What's more, Mesa is among the leading California community colleges in the number of students who applied and who were admitted to a UC campus.
Those who transfer say their community college experience had prepared them well.
"There's really not much difference between Mesa and San Diego State regarding the content," said Quiroz, who graduated with an Associate Degree for Transfer last spring. "It's just that the professors are different, obviously, and the classroom sizes are bigger. Mesa helped provide the tools I needed to get where I am today."