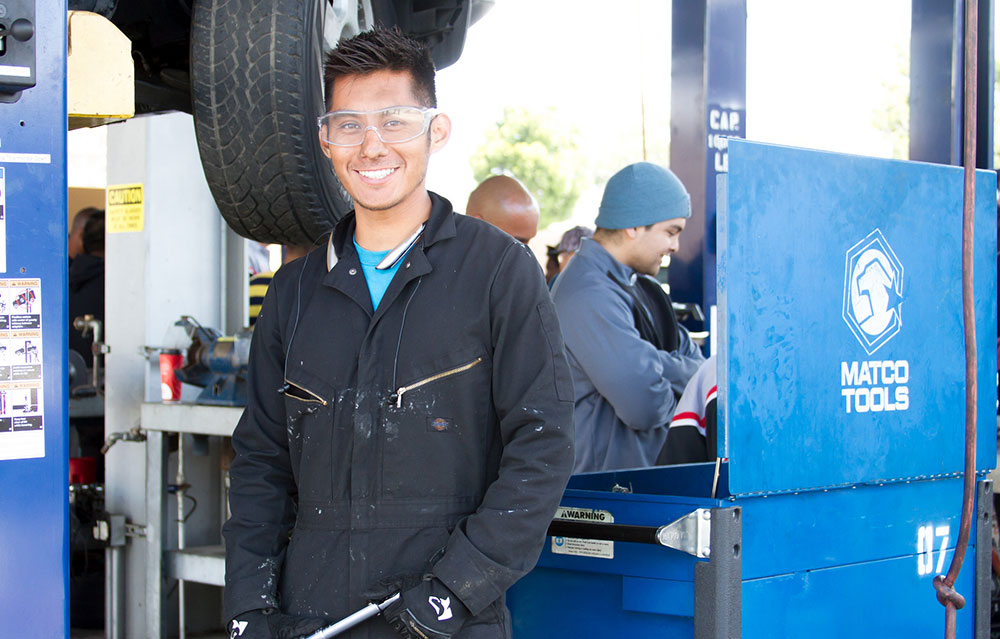 Mechanic leaves auto shop to go back to school
October 3, 2018

|
San Diego Continuing Education awards more certificates of completion than any other noncredit educational institution in California.
SDCE offers 70 free career training programs including four Automotive certificates; Quick Service Inspection Technician, Service Advisor, Auto Body and Paint Technician and Auto Technician.
"As soon as I graduated, I went to work for an auto shop in Lemon Grove and did some of my own work in Otay Mesa with another student," said Humberto Perez. Perez completed SDCE's Auto Body and Paint Technician program in 2010.
While many technicians specialize in an area, such as transmission, or brakes, Perez wanted to become a more competitive employee by understanding the entire anatomy of a vehicle. "I would think to myself I should work on engines because it could benefit me."
Last year, the 29-year-old returned to SDCE to study Automotive Upholstery and earn two more certificates. "In the real world, a job advertisement is only looking for a Mechanic or a Body Painter, so as a certified Technician I am experienced in many areas and I can ask for better pay."
According to Bureau of Labor Statistics, the median annual wage for automotive service technicians and mechanics was $39,550 in May 2017. Employment of automotive service technicians and mechanics is projected to grow 6 percent by 2026.
"After high school I went to do general education and tried Aviation courses, but I didn't go far. It was getting too complicated and I wanted to work." With higher education costs on the rise Perez advises would-be students to choose a field they are passionate about. "When you really like something, you'll do your best to learn and get it right."
Free Automotive classes take place in the Mountain View community at SDCE's Educational Cultural Complex. In addition to hands-on work in the shop, students learn theory, safety practices and soft-skills.
"A lot of people here are low-income, free education like this helps us become better people," said Perez. "We are not out on the streets and wasting our time."
After certification completion, SDCE students are ready for entry-level employment or can transition to San Diego Miramar College with college credits earned toward an Associate Degree in Automotive Technology. Miramar provides opportunities for students to advance to higher-level positions while studying in school with T-TEN (Toyota, Lexus, Scion) and PACT (Honda) work experience programs.
Following SDCE, Perez will transition to Miramar College to continue his education and will begin creating his own auto shop; building vehicles and doing custom work.
This summer, SDCE announced its involvement with a statewide campaign, Learn More Earn More, to connect adult learners to middle-skill jobs in Advanced Manufacturing, Energy, Construction and Utilities, Health and Information and Communication Technologies.
SDCE's priority workforce programs mirror manual labor industries, classrooms look like an auto shop or a hospital. Students generally complete career training within three to nine months.
SDCE is still enrolling for the current fall semester, and Automotive classes are some of the most popular. Visit sdce.edu to sign up for a free orientation.