Grand opening of the AVANZA Engagement Center at Mesa College
October 19, 2018

|
Mesa College has announced that it will hold the Grand Opening for the AVANZA Engagement Center at 9:30 a.m. Thursday, Oct 25. The center is an established space aimed at supporting student on-campus engagement, and is home to the Peer Navigator program, CRUISE participants, and offers mentoring and the promotion of Latinx culture, identity and self-awareness.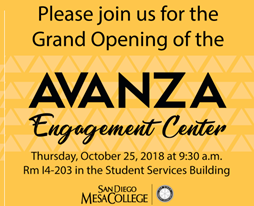 "The AVANZA Center represents the very heart of what Mesa College aims to achieve – equity and success for our students," stated President Pamela Luster. "We are proud to have a culturally relevant space where students can thrive and achieve accomplishment amongst - and with the support of - their peers."
Existing programs such as Puente and Chicano/Chicana Studies faculty use the Center, thus creating a central location for Latinx student support. AVANZA also offers events focused on leadership development, socio-cultural experience, and academics. AVANZA will also house Mesa's Undocumented Student Resource Center. Funding for the AVANZA Center was provided under the PROYECTO ÉXITO Grant, a "Developing Hispanic-Serving Institutions-Title V" five-year grant awarded to Mesa College in the Fall 2014, in the amount of $2.62 million.
As only one of approximately 25 such grants awarded nationwide, the grant aims to improve the retention and graduation rates of Mesa's diverse population, particularly its Latino students, through systemic, institutional changes and improvements. Mesa's HSI / Title V program is entitled Proyecto Éxito, a name that combines the idea of successfully exiting with a degree, certificate, or transfer-readiness with the Spanish word for "success." Mesa is using grant funds to help low-income and Latino students experience academic success, allowing them to "exit" Mesa - with their goals met.
The center is on the second floor of the Student Services Building in Room I4-203.
Hours for the 2018 Fall Semester

Monday: 8:00AM - 7:00PM
Tuesday: 8:00AM - 7:00PM
Wednesday: 8:00AM - 6:00PM
Thursday: 8:00AM - 6:00PM
Friday: 10:00AM - 3:00PM