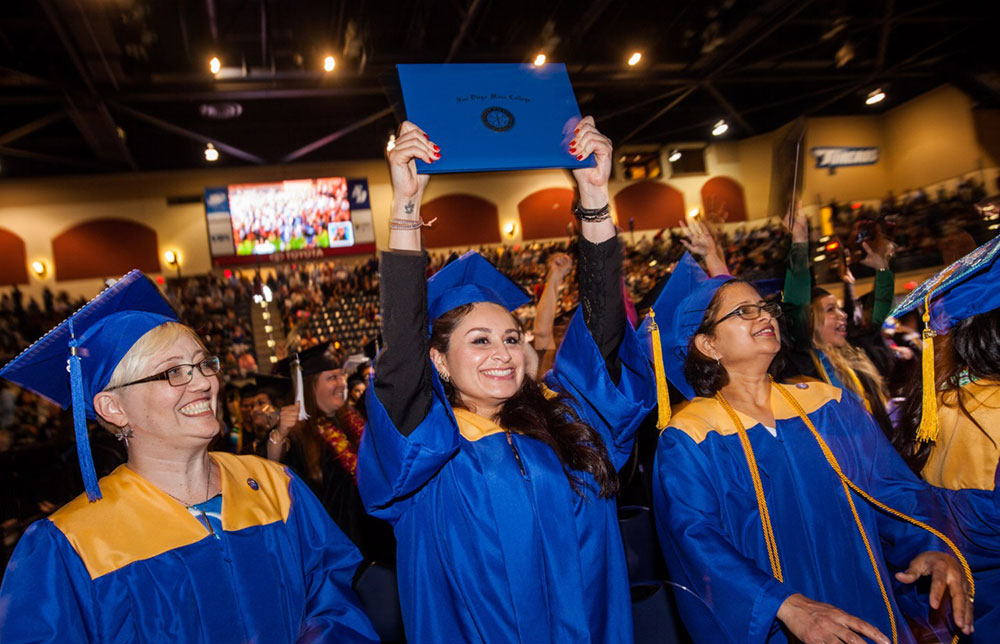 Bill to extend 4-year degrees at community colleges heads to governor's desk
August 31, 2018

|
Legislation extending a pilot program allowing San Diego Mesa College and 14 other California community colleges to offer bachelor's degrees has been approved by the California State Legislature and is headed to the Governor Jerry Brown's desk.
Under Senate Bill 1406, introduced by state Senator Jerry Hill (D-San Mateo), students can begin their bachelor's degree program as late as the 2022-23 academic year and graduate by July 2026. Unless the current sunset provision is extended, students participating in the Baccalaureate Pilot Program must earn their diploma by the end of the 2022-23 academic year.
"The Baccalaureate Pilot Program has already strengthened workforce preparation and job opportunities in fifteen California communities whose community colleges are part of this initiative. We are pleased that this important legislation is going to the Governor's desk," said San Diego Community College District Chancellor Constance M. Carroll. "Implementing SB 1406 is another critical step forward in ensuring the state's economy continues to thrive."
A similar bill seeking to extend the sunset provision was approved by the Senate last year but was held by the Assembly Appropriations Committee. This year, the Committee approved the successor bill unanimously.
California's Baccalaureate Degree Pilot Program, authorized through legislation by former state Senator Marty Block, allows 15 California community colleges to offer one bachelor's degree each in a limited number of workforce preparation areas not available at a University of California (UC) or California State University (CSU) campus. San Diego Mesa College became the first in the state to launch a baccalaureate program when it began offering its bachelor's degree in Health Information Management in 2015. Mesa's first cohort of graduates secured their bachelor's degrees in May.
California will fall approximately 1.1 million college graduates short of economic demand by 2030 if current trends continue, according to a Public Policy Institute of California report, and the Baccalaureate Pilot Program is seen as an important way the state can fill that void. A Legislative Analyst's Office report released in December concluded the baccalaureate program is making progress in addressing the state's urgent workforce needs, but more data is needed for a comprehensive evaluation of its impact. Currently 22 other states allow community colleges to offer baccalaureate degree programs.
San Diego Mesa College President Pamela Luster said that while policymakers continue to debate the program's merits, students say it's a home run based on its low cost and the direct access to good-paying jobs.
"It's not a surprise why students are demanding more access to affordable four-year degrees," said President Luster. "Students participating in the baccalaureate pilot program pay approximately $10,560 in fees and tuition for their four-year degree. At San Diego Mesa College, the first cohort of graduates in May 2018 have found positions, and completed their program with no student loan debt. They are also contributing to a healthy economy, keeping their lives, their studies and their income in the San Diego area.