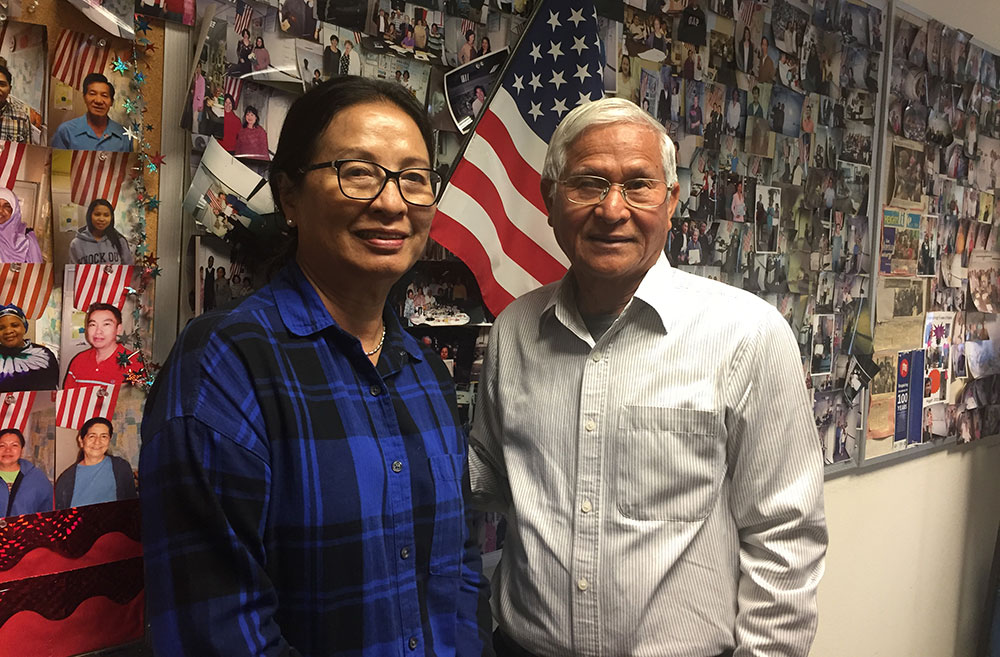 Reaching the American Dream by way of Continuing Education
April 24, 2018

|
After surviving forced marches and the deadly Khmer Rouge regime, Cambodians Sa Chau and his wife, Sovanna Yuon, have been living in San Diego for nearly six years. Thanks to San Diego Continuing Education's ESL and citizenship classes, they became naturalized Americans on April 18 at the downtown federal courthouse.
"I wanted to live in a free country with a democratic government," said Chau, 69, who was able to secure a special immigrant visa by virtue of his work with the United States Embassy in Phnom Penh and who arrived with his wife in Los Angeles aboard an EVA Air flight in November of 2012 before making their way to San Diego to live with a niece in Emerald Hills.
"I am very happy to be American," Yuon said. "I am very happy."
With citizenship and ESL classes at several of its campuses across San Diego, Continuing Education is helping dozens of immigrants such as Chau and Yuon each year reach their American dream. Some are fleeing war-torn countries like Sudan and Somalia. Others are motivated to be closer to family. Regardless of their background, immigrants enroll in the free courses that focus on developing conversational English and knowledge of American history and government, while also preparing them for the naturalization process.
"Sa Chau and his wife Sovanna are what San Diego Continuing Education is all about," said Rosaelena Lopez, who taught the couple in her citizenship class for those 55 and older. "Both came to the U.S. from Cambodia to pursue lifelong opportunities. They were both exemplary students where they focused on fulfilling their goal in becoming U.S. citizens. They were both determined to not only study hard on a daily basis but to also encourage and motivate others to pursue their goal in becoming U.S. citizens. Sa Chau has been inspired by the fun and positive learning environment CE classes provide to students from a diverse ethnic background. It was a pleasure to have both of them in my class."
A former junior high school teacher, Chau had worked for the Cambodian government since 1970 making sure internal refugee camps were adequately supplied with food and medicine. That changed when Pol Pot led the Khmer Rouge to power in 1975, emptying cities and forcing the population off to toil in rural work projects.
"Phnom Penh became an empty city," said Sa, who engaged in backbreaking work in the country's rice fields. "We worked as slaves," he said. "Very hard work."
Many family members died from starvation, disease, or the Khmer Rouge. After the Khmer Rouge was overthrown in 1978, Chau again found a government job in educational planning. In April of 1993, he began working for the U.S. Embassy, focusing on educational exchange programs between the U.S. and Cambodia. He retired in 2011, and the couple with four successful adult children, decided it was time to leave for America. A few years after settling in, they enrolled at Continuing Education.
"I like the education programs here," said Chau of Continuing Education. "Not only for ESL and citizenship, but all kinds of classes like short-term vocational education and others."