Chancellor's Message regarding the Board of Trustees Election 2018
November 7, 2018

|
Dear Colleagues and Friends:
Like many of you, I spent most of yesterday evening following the election returns and either celebrating or commiserating with friends and colleagues in late-night telephone conversations and Twitter exchanges. By morning, the trends were clear, albeit with a few cliff-hangers in San Diego (such as our own Trustee District E- more on that below) and some mixed messages nationally.
However, the election news was all good for the San Diego Community College District. Let me share the results.
SDCCD Board of Trustees
Congratulations are in order for Trustee Maria Nieto Senour, our Board President, who was re-elected to her seventh term in office, having begun her 28 years of service in 1990. Dr. Senour recently retired as a professor and chair of the Community-Based Block Program in Multicultural Counseling and Social Justice Education at San Diego State University.
Joining the Board will be Craig Milgrim, a professor of Biology at Grossmont College. As a community college professor, he shares the educational and professional values that we have as community colleges, beginning with service to students and an insistence on top quality.
As of 1:47 a.m. November 7, the San Diego County Registrar of Voters posted the votes as follows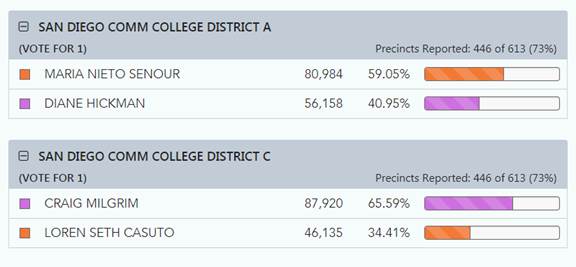 In District E, as of this morning, Education Policy Director Sean Elo-Rivera, J.D. had 50.21% of the vote and outgoing San Diego City Councilmember David Alvarez had 49.79% of the vote, with 73% of the precincts reporting. While the Registrar of Voters has 30 days to certify the election, in this case until December 6, a more thorough count will be made by the Registrar of Voters on Thursday, November 8, at 5 p.m. We hope that there will be a definitive outcome by that time, and, if so, I will report that to you.
Our new and re-elected trustees will take the oath of office at the December 13 Board of Trustees meeting. Please join me in congratulating them.
Heartfelt thanks are in order for Trustees Rich Grosch and Peter Zschiesche on their 16 years of service, which began with their election in 2002. Both Trustees declined to run for re-election. One of the key features of successful organizations is not only the talent and dedication, but the longevity of its leadership. The San Diego Community College District has benefited from the consistent leadership of its seasoned governance board and executive team, in addition to its committed faculty and staff. We wish Rich and Peter the best, and will celebrate them, and our new and reelected trustees, at a "Hail and Farewell" event on December 13 following the Board of Trustees meeting. More information about that will be forthcoming.
In other local elections, Miramar College Professor Rick Cassar was re-elected to the MiraCosta Community College District Board of Trustees. Congratulations to Rick!
News From Sacramento
Lieutenant Governor Gavin Newsom was elected as the next governor of California. He has vowed to continue the support for community colleges that wall a hallmark of his predecessor, Governor Jerry Brown., He has also stated that he is dedicated to the expansion of the California College Promise, which will make the second year of college free to first-time, full-time community college students. If this occurs, the San Diego Promise will have full funding for two years for first time high school graduates, and can then expand our program to include veterans and other categories of students who do not fit the first-time/full-time model. Funds would also be freed up for increased textbook, learning communities, and support services to benefit a broader range of students.
Congratulations to all who worked hard for these positive outcomes in Election 2018. Those who stood for office, those who contributed in other ways, and those who voted all share in these special and very positive rewards of our collective investment in time, talent, treasure, and hope.
Sincerely,
Dr. Constance M. Carroll
Chancellor
San Diego Community College District