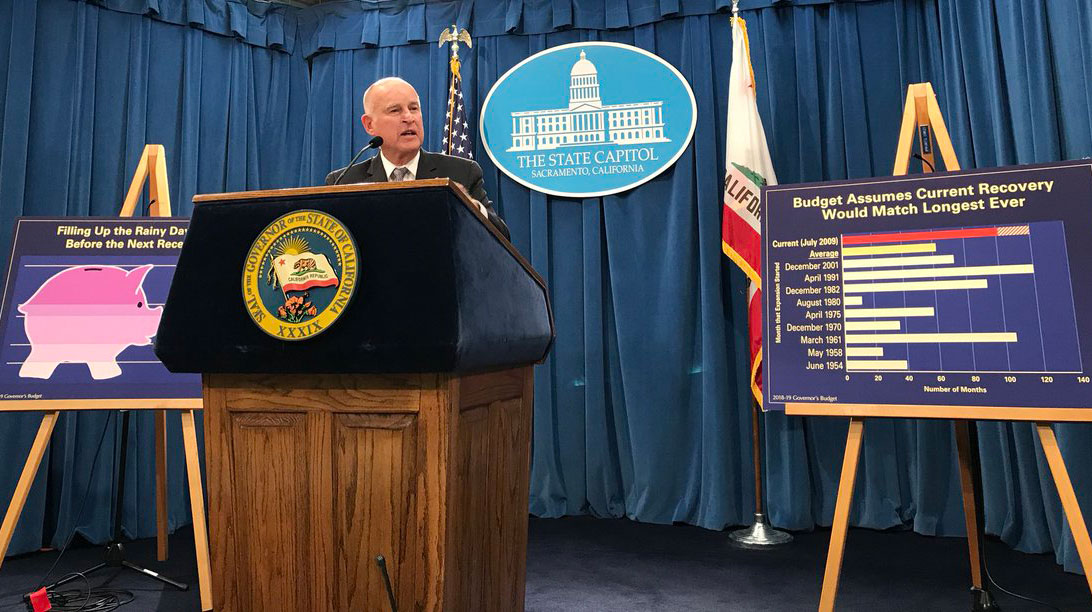 Chancellor responds to 2018-19 California budget proposal
January 11, 2018

|
The California Budget 2018-19
Last Year at Marienbad
Dear Colleagues and Friends:
Since the passage of Proposition 30 in 2012, the California fiscal situation has improved and has even, to some extent, become predictable. Many years ago, when I was an undergraduate college student, an unusual French film was released, "L'année dernière à Marienbad," "Last Year at Marienbad." Those of us in the Foreign Film Club loved the film and everyone else on campus hated it. We loved it and thought we understood it (but then we knew absolutely everything there was to know). Film critics were mixed, some finding it enchanting and dreamlike, others finding it maddeningly enigmatic and senseless.
The film is about three main characters at a luxurious chateau, a woman (known only as "A"), a man whom she meets and who insists that he has known her in the past (called "X"), and another man who may or may not be the woman's husband (known as "M"). Using endless flashbacks and repetitive imagery, the director, Alain Resnais, created a confusing puzzle of contrasts and ambiguities, challenging the viewer to make sense (or not) of whatever the plot was. As I said, as an undergraduate student, I loved every minute of it.
California's budget is like this, too, prompting questions like, "Wasn't this kind of program funded before? Is it new or a repeat? Are we facing another recession? Perhaps yes, perhaps no. If we have more money in the base budget, should we spend it, should we save it, or both? Didn't we just have a recession? Is there another one on the way?" The Governor's proposed budget for 2018-19 invites such questions, while indulging in flashbacks and conundrums.
Governor's Budget Proposal in General
This morning, Governor Jerry Brown gave his annual press conference to introduce his budget proposal for 2018-19, which marks the official start of the state's budget development process. The Governor's Budget Proposal will be followed by legislative discussions, advocacy from the public and private sectors, and further analysis by the State Department of Finance and the Legislative Analyst's Office as more is known about revenue being generated in the current year. As was the case in the past several years, it is anticipated that the revenue estimates will continue to be positive. The next official step in the process will be the governor's second budget proposal, known as the May Revision, which will be issued later in the spring, and will be based upon updated revenue figures, as well as input from discussions and advocacy efforts. This morning, Governor Brown outlined a total $131.7 billion expenditure budget, an increase of over $6 billion, which includes the important Rainy Day Fund. Emphasizing the need for fiscal prudence, the governor outlined the state's fiscal dichotomy, noting that while revenue continues to increase, so does the probability of a recession in the near future. Thus, he again advised caution in expenditures, and balanced his budget proposal between ongoing and on-time resources for that reason. He then outlined his plan for a stable budget with some selected increases.
Budget Impact on Community Colleges and the SDCCD
The governor's budget proposal for community colleges is generally positive, providing stable funding to support existing expenditure levels, increased funding for allocation to districts to strengthen their base budgets, support for the "Guided Pathways" framework and support for limited enrollment growth. In addition, and not without controversy, the governor's proposal includes funding for a 115th community college, structured as a non-traditional, totally online community college, which will be administered (at least initially) by the State Chancellor's Office to address the needs of adult learners training for occupational programs. The budget also includes $46 million in funding for AB 19, which will provide free access to community college education for first-year, full-time students, enabling the SDCCD to augment its San Diego Promise program funding to support an even larger number of students in their second year to complete their studies.
The San Diego Community College District has always favored the balanced approach that the governor has recommended. As in years past, the SDCCD will continue to invest in our great institutions, City, Mesa, and Miramar colleges, and the seven campuses of Continuing Education, to advance their programs and innovations. We will continue to ensure that our investment in new bond-funded facilities is matched with maintenance funding through the lease of surplus property. We will also continue our bold steps in addressing the sharp increases in the employer contribution to the CalSTRS and CalPERS retirement systems through the special, designated reserve that has grown to approximately $20 million and will continue to grow over time. And, while valuing the contributions of all full-time and adjunct faculty, classified staff professionals, and administrators, we will continue our advocacy for funding to add new full-time faculty positions. The Board of Trustees and I, along with Executive Vice Chancellor Bonnie Dowd and our leadership and governance team, will follow our processes and procedures both in assuring the continuation of the current funding level and in incorporating the new elements of the governor's budget proposal. Here are the key highlights of the additional funding identified in the budget along with the estimated impact on the SDCCD.
Continuous Revenue
- Cost of Living Adjustment (COLA): The Governor's Budget includes a 2.51% COLA in the amount of $161.2 million.
SDCCD Impact: This will yield $5.6 million, which will be distributed in accordance with our Resource Allocation Formula (RAF). We will continue to advocate for COLA to be maintained at this initial proposal amount.
- Apportionment Funding for Growth: The governor has proposed 1% in growth funding in the amount of $60 million.
SDCCD Impact: This District will receive $2.1 million, which will be distributed in accordance with the RAF. As in the past, our District and some other growing, urban districts would prefer to see a higher growth funding capability, while other districts in the state are declining in enrollment and would prefer to see a lower level of growth funding.
- Transition to a New Outcomes focused Funding Formula: The Governor's Budget includes $175 million to support each district's transition to a new student-centered funding formula.

SDCCD Impact:The proposed new funding formula would allocate base funds for enrollment, and provide additional funding in support of low-income students, as well as reward colleges' progress on increasing the number of certificates and degrees awarded. The proposed formula includes hold-harmless provisions. Assuming the District meets all criteria of the new funding formula this could result in up to $6.1 million of additional apportionment funding for the District, which would be distributed in accordance with our RAF.
One-Time Revenue
Deferred Maintenance and Instructional Equipment: This year's state allocation will be $275.2 million.
SDCCD Impact: This will yield $9.6 million for the SDCCD budget; it is this District's practice to split these funds 60% Facilities ($5.8 million) and 40% Instructional Equipment ($3.8 million).
Total Increase: $23.4 million
The governor's budget proposal promises another year of solid support and progress for California's community colleges. There is much good news in the budget for the San Diego Community College District, which will be able to continue the current level of service to students and to advance some important innovations and initiatives.
The Board of Trustees, the Presidents, the Vice Chancellors, the Academic and Classified Senates, the student leaders, the District Budget Planning and Development Council, and I will now turn our attention to the budget development process for 2018-19, a process in which everyone will be involved through designated councils and committees, both districtwide and at the campuses. We will also become involved in advocacy efforts that will begin later this month in Sacramento when our leadership team will participate in statewide advocacy meetings. During the coming months, you will all receive information about the budget issues that will be addressed, along with other legislative matters, and your ideas and suggestions will be welcome.
Stay tuned . . .
Dr. Constance M. Carroll
Chancellor
San Diego Community College District