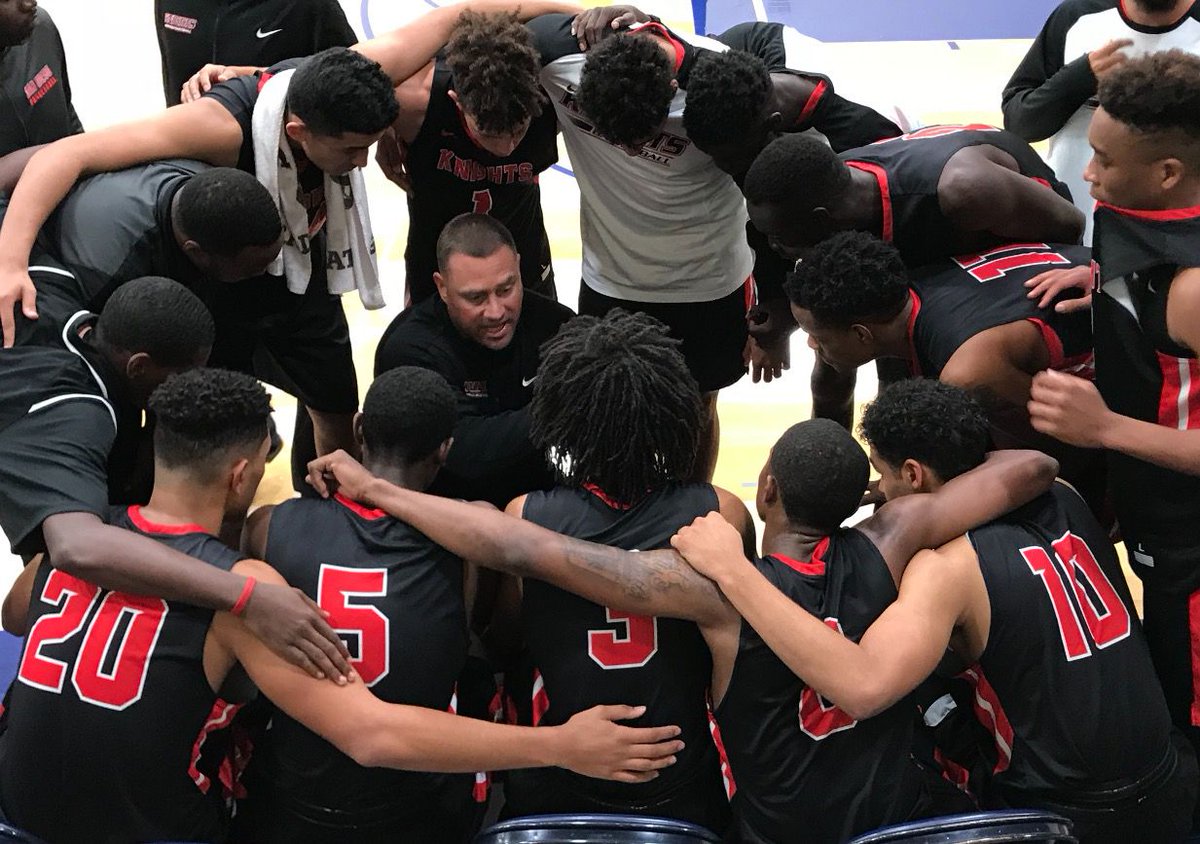 City College basketball Coach Mitch Charlens named Coach of the Year
March 7, 2018

|
San Diego City College Head Coach of Men's Basketball Mitch Charlens was recently named by the Pacific Coast Athletic Conference South Division (PCAC) as Coach of the Year for 2018.
This is the seventh time that he received this honor. Coach Charlens has now led the City College Knights Men's Basketball team to conference titles seven times (2005, 2009, 2012, 2014, 2016, 2017, and 2018), three appearances in the Elite Eight, and going for a second state title since joining the program in 2004/05 season.
Coach Charlens was also named California State Coach of the Year in 2009.
Coach Mitch Charlens, a San Diego native, played basketball at University City High School in San Diego and then moved on to play at Saddleback College in Mission Viejo. While at Saddleback, he led the Gauchos to back-to-back Orange Empire Conference championships and a Final Eight Appearance.
Building on his accomplishments in the community college system, Coach Charlens went on to play at San Francisco State University (SFSU). Coach Charlens had highlights throughout his career and ended his playing career by scoring 20 points with five three-pointers against UC Davis, that year's National Champion. Once his playing days were over, Charlens entered the business world.
Realizing that was not his passion, Coach Charlens returned to basketball by coaching the Varsity Boys at Lowell High School in San Francisco. The following season he became an assistant coach at SFSU. He was then brought on as an assistant at Chico State University before coaching at College of the Sequoias for two years.
Coach Charlens earned his Bachelor's degree in Psychology at San Francisco State University and his master's degree in Physical Education at Chico State University. He resides in San Diego with his wife Dr. Erin Charlens (Counselor at SDCC), sons Brandon and Jay, and daughter Chloe.
"It's unbelievable what these amazing men are doing," said Coach Mitch Charlens. "Winning 31 games in back to back seasons doesn't happen! You don't win a state title and then go right back to the state championship tourney the following year. I've said it before, but these coach of the year awards are flattering but silly. Truly, these beautiful kids are leading me, not the other way around. It's been an honor to work with them every day. They've believed from the very beginning and they've never stopped. We're excited to compete this weekend."
His connection to the team isn't exclusive to the basketball court. Coach Charlens also assists athletes with their studies and their decisions as young men. He mentors and prepares them for life outside of basketball so they can succeed at City College regardless of their career path.