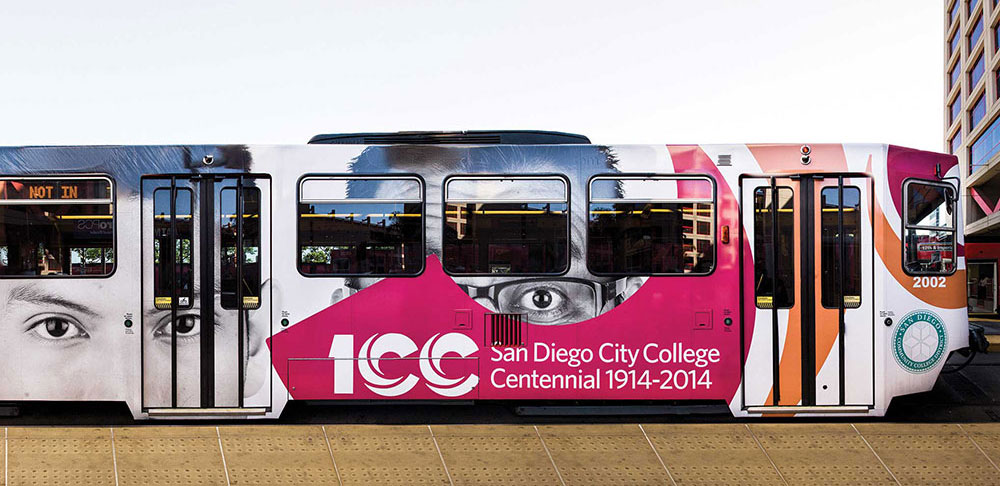 City College graphic design program inspires creativity
February 2, 2018

|
Its alumni include an executive creative director at Facebook who served as design director of President Barack Obama's 2012 re-election campaign. Its students rebranded a mountaintop Italian village with panoramic views over the rolling hills of Tuscany. Graduating seniors are snapped up by some of the leading design firms in the region even before they complete their studies.
Welcome to San Diego City College's nationally – recognized Graphic Design Program, whose impact is being felt across the globe.
"It comes down to having students and faculty with a real passion for design, realizing that design can be used to make the world a better place, and instituting those ideals into making a difference," said Professor Candice López, who co-directs the program with instructor Sean Bacon.
Josh Higgins is among the program's graduates who are making a difference. Higgins discovered City College after the travel involved with his career as a professional bass player began to take its toll. "I was looking for what was next for my career, and a friend who had just graduated from the City program introduced me to Candice López. Candice advised that I take one class and see if it was something for me. After that first class, I was hooked. I fell in love with design."
He enrolled in 1997 and graduated three years later. His new career took him to the 2012 Obama campaign, where he led the design efforts for the 44th president's successful re-election campaign, to Facebook, where he now serves as an executive creative director.
"The program changed my life both by giving me the tools and skills for a career in design, but additionally, it really helped me understand the importance of community and being an active participant and helping to drive positive impact in that community."
Driving positive impact in the community is what the Graphic Design program is doing now with the Italian village of Radicondoli to increase awareness and interest in the hamlet with a graying population and limited job opportunities. Approached by a part time resident of Radicondoli who also lives in San Diego, the Graphic Design program Skyped with the mayor and civic leaders to get a better understanding of what makes the village unique and how it should be marketed. Sustainable produce, the arts, and hospitable residents were among the characteristics that stood out. Students then set out to create logos for merchandising, some of which are still in the process of being adopted. A plan to utilize used Vespas as art installations along the village's narrow streets is under discussion.
The Radicondoli project is just one of several recent efforts involving the Graphic Design department at City College, which serves approximately 400 students each year. Others include:
- The "Great Minds" environmental graphic design transformed six floors of elevator bays in the Research and Development building at Qualcomm's Pacific Center Campus in San Diego. Great Minds comprises six pieces incorporating insights from the great minds of science and engineering: Albert Einstein, Jagadish Chandra Bose, Grace Hopper, Katherine Johnson, Claude Shannon, and Nicola Tesla. Each floor includes a portrait, a quote, and handwritten formulas and notes by one of the scientists.
- The Urban Art Trail project brought an East Village community together through art and design. Murals came first, followed by utility boxes and benches painted in bright colors. Mosaics were crafted around trees, and poems written in calligraphy were stenciled on sidewalks. The project, which involved City College Graphic Design students, has been so successful that it's being replicated in neighborhoods across the country, and the Urban Art Trail was the subject of an award-winning children's book published by Houghton Mifflin Harcourt.
- A proposal to reimagine the messaging at San Diego International Airport with new monument signage, shuttle bus graphics, and concession advertising. Concepts crafted by Graphic Design students are being developed into models that will be displayed in Terminal 2 for six months of 2018.
"We kind of dream big and we're not afraid of a challenge," Bacon said.
"It's incredible and super exciting to be involved with a program that is having such an impact," said Bradford Prairie, an adjunct instructor who helped lead the Qualcomm project. "We like to stay plugged into the industry, and it's an industry that moves rapidly. Our goal is to create designers who are employable and ready to work, and having our students work with clients in the real world is invaluable."
Indeed, nearly three out of every four graduates are either hired or transfer to a four-year college or university within three months of completing their studies. Many are hired almost immediately after presenting their work at the annual American Institute of Graphic Arts Portfolio Review each spring, an event at which City College students routinely take top honors, competing against their counterparts at four-year colleges and universities and top-dollar private schools. Salaries vary depending on the position, but the average wage for a graphic designer in San Diego County surpassed $50,000 annually in May 2016, according to the federal Bureau of Labor Statistics.
"Simply put, the program gave me my career," said Amy Achaibou, creative director at Mrs. Grossman's Paper Company, a major manufacturer of decorative stickers for adorning scrapbooks, stationery, gift cards, and envelopes. "It equipped me with what I needed to start my professional path – confidence, a portfolio, and several industry contacts. And I'll also say that I was able to get what I needed in a relatively short period of time (two years) with a reasonable price tag. It was a huge relief to enter into my design career without student debt."
Giovanni Espinueva was hired by the global design firm Mirum even before he graduated from the program.
"City College's design curriculum helped me get this amazing position," Espinueva said. "The instructors really go out of their way to help you, and they are proud of their students and their accomplishments. I'd say we easily have one of the best graphic design programs in Southern California."
Learn more about City College's Graphic Design program.