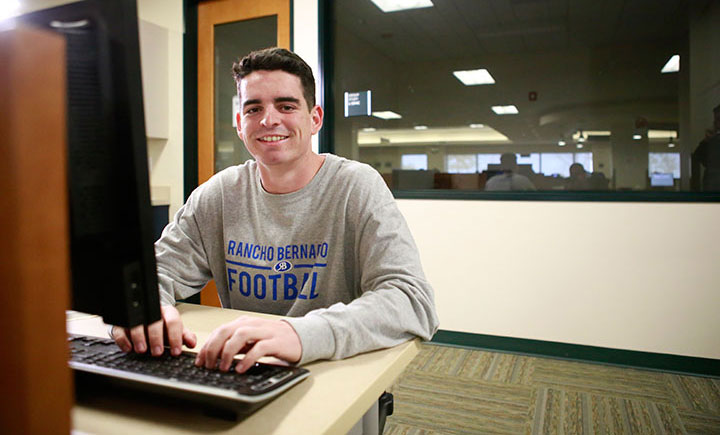 More high school students are simultaneously taking college courses
April 10, 2018

|
The number of high school students taking San Diego Community College District courses continues to skyrocket, a new district report shows, with concurrent enrollment rates increasing almost 74 percent to 3,402 students this spring compared to last year.
Consistent with the SDCCD's emphasis on completion, many of these high school students will move on to City, Mesa, or Miramar colleges with a number of college credits already completed, accelerating their journey to a degree or certificate and their pathway toward a rewarding career.
Matthew Quis, 18, is just one example. The Rancho Bernardo High School senior will be entering a four-year university in the fall with 24 college units – nearly enough to qualify him as a sophomore – that he secured through Miramar College's growing concurrent enrollment program.
"My parents and I sat down and set up a plan when I was a freshman," Quis said. "We knew that if we did one course a semester and over summer we could really reduce the cost once I got to a four-year institution. We looked at it as saving about $4,500 dollars for every 3-unit class we completed at Miramar College."
In many instances, high school students don't even have to set foot on a college campus or even be of traditional college age to earn college credits. Some 75 percent of the 3,402 high school students concurrently enrolled in City, Mesa and Miramar classes are taking the college courses at their high school campuses.
"The SDCCD and the San Diego Unified School District see concurrent enrollment as an effective means to achieve college-readiness, accelerate time to degree and create a seamless pathway from high school to community college; we are pleased to see that more and more students are taking advantage of the opportunities we offer," said Lynn Neault, the SDCCD's vice chancellor of Student Services.
Concurrent enrollment efforts received a boost in 2015 when Governor Jerry Brown signed into law a bill expanding access to such programs by supporting partnerships between college and K-12 districts while also eliminating college fees for high school students. The legislation, Assembly Bill 288, noted that allowing more high school students to take community college courses would reduce the number of high school dropouts, improve the level of preparation for high school students going to college, and increase the number of community college students who complete a degree and transfer to a four-year college or university.
The SDCCD and San Diego Unified have been working together to build concurrent enrollment levels for decades through efforts such as the Accelerated College Program that was launched in 1963 at Mesa College. Mesa now has multiple courses at every high school in its service area.
Concurrent enrollment will be among the items discussed when governing boards for the SDCCD and the San Diego Unified School District hold a joint meeting at 5 p.m. April 17 in Clairemont High School Auditorium, 4150 Ute Drive, 92117.