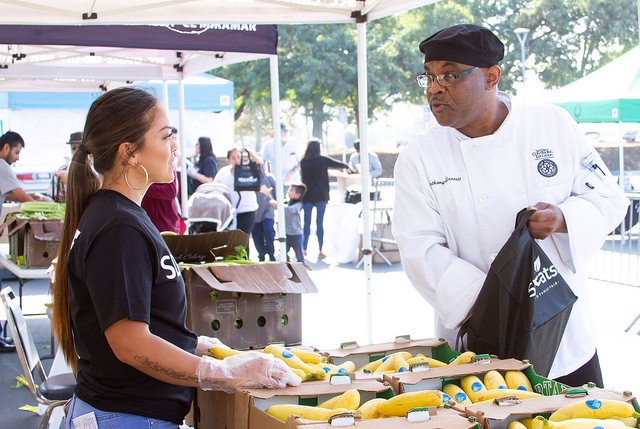 Continuing Education gives away 10,000 pounds of fresh produce
December 6, 2018

|
San Diego Continuing Education gave away more than 10,000 pounds of fresh produce to the residents of Southeast San Diego during its grand opening of Farm to Family Fair on December 5, 2018.
"Communities improve when dedicated individuals are willing to try new things and work together," said Mayor Kevin Faulconer during the opening remarks.
Mayor Kevin Faulconer, Supervisor Ron Roberts, District Attorney Summer Stephan, Councilmember David Alvarez, Councilmember Georgette Gomez, Councilmember-Elect Monica Montgomery, representatives from Supervisor Greg Cox, representatives from Council President Pro Tem Barbara Bry, San Diego Community College District Chancellor Constance M. Carroll, Ph. D., SDCCD Board of Trustees President Maria Nieto Senour, Ph.D., SDCCD Board of Trustees members Peter Zschiesche and Bernie Rhinerson welcomed visitors to SDCE's Farm to Family Fair kick-off.
SDCE's Farm to Family Fair is the school's first free food distribution in partnership with San Diego Continuing Education Foundation, Feeding San Diego, and Project New Village. Feeding San Diego's CEO Vince Hall; Diane Moss, Director of Project New Village and Robert Tambuzi, Chair Emeritus of the Board of Directors of Project New Village were in attendance.
Beginning today SDCE students, the Mountain View Community and surrounding residents will have access to free fresh produce at SDCE's flagship campus once a month.
"By partnering with Feeding San Diego and other community organizations, we better assist our students with critical services and basic needs including food security," said Carlos O. Turner Cortez, Ph.D., president of SDCE.
Attendees had access to a broad range of health and social services during SDCE's Farm to Family Fair. SDCE's partners Kaiser Permanente Mobile Health Vehicle, Jackie Robinson Family YMCA, Mental Health America, SDCE's CalWORKS department, Health and Human Services Agency and Project New Village were among the community organizations tabling this afternoon.
The food distribution and resource fair took place at SDCE's Educational Cultural Complex on Ocean View Boulevard.
Interested vendors may exhibit at SDCE's monthly Farm to Family Fair. Service providers will have the opportunity to interact and provide information to SDCE students and Southeast community members. Contact SDCE Foundation Director Allison Bechill at abechill@sdccd.edu.