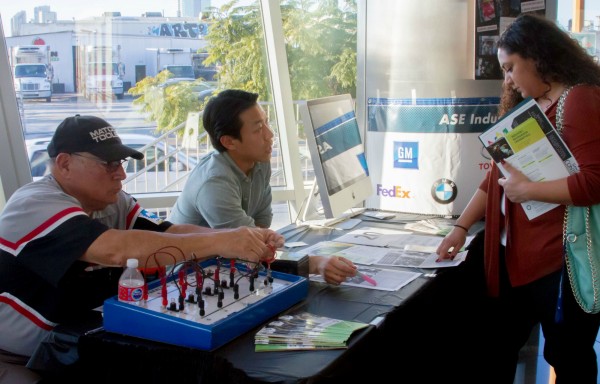 Continuing Ed hosting Spring Open House and free farmers market
April 25, 2018

|
San Diego Continuing Education will host their Spring Open House and free Farmers Market at 11:30am to 3 p.m. on Friday, April 27, 2018, at the Educational Cultural Complex,4343 Ocean View Blvd., San Diego.
The noncredit institution will welcome prospective students and their families to experience SDCE's 70+ free career training programs including welding, digital design, plumbing and culinary arts through exhibit booths.
Attendees will tour SDCE's flagship campus, welding and automotive labs, complete an online application with assistance, sign-up for orientations, make counseling appointments and learn about college transition opportunities to the San Diego Community College District's City, Mesa and Miramar colleges.
"SDCE's free career training programs mirror what you would see in the skilled trade industries. When you tour our campuses you will see that our classrooms mirror that of industry, our auto department looks like an auto shop," said SDCE Dean of Career Training, Cassandra Storey. "The industry setting allows our students to engage in valuable hands-on learning in their field of interest."
SDCE's Spring Open House will mark the soft opening of SDCEats!, the school's first food pantry and free farmers market in partnership with Feeding San Diego and San Diego Rescue Mission. SDCE students will have access to free non-perishable food, snack items and fresh produce. The fresh produce market is set to expand at SDCE fall 2018.
"Our main goal is to make sure our students succeed from start to finish," said SDCE Dean of Student Equity, Maureen Rubalcaba. "We serve students that are among the most diverse in California culturally, ethnically and educationally. SDCEats! will help address some of the barriers our students face which is housing and food insecurities."
"We're not only trying to prepare out students for a job but a lifelong career that they can make a sustainable wage at," said Storey.