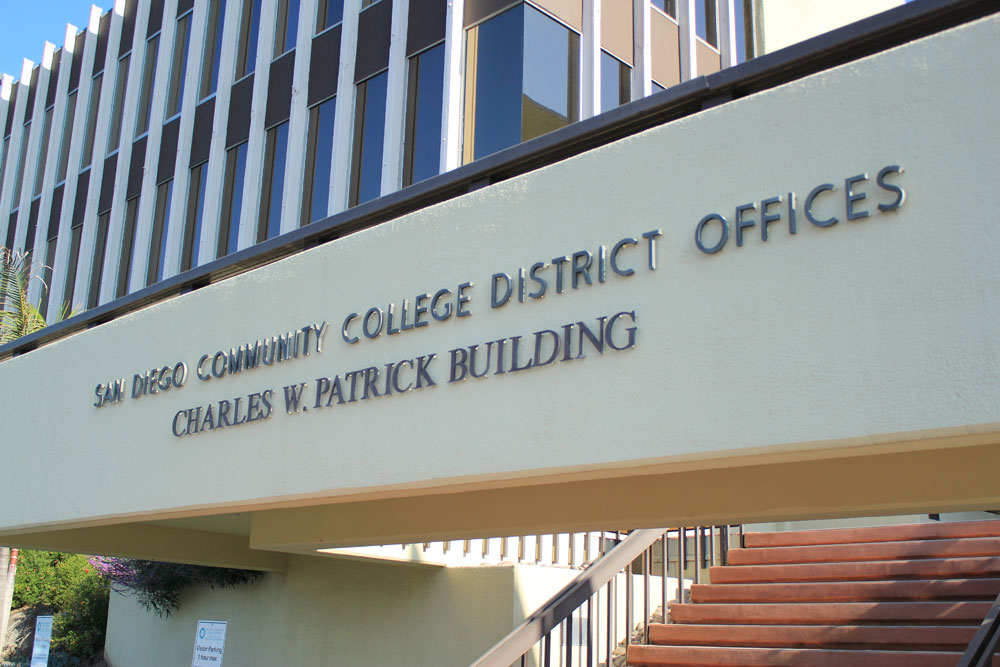 District's bond rating raised to AAA
February 8, 2018

|
The San Diego Community College District's careful fiscal management and solid financial position have led Standard & Poor's to raise the district's bond rating from AA+ to AAA, the highest level possible and a level that could potentially lead to millions of dollars in savings to local taxpayers.
The SDCCD is now California's only community college district – whose funding is based on student attendance – that has secured the highest possible ratings not only from S&P but also from Moody's Investors Service. During Fall 2016, Moody's upgraded the SDCCD's rating from Aa1 to Aaa, marking the third time it has upgraded the district's bond rating since 2005. S&P also upgraded its AA+ rating to an AA+ positive outlook with interest in doing a follow up review in about a year. That follow-up review resulted in S&P upgrading the SDCCD to their highest possible rating of AAA.
According to Bonnie Ann Dowd, SDCCD Executive Vice Chancellor, Business and Technology Services: "The action by S&P has once again demonstrated why the SDCCD is such an outstanding institution academically and by the manner in which it is operationally and fiscally managed and led by the Board of Trustees, Chancellor Constance Carroll, and other leaders throughout the district."
Ratings measure the credit worthiness of a corporate or government institution, and they are used by investment professionals to assess the likelihood a debt will be repaid. Ratings are assessed on a variety of factors, including the health of an organization's balance sheet, its debt, and its cash position.
"When bond ratings are high, everybody wins," said SDCCD Chancellor Constance M. Carroll. "The district is able to sell its bonds quickly in order to fund the construction projects approved by the voters, and the taxpayers win when there are tax refunds during bond refinancing. And of course, the students win by having access to excellent new facilities and instructional equipment."
S&P noted the SDCCD's strong reserves and responsible funding of its pension obligations. Pension obligations are being planned for and met. In fact, cash reserves equal approximately 7 percent of the district's general fund expenses, exceeding both state and district policy. Total General Fund reserves – including cash and non-cash sources – are even higher at 10 percent.
"The rating action reflects our view of the district's consistently stable-to-positive operational performance and its addressing pension and other postemployment benefits liabilities by setting aside designated reserves and trust," said S&P Global Ratings credit analyst Brian Phuvan.
While the final $122 million sale in the SDCCD's $1.55 billion Propositions S and N bond program was made in November of 2016, the higher ratings will ensure savings to local taxpayers as the district issues refunded – which is similar to refinanced – Propositions S and N general obligation bonds through lower interest rates over the life of the outstanding debt on the bonds. For example, some $524 million in refunded bonds were issued that November, resulting in a reduction of debt for taxpayers in the amount of $80 million.
Proposition S authorized the sale of $685 million in bonds and was approved by voters in November of 2002; Proposition N, which authorized the sale of bonds in the amount of $870 million, was approved by voters in November of 2006. Revenue from the two bond measures is being spent on projects benefiting City, Mesa, and Miramar colleges, and the seven campuses of Continuing Education. These projects include nearly 30 major renovations or expansions, 30 new, from-the-ground facilities, and dozens of infrastructure, public safety, and accessibility upgrades across the district.
As the second-largest of California's 72 community college districts, the San Diego Community College District serves approximately 100,000 students annually through three two-year colleges and San Diego Continuing Education. The three colleges, San Diego City College, San Diego Mesa College, and San Diego Miramar College, offer associate degrees and certificates in occupational programs that prepare students for transfer to four-year colleges and entry-level jobs. Mesa College also offers a bachelor's degree in Health Information Management. Continuing Education offers noncredit adult education at seven campuses throughout San Diego.