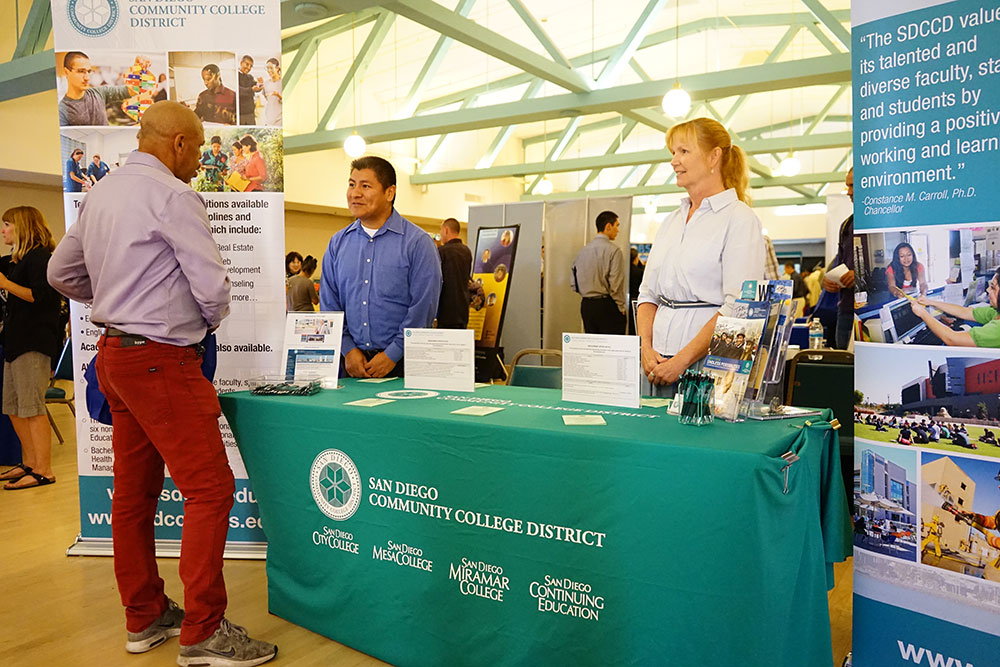 District to hold hiring fair April 27
March 23, 2018

|
The San Diego Community College District is holding a hiring fair April 27 complete with interviews and potential on-site conditional job offers for dozens of adjunct faculty job opportunities in many disciplines ranging from English and math to all sciences, as well as vocational fields.
"We want to draw attention to our district as a well-established public educational institution that is growing and we have many job opportunities," said Erin Milligan-Hill, Director, Employment & Professional Development. "The San Diego Community College District is one of San Diego's largest employers. Our highly competitive salaries and benefits make us an attractive option for many qualified candidates."
A priority is being placed on hiring adjunct faculty. San Diego City, Mesa, and Miramar Colleges, in addition to San Diego Continuing Education, will have deans and department chairs at the hiring fair to interview applicants and with consideration of making conditional job offers, Milligan-Hill said. In addition, individuals who apply to the adjunct application pools may be contacted when future job opportunities arise and the campuses seek qualified applicants in a variety of disciplines.
Information also will be available regarding current and upcoming tenure-track faculty, classified employees, and non-academic hourly job opportunities, and the compensation packages appropriate for each.
The hiring fair is scheduled to take place from 10 a.m. to 2 p.m. at the Handlery Hotel, 950 Hotel Circle North, San Diego, 92108 (parking is free with validation).
Attendees are encouraged to bring a resume or curriculum vitae and a copy of their transcripts for review. Completed applications are not required at the hiring fair; yet they are available at sdccdjobs.com. Helpful resources such as the California Community Colleges Minimum Qualifications Handbook and the SDCCD Equivalency Determination Procedure also are available on the SDCCD job opportunities website. Those who receive conditional job offers at the hiring fair will be asked to complete their online application from home and notify the person who interviewed them in order to initiate the onboarding process. Comprehensive employment information will be available from representatives of the Human Resources Department.
For further information, call SDCCD Human Resources at 619-388-6579 or email jobs@sdccd.edu.